A new Nightingale trailer has shown more of the game in action
Gliding and cave exploring are shown in the new video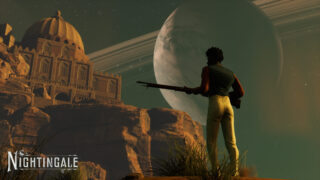 A new trailer has been released for Nightingale, showing the game in action.
The debut title from Inflexion Games, the studio formed by former BioWare head Aaryn Flynn, was first revealed at The Game Awards in 2021.
Now, as part of the 2022 show, the studio has released another trailer showing how the game is progressing.
The new footage shows what some of the game's caves will look like, as well as the game's gliding mechanic in action.
It also shows some of the enemies players will face, including giants and what Inflexion calls "Elder Eoten and fire-spitting Bound".
It was announced earlier this year that early access to Nightingale had been delayed until 2023 so the game could be upgraded to Unreal Engine 5.
In a developer video posted earlier this week, the game's community manager Steph Herdman explained that the transition to UE5 was still underway, implying that the gameplay shown today isn't how the game will look at launch.
"While our Closed Alpha testers are already playing the game in Unreal Engine 5, we have not yet been able to fully utilise all the features of this new upgrade," Herdman said.
"We would love to show you Nanite in action, but we're still swapping over our assets, so we're going to wait just a little bit longer until we can show you something more than rocks, as interesting as those are."
Noting that the team was also upgrading from Unreal Engine 5 to version 5.1, she added: "The update to 5.1 isn't nearly as big of a jump from 4 to 5, but it does have some really interesting improvements and features that we're excited to jump into.
"Things like Nanite foliage and path tracing improvements. We look forward to showing this to you in the coming months."
Nightingale is described as a "shared-world survival crafting game set within a rich Victorian gaslamp fantasy setting". The game has players visiting mystical portals to explore a series of dangerous realms in search of Nightingale, the "last haven of humanity".