A new Elden Ring overview trailer shows off The Lands Between
The new video for FromSoftware's latest title has been published ahead of its release next week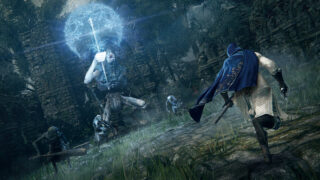 A new overview trailer for Elden Ring has been published ahead of its release next week.
"Elden Ring is an action RPG set in a dark fantasy world" begins the lengthy trailer, which goes on to show off The Lands Between, the world in which Elden Ring is set.
Several characters, including a few that are known to be bosses from the various Closed Network Tests and previews of the game, are also in the trailer.
The trailer, which can be seen embedded below, then gives some exposition on the player character's backstory, saying: "You play as a descendent of the tarnished, a group of heroes once banished from The Lands Between."
Elden Ring – Overview Trailer
Legacy dungeons, which the trailer describes as a "complex and intricately designed dungeon map that connects seamlessly with surrounding landscapes", are also shown in the video.
A player whose discovery of a major Dark Souls exploit forced Bandai Namco to pull all PC game servers offline has told VGC they will publicly disclose details of the vulnerability before the release of Elden Ring this month.
Fans eagerly awaiting next week's Elden Ring release should tread carefully online as new spoilers are doing the rounds and more are likely to follow.
A couple of players who have managed to obtain Elden Ring early have reportedly been streaming it on Twitch.
The game's intro cinematic has also been released online, as have revealing screengrabs and gameplay details.
While publisher Bandai Namco is seemingly doing its best to suppress the leaks, players are nevertheless advised to be careful if they want to avoid any spoilers before the game's official release.
Following a one-month delay, Elden Ring will be released on February 25 for PS5, PS4, Xbox Series X/S, Xbox One and PC.