A new Assassin's Creed Valhalla community challenge rewards Basim's sword
As Ubisoft extends the Oskoreia Festival by a week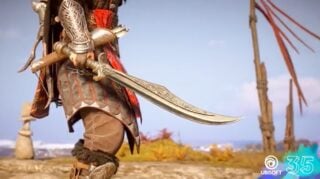 The latest Assassin's Creed Valhalla community challenge gives players the opportunity to unlock Basim's sword.
To complete the challenge and obtain the reward, Assassin's Creed Valhalla players must perform 250,000 kills using one-handed swords by December 9.
The launch of the new community challenge coincides with the extension of Valhalla's Oskoreia Festival by one week.
The Oskoreia Festival launched in November, introducing new quests and activities including horseback riding and a tournament against spirits.
It was originally scheduled to end on Thursday but will now run until December 9.
Assassin's Creed Valhalla Post Launch & Season Pass Trailer
The Oskoreia Festival arrived as part of Assassin's Creed Valhalla's 1.40 update, which also introduced the Tombs of the Fallen content, which included four puzzle-focused tombs for players to discover in England.
The game's 1.4.1 update, which is expected to be released in December, may address several Tombs of the Fallen issues including loss of sound, missing sound effects, and cases of Eivor getting endlessly stuck in a free fall animation and getting desynchronised after interacting with a push and pull object.
Ubisoft is also working on a fix for the game not launching on PCs with Intel Core i9-12900K.
The company claimed in October that Assassin's Creed Valhalla had built on a strong commercial start to become its "second largest profit generating game".
Valhalla is set to receive a second year of expansions—a first for the series—while a new series entry codenamed Assassin's Creed Infinity is in the works.