A new Amnesia is coming to PC and consoles next year
Amnesia: The Bunker will be the fourth game in the horror series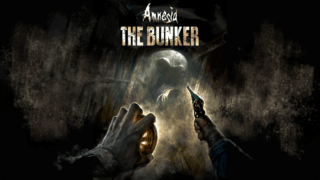 A new entry in the Amnesia series of horror games is due for release next year, it's been confirmed.
Amnesia: The Bunker will be the fourth game in the series and the third to be developed by Frictional Games, the studio behind the first title.
According to Frictional Games: "Players will walk the course of an ill-lighted WW1 bunker in the shoes of a French soldier troubled by his amnesia and hunted by an otherworldly creature."
The Bunker will differ from its predecessors in that the player will have a weapon, rather than the combat-free gameplay of the previous titles.
It also promises to offer the player more freedom to explore where they want to go, with what Frictional is calling a "semi-open world" with "hardly any scripted events".
"The tenebrous dark corridors and tunnels are perhaps the last of threats stalking your every move," a Frictional statement reads.
"When everyone is dead, rations are running low, and only one bullet is left in the gun barrel, it is all up to you to face the oppressing terrors of the Bunker and make your way out alive.
"In a semi-open world, Amnesia: The Bunker encourages the player to explore and experiment, using wits and whatever tools are at their disposal to overcome the looming horrors. Players will feel a stressful amount of power in their hands.
"Every decision will change the outcome of how the game responds as a consequence of the choices made. This new twist in gameplay adds new depths and constant tension to the game, forcing players to create new strategic paths in every playthrough."
The first game in the series, Amnesia: The Dark Descent, was released in 2010 to a positive critical reception.
This led to a sequel, Amnesia: A Machine for Pigs (which was developed in 2016 by The Chinese Room), followed by a third game, 2020's Amnesia: Rebirth.