A mobile studio made its colleague a DLC character to secretly pay for their prosthetic arm
Pixonic's staff member was in a car accident, so the studio turned him into a War Robots pilot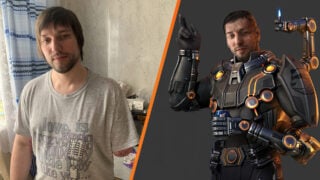 A Russian mobile game studio turned one of their colleagues into a DLC character so they could help pay for a prosthetic arm following an accident.
Andrey Kvasov was working for Pixonic (part of My.Games) in an IT support role when, in November 2019, he was involved in a huge crash on holiday in the Dominican Republic, in which a lorry crashed into a tourist bus.
Andrey lost his arm in the crash, as well as a finger on his other hand and an ear. Despite all this, he returned to work just four months later, at which point he was asked if he wanted to appear in the studio's flagship mobile game, War Robots.
"Ever since I was a child, I dreamed of becoming a character in a computer game," Andrey wrote in a recent post on Russian forum Pikabu.
"So when, on my first day in the office after the accident, my colleague Karina came up to me and said: "Listen, Andrey, don't you want to be a pilot? We can rethink your story and somehow put it into the game?" I didn't even consider refusing.
Andrey's character was added as a pilot in the game in summer 2021. The details of his accident weren't shared with the game's community, and his character's profile simply said: "Dedicated to Andrey Kvasov. Andrey, you are a cool pro who is a pleasure to work with.
"Faced with something that would break many, you did not just stay strong, but maintained a positive attitude and inspired us all."
The character had a robotic arm, and a backstory which was designed to show that people could still function in the workplace even after their abilities had been altered.
"In the story, I am a veteran of the DSC faction who went through many battles," Andrey explained. "In one of the battles I covered a friend and almost died. I was rescued by my comrades but lost an arm. Despite this, I kept a positive attitude and was brought back into action after rehabilitation and the creation of special armour.
"I thought it was an inspiring re-imagining of a tragic story. My character teaches players to keep their spirits up no matter what.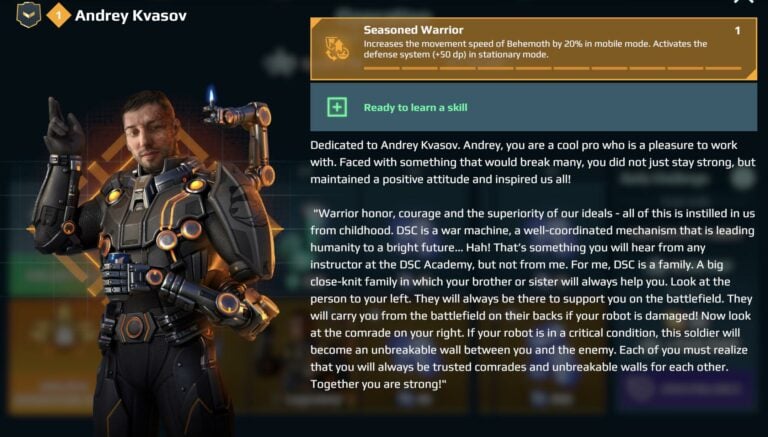 "When we were creating the character, I was very enthusiastic. I thought it was cool to stay in game history like that. The character had my looks, my story and even my name! A childhood dream come true, although I never thought it would come true in this way and after events like this."
Andrey's pilot was included in the game's battle pass, meaning players would have to pay to acquire him. What they didn't realise, however, is that they were helping to pay for a new prosthetic arm for Andrey. And Andrey wasn't aware of it either.
"The character was sold in a special package, and the proceeds went towards a prosthesis," Andrey explained. "I didn't find out about it right away, but a few months later, when a certain amount had accumulated.
"This came as a complete and pleasant surprise to me. The players also found out that the story was real, after the fact. Each pilot owner received a free buff and a notification that the money invested in this activity went towards buying a prosthesis for a real person. The players were very welcoming of the news and I received a lot of kind words."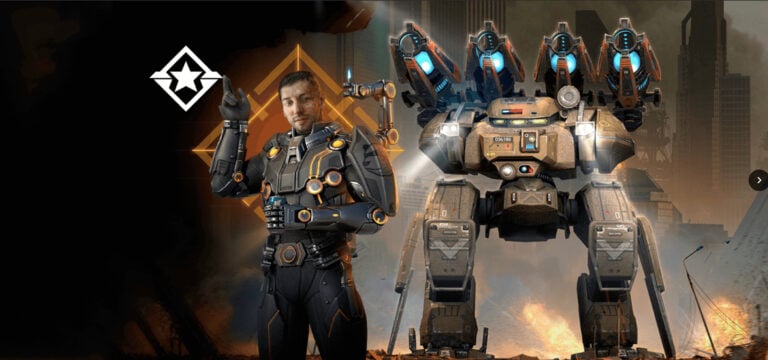 The character's model was also changed, with his robotic arm replaced with a more accurate depiction of Andrey's actual prosthetic arm.
"Now I live an ordinary life," Andrey said. "I go to the gym twice a week and do karate once a week (the lack of an arm doesn't prevent me from spinning). I work, I play games. By the way, there are enough devices on the market today that give a full gaming experience even to people who can't play like most people."
Andrey's message concludes: "I want to wish everyone good health. It's cheesy, but it's the sort of thing that you only learn to appreciate when you lose it. And I also hope you see good where at first glance it doesn't seem to be there at all. It's definitely there – I've checked."