A Mario Kart 8 Deluxe music datamine may have revealed future DLC circuits
New snippets give hints on what the upcoming tracks could be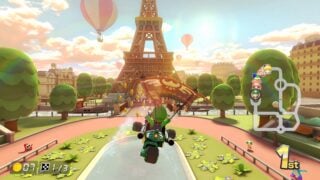 Placeholder music files found in the latest Mario Kart 8 Deluxe update may have revealed some of the circuits coming to the game in the future.
As discovered by YouTube user recordreader and posted to YouTube by BL, it appears that several 'prefetch' files were added to the game, which correspond to music tracks from classic Mario Kart games.
These 'prefetch' files contain the first few seconds of a piece of music. They're designed to start the music quickly while the actual full song loads in the background.
While the full music tracks that correspond with the prefetch files don't appear to be present in the new update, the prefetch files have provided enough of each song to let Mario Kart fans figure out which circuits they relate to.
Based on the prefetch files, the following tracks appear to be coming to Mario Kart 8 Deluxe as future DLC:
London Loop (Mario Kart Tour)
Peach Gardens (DS)
Boo Lake/ Broken Pier (GBA)
Rock Rock Mountain (3DS)
Berlin Byways (Mario Kart Tour)
Waluigi Stadium/ Wario Colosseum (Game Cube)
Merry Mountain
Rainbow Road (3DS)
Amsterdam Drift (Mario Kart Tour)
Singapore Speedway (Mario Kart  Tour)
Los Angeles Laps (Mario Kart Tour)
Sunset Wilds (GBA)
Bangkok Rush (Mario Kart Tour)
Vancouver Velocity (Mario Kart Tour)
Maple Treeway (Wii)
It's unclear when these circuits will be released, and which wave of DLC they will appear in.
However, a previous datamine uncovered the retro prefixes for future circuits (SNES, GBA, 3DS etc) and based on these, the most likely outcome is that the first eight tracks listed above will be in Wave 3, since the prefixes match.
The second wave of tracks, featuring GBA Snow Land, Wii Mushroom Gorge, DS Waluigi Pinball and more, was released yesterday. 
The Mario Kart 8 Deluxe Booster Course Pass, which costs $24.99 / £24.99, provides 48 DLC tracks across its six waves.
The courses include remakes of classic tracks from across the series from games such as Super Mario Kart, Mario Kart 64, Mario Kart Double Dash, Mario Kart Wii, as well as handheld entries and the mobile game, Mario Kart Tour.
Players who subscribe to Nintendo Switch Online's Expansion Pack receive access to the DLC as part of their subscription.
Related Products
Other Products
Some external links on this page are affiliate links, if you click on our affiliate links and make a purchase we might receive a commission.