A Horizon Forbidden West update will target various visual issues
Guerrilla is aiming to release a patch as soon as possible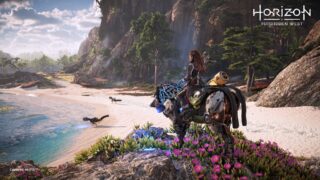 Guerrilla Games has said it's working on a Horizon Forbidden West update designed to fix a number of visual issues players are experiencing.
While the studio didn't specify which problems the update will target, a number of players have reported encountering shimmering issues and texture pop-in.
"Thank you for sharing your various visual issues with us via our Support Form," a Guerrilla community manager wrote on Reddit.
Horizon Forbidden West review | VGC
"The team are working vigilantly to resolve these issues with high priority and are aiming to get an update out as soon as possible.
"Please continue to use the Support Form and share videos (recordings of your TV/monitor are useful) and provide us with as much information as possible," they continued.
"We understand your frustrations and appreciate your patience. We are doing our best to quickly get you back out into the wilds so you can explore all the secrets of the Forbidden West."
Horizon Forbidden West released for PS4 and PS5 on February 18.
VGC's Horizon Forbidden West review called it an incredible game that comfortably surpasses its predecessor.
"With better combat, a compelling story and a jaw-droppingly beautiful world, it's an improvement on the original in every way, even if it does hold on to a few open-world tropes that we could have left behind. "