A Goldeneye 007 remaster 'could be revealed in the next few weeks', it's claimed
The claim comes amidst increased speculation about the classic game's release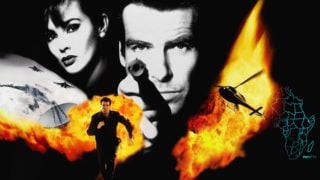 A HD remaster of N64 classic GoldenEye 007 could be revealed as soon as during the next few weeks, it's been claimed.
That's according to VentureBeat journalist Jeff Grubb, who stated on his premium Giant Bomb show GrubbSnax (transcribed by VGC) that he believes that Microsoft is likely to announce the revival, rather than original publisher Nintendo.
This matches what one source has recently told VGC.
Grubb said: "I think that Microsoft is going to be the one to announce that first." He added: "I think this game is probably coming pretty soon, I'm thinking next couple of weeks."
Update - Officially announced
Microsoft has officially confirmed GoldenEye 007 for both Nintendo Switch and Xbox Game Pass.
However, the game is not the previously leaked remake that VGC reviewed here, but a simplified remaster. The Xbox version runs at 60fps and in 4K, but lacks online multiplayer. Whereas the Switch version is a direct port of the N64 original, but does include online play.
"25 years after its original release, experience GoldenEye 007 faithfully recreated for Xbox consoles," developer Rare said. "Includes achievements, 4K resolution and a smoother framerate – even in split-screen local multiplayer!"
Goldeneye 007 has infamously been somewhat of a legal nightmare to rerelease in the past, with rights holders Nintendo, Microsoft and MGM theoretically all required to approve a new version of the N64 classic.
However, 2022 marks the 60th anniversary of the James Bond franchise, leading many to speculate that the most iconic video game in the franchise's history could finally be re-released as part of the celebration.
And there is some evidence that this could happen: in January, Rare developers were spotted unlocking Xbox Achievements for Goldeneye 007, implying that a previously-cancelled Xbox 360 remaster could finally be officially released for modern platforms.
Last year it was confirmed that Microsoft had to shelve an already completed remaster of the classic N64 game for the Xbox 360, following licensing issues and miscommunication between license holders and a young team who rushed ahead to create it, despite a deal for the game having never been signed.
A working build of GoldenEye 007's cancelled Xbox 360 remaster was leaked onto file-sharing sites in early 2021, allowing those with access to the files to play it via a modded console or PC emulator.
At the time, VGC reviewed the leaked GoldenEye Xbox build and called it "the greatest remaster you'll likely never play".
Speaking for the first time to VGC in a GoldenEye Xbox interview last year, the canned remaster's co-directors said they didn't think it would ever be officially released.

"It's kind of bittersweet," co-director Chris Tilston said of seeing the GoldenEye remaster leak into the public domain. "It means people get to see the work that was done, but it also masks some of the cockups that went on behind the scenes."
Co-director Mark Edmonds added: "The thing that I find strangest is, why now? Why leak it after all this time? Someone must have had this for all those years. It just seems strange to me.
"When I first heard about it, it almost made me think, are Microsoft leaking it on purpose for some reason? (Laughs) I don't think that would make sense, but it does make you wonder."
Related Products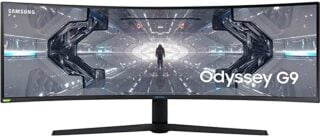 SAMSUNG 49-inch Odyssey G9 Gaming Monitor
Other Products
Some external links on this page are affiliate links, if you click on our affiliate links and make a purchase we might receive a commission.