A God of War Ragnarök Easter egg says PaRappa the Rapper is "history's greatest musician"
A piece of dialogue refers to Kratos appearing in PlayStation All-Stars Battle Royale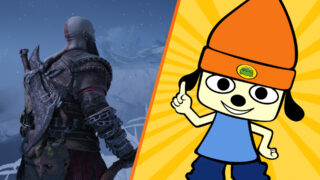 A piece of dialogue found in God of War Ragnarök implies that PaRappa the Rapper is "history's greatest musician".
The sequence, as shared on Twitter by user TheCardinalArts, shows Kratos and Mimir having a conversation when Mimir brings up one of Kratos's past adventures.
"Brother, I've heard my share of stories about your homeland," Mimir says, "but I'd also heard that you once fought in a tournament."
"I fought in many contests," Kratos replies.
"But this particular one," Mimir goes on, "I heard you did battle with beasts, scoundrels, princesses, the undead, automatons and history's greatest musician. That's not… that's not true, is it?"
Kratos then simply replies: "I would not speak of this".
The dialogue refers to PlayStation All-Stars Battle Royale, a PS3 and Vita fighting game released in 2012 in which a number of PlayStation characters, including Kratos, fight in Smash Bros style battles.
Mimir's question appears to refer to some of the game's characters, such as Nathan Drake (a scoundrel), Fat Princess (a princess), Sir Daniel Fortesque from MediEvil (the undead) and either Clank or a BioShock Big Daddy (an automaton).
But it's the line about "history's greatest musician" that will please most long-time PlayStation fans, as it refers to cult hero PaRappa the Rapper, who starred in a series of rhythm games in the PS1 and PS2 era.
Noticing the tweet, Sony Santa Monica senior writer and narrative designer Orion Walker retweeted it, saying: "Hahahaha… and [writer] Anthony Burch was soooo sure we'd cut this before launch."
Some have suggested the dialogue instead refers to the 2011 version of Mortal Kombat, in which Kratos also appears as a playable character.
However, while this does fit for most of the game's characters – Kitana is a princess, Scorpion is undead and there are numerous beasts and automatons in the roster – the connection to the "world's greatest musician" feels tenuous, with only Rain (said to be based on Prince) fitting the bill.
PlayStation All-Stars Battle Royale also has a much closer link to Sony Santa Monica, the studio behind Ragnarök.
The game's developer, SuperBot Entertainment, was an incubator startup formed by Sony and led by two former Sony Santa Monica staff, one of whom – Shannon Studstill – produced and executive produced a number of God of War games.
VGC's God of War Ragnarök review deemed it one of the best PlayStation games ever.
"God of War Ragnarök is an incredibly special game," we wrote. "It's vital in a way few releases are. With captivating performances that carry an amazing story to a jaw-dropping final act, it's a game that achieves everything it sets out to do to the absolute highest standard."
Related Products
God of War Ragnarök (PS5)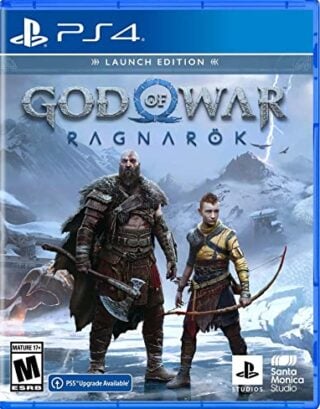 God of War Ragnarök (PS4)
Some external links on this page are affiliate links, if you click on our affiliate links and make a purchase we might receive a commission.