A free MLB The Show 21 update adds the cornfield from 1989 movie Field of Dreams
The Kevin Costner film's iconic field gets the video game treatment
The iconic cornfield from the 1989 movie Field of Dreams has been added to MLB The Show 21.
In a free update which is live now, the Iowa cornfield can now be found in the Classic Stadiums section when playing a game.
As well as the cornfield stadium itself, the game is also adding some Field of Dreams related content in Diamond Dynasty mode, including a new Event, a Showdown vs Felix Hernandez, a Choice Pack and a Conquest Map.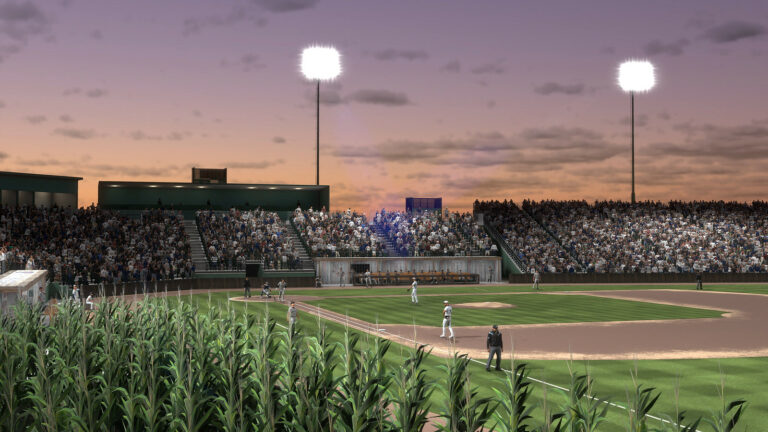 According to a new post on the official PlayStation Blog, the field is based on the 8000-capacity replica ballpark created by the MLB, which will be hosting the New York Yankees and Chicago White Sox in real life on Thursday.
The original field from the film still exists and continues to run as a tourist destination, but because it couldn't be brought to MLB standards without permanently changing it and ruining its authenticity, MLB instead built a second field 500ft away.
Field of Dreams was a 1989 movie starring Kevin Costner, based on the 1982 novel Shoeless Joe.
The film tells the story of Ray Kinsella, a corn farmer who struggles with the knowledge that he never repaired his relationship with his baseball-obsessed father before he died.
One night Ray hears a voice whispering "if you build it, he will come", and sees a vision of a baseball diamond in the cornfield, with the late baseball star 'Shoeless' Joe Jackson standing in the middle of it.
Ray decides to risk the financial income from his corn crops to build the field, resulting in the ghosts of many great players returning to play baseball on it. Ray's father also appears, and the two play catch as their relationship is healed.