A Fortnite Chapter 3 advert appears to have leaked and confirmed a new map
Fortnite's map looks set to be flipped upside down at the end of Chapter 2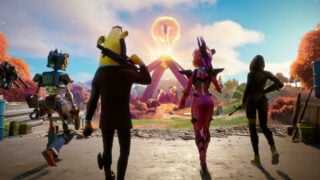 A Fortnite Chapter 3 advert has seemingly leaked, confirming big changes are in store for the battle royale game over the coming days, including a new map.
Epic Games recently announced plans to mark the finale of Fortnite Chapter 2 with a special in-game event called 'The End'.
Taking place on Saturday, December 4 at 1pm PT / 4pm ET / 9pm GMT, the one-time only, climactic event will see players join forces to battle The Cube Queen with the fate of the island at stake.
The End - The Fortnite Chapter 2 Finale Event Teaser Trailer
Fortnite Chapter 2 began in October 2019 after the battle royale game's original map was sucked into a black hole at the end of Fortnite Season X.
The leaked Chapter 3 advert below, which was reportedly uploaded to a Fortnite TikTok account and viewable ahead of schedule, begins with footage taken from the Season 2 launch trailer, showing off characters surveying what was then the game's new map.
An event then occurs which sees Agent Jones get sucked underwater. When he emerges, he's confronted with a sky filled with UFOs and the sight of Fortnite's island flipping over 180 degrees.
Epic has confirmed that The End will support parties of up to 16 players queued together and the special playlist will be available in Fortnite 30 minutes prior to the event's start time.
"Content creators and players looking to relive the final moments of Fortnite Chapter 2 should take steps to record and archive their experience as replays will not be available," Epic said.
"Players will be unable to edit their settings once 'The End' begins, so please adjust any visual options to your preferred viewing experience before joining. Because the Season will end a day early, all players who log in before the end of the Season will receive a 225,000 XP reward."
Epic announced last week that it had acquired Rock Band and Dance Central creator Harmonix "to create musical journeys and gameplay for Fortnite".
Alain Tascan, Epic's vice president of game development, said: "Music is already bringing millions of people together in Fortnite, from our emotes to global concerts and events. Together with the Harmonix team we will transform how players experience music, going from passive listeners to active participants."