A fix for Destruction AllStars voice chat issues is being worked on
Some players are unhappy that voice chat is switched on by default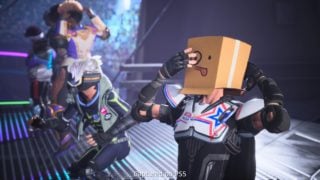 Lucid Games is working on a fix for voice chat issues with the newly released PlayStation 5 game Destruction AllStars.
The vehicular combat title, which supports 16-player online matches, released this week as one of February's PlayStation Plus games.
Following its release, some players have expressed frustration with the fact that voice chat is turned on by default, an issue which is compounded by the DualSense controller's inbuilt microphone and speaker.
At present, there's no way to permanently mute voice chat, although Lucid Games is working on a fix.
In the meantime, voice chat can be switched off manually, although the process outlined by Lucid below needs to be repeated every match.
Destruction AllStars was originally planned as a full-price PS5 launch title before being delayed in October 2020.
VGC's 2/5 Destruction AllStars review said the game is lacking in compelling content at launch.
"Out of the 4 modes available at launch, 2 of them feel redundant and unbalanced," our critic said. "The single-player content is slim and if you want even a crumb more, you'll have to pay, which leaves Destruction Allstars feeling like a clumsy, hollow product whose fun moments go by in a blur."