A dog will speedrun a NES game at the next Games Done Quick
Peanut Butter the Shiba Inu has already finished NES title Gyromite in 25 minutes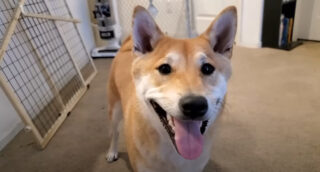 Video game speedrunning event Awesome Games Done Quick (AGDQ) will see its first ever dog compete at its next event in January.
In a post on X (formerly Twitter) spotted by IGN, speedrunner JSR posted an announcement video which revealed that his Shiba Inu Peanut Butter will be appearing at AGDQ 2024, speedrunning the NES game Gryromite.
Peanut Butter's owner uploaded a video of him speedrunning the game earlier this year using a special paddle controller. The dog completed the game in 25 minutes and 29 seconds.
JSR had to command his dog to press the correct buttons using treats, as seen in the video below.
Games Done Quick events have now raised more than $40 million for charities around the world since their founding in 2010, including Doctors Without Borders, Prevent Cancer Foundation, Malala Fund, Organization for Autism Research, and CARE.
Awesome Games Done Quick 2023 took place in January and by the end of the show had raised a total of $2,642,493 for the Prevent Cancer Foundation.
More than 140 speedruns were shown over the course of the week, ranging from well-known titles like Pokémon Legends: Arceus and Dark Souls II to more obscure games such as Ax Battler on the Game Gear.
Other Products
Some external links on this page are affiliate links, if you click on our affiliate links and make a purchase we might receive a commission.