A demo of Kirby and the Forgotten Land is available for download now
The demo will give players a code that can be redeemed for items in the main game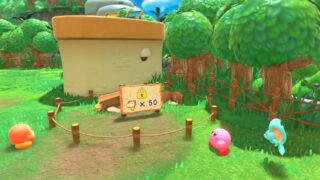 Nintendo has released a free demo of Kirby and the Forgotten Land.
The demo, which is available on the Switch eShop now, includes three levels from the game's first world.
Players will be able to try out the new Mouthful Mode, which lets Kirby inhale large real-world objects and use their properties to perform unique moves.
For example, Kirby can inhale a car and use it to drive around.
Kirby and the Forgotten Land - Mouthful Mode trailer
The demo will also let players take on the game's first boss, and will also give them a Present Code upon completion.
This code can be redeemed in the main game when it's released on March 23, in return for some in-game items.
Kirby and the Forgotten Land sees Kirby exploring the titular Forgotten Land, a mysterious world where Waddle Dees have been kidnapped by a gang of animals called the Beast Pack. It's up to Kirby to use his copy abilities to rescue the Waddle Dees.
Rather than the typical 2D side-scrolling platforming Kirby is known for, this new game will be a 3D platformer in which players will be able to freely move around in 3D arenas using familiar Kirby copy abilities.
In VGC's Kirby and the Forgotten Land hands-on preview, we suggested the game may be the perfect game to play after Elden Ring, given that it appears to be its complete opposite.
"This is everything the Miyazaki masterpiece isn't," writer Matthew Castle said. "[It's] welcoming, bright, frivolous and frothy – and the perfect unicorn chaser after another session of being ripped a new one by one of From's fleshy monstrosities."