A decade after splitting with EA, Tiger Woods is the cover star for PGA Tour 2K23
Tiger's last game with EA Sports was released in 2013
Golfing legend Tiger Woods has been revealed as the cover athlete for PGA Tour 2K23,  almost a decade after the golfer's last game with rival EA Sports.
Woods will be playble in-game, and has also served as an advisor to the development team, 2K sports said on Monday.
The 2K publisher announced a partnership with long-time EA ambassador Woods last year. EA had previously held the PGA license for 25 years and is planning its own new PGA Tour game.
PGA 2K23 WELCOME TO THE LEADERBOARD
EA released more than 16 Tiger Woods games, and split with the athlete in 2013.
"It's not only great to be back on the cover of a video game, but the executive director role makes this a truly unique opportunity," said Woods. "2K is the perfect partner for me and I am excited to continue impacting the game and culture of golf beyond my play on the PGA Tour."
PGA Tour 2K23 is scheduled for worldwide release on Friday, October 14, 2022, however, players that purchase the special edition can get three days of early access.
The game will feature 20 licensed courses at launch including South Course of Wilmington Country Club, The Renaissance Club and  St. George's Golf and Country Club.
Players will also be able to create their own course using the course designer.
14 playable golfers will be included at launch. Justin Thomas, Lexi Thompson, Tony Finau, Lydia Ko, Collin Morikawa, Will Zalatoris and Brooke Henderson have been announced so far.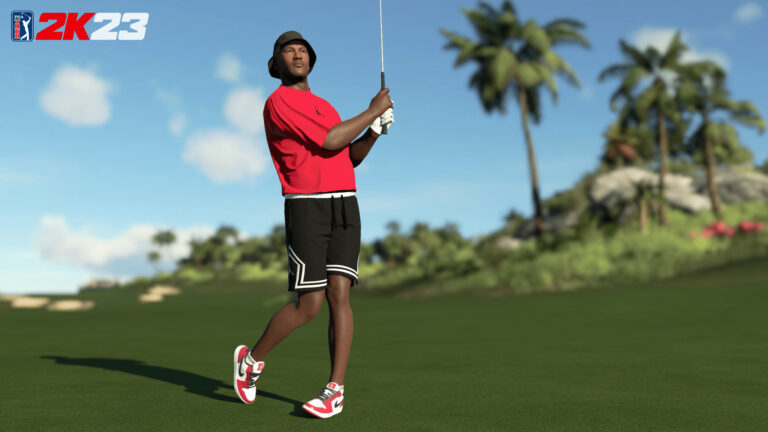 Players who preorder the game will also be able to play as Michael Jordan, the cover athlete for the premium editions of NBA 2K23 and an avid golfer.
The original Tiger Woods PGA series ran from 1999 until 2014. The games were extremely popular during the PlayStation 2 generation.
In October 2013, EA's partnership with Woods and a licensing agreement with Augusta National Golf Club reached an end. According to EA, the split was a mutual decision.