A Better Ubisoft group seeks public support in its battle for improved working conditions
New petition demanding structural reform at Ubisoft is open for all to sign
A group of Ubisoft employees campaigning for improved working conditions has turned to the public for support after becoming frustrated with what it views as inaction from the Assassin's Creed publisher.
Earlier this summer the group, which calls itself A Better Ubisoft, released an open letter to its employer calling for "real, fundamental changes" in the wake of sexual misconduct, harassment and discrimination revelations.
Signed by over 1,000 current and former staff, it accused Ubisoft's management of offering "nothing more than a year of kind words, empty promises, and an inability or unwillingness to remove known offenders".
It also included the following demands which the group claims have been ignored: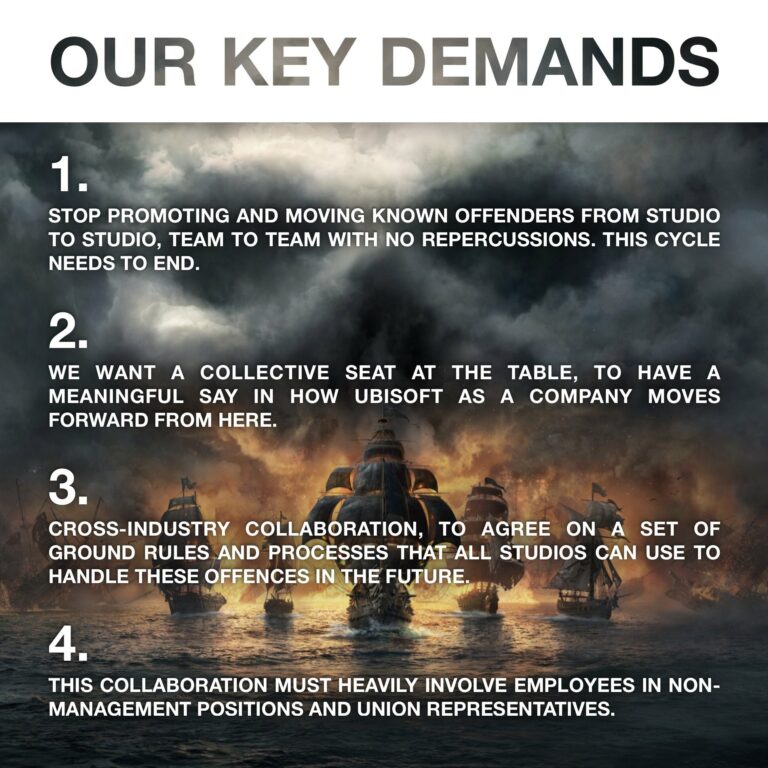 "100 days ago we signed our open letter and set out our four key demands," it tweeted on Friday. "None of our demands have been met. So today we're launching a new petition, open for ALL our supporters to sign."
Ubisoft told VGC in July that it had "carefully read" the open letter and was taking the issues raised "very seriously". And while it claimed to have "made significant and meaningful changes" designed to improve working conditions in response to past events, it also acknowledged there was "still more work to be done".
The publisher's CEO Yves Guillemot subsequently echoed those sentiments in a company-wide email reacting to the open letter. In it, he referenced a number of structural reforms Ubisoft had made over the previous year, such as the appointment of chief people officer Anika Grant, the introduction of anonymous harassment reporting mechanisms, updating its code of conduct, and carrying out compulsory company-wide anti-sexism and anti-harassment training.
"These are important steps forward, but this is a long process, and there is still work to be done," Guillemot wrote.
Responding to Ubisoft's statement and Guillemot's message at the time, A Better Ubisoft said few of its points had been addressed.
"We are aware that the company has made some improvements, and we are happy to hear that Yves and the leadership team agree that it is not enough," it said.
"However, Ubisoft continues to protect and promote known offenders and their allies. We see management continuing to avoid this issue.
"It is also worth clarifying that an invitation to reach out to company management personally is not the same as having a collective seat at the table."
The group's response concluded: "By being the first to start this collaboration Ubisoft has the opportunity to be at the forefront of creating a better future for the games industry. We demand that this work be done in collaboration with employees at all levels.
"We want to see real, fundamental change within Ubisoft and across the industry, for the sake of our members. Again, we look forward to a response that addresses all the issues raised and properly acknowledges our demands."
In recent months, Activision Blizzard employees have also been engaged in a battle with the company's leadership over its handling of workplace misconduct.
The World of Warcraft, Call of Duty and Candy Crush publisher is currently facing legal action over its failure to properly address reports of sexual harassment and discrimination.
Related Products
Other Products
Some external links on this page are affiliate links, if you click on our affiliate links and make a purchase we might receive a commission.