A Bayonetta prequel has been announced
Bayonetta Origins: Cereza and the Lost Demon will be released in March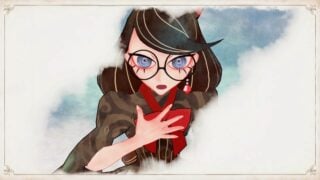 A surprise Bayonetta prequel has been confirmed for Nintendo Switch.
Bayonetta Origins: Cereza and the Lost Demon will be released on March 17, according to Nintendo.
The game tells the story of Cereza, a young Umbra Witch who would go on to become the Bayonetta in the recently released third game.
"Turn back the pages of the Umbra Witch's story to learn where it all began," the game's plot blurb reads.
"Take control of Cereza and her first demon Cheshire to fend off faeries and solve puzzles when Bayonetta Origins: Cereza and the Lost Demon releases March 17, 2023 only on Nintendo Switch."
Bayonetta 3 was released in October to mostly positive reviews. VGC's Bayonetta 3 review called the game a "love letter to gaming's most wildly creative action star".
"While some ideas get lost in Bayonetta 3's endless sprint to keep you entertained, there's no other action game with this imagination, wit or style," we wrote. "Prepare to explore its mad depths for weeks."
However, the game's release was dampened somewhat by the ongoing dispute regarding the game's voice-acting talent.
Former Bayonetta voice actress Hellena Taylor claimed at the time she had been made a "final offer to do the whole game" of $4,000 USD, an offer she called "immortal" and "insulting".
Bloomberg and VGC sources later disputed this claim and alleged that Platinum had actually offered a package worth $15,000, which is within SAG/AFTRA union rules. In a series of Tweets published afterwards, Taylor confirmed this figure, but nevertheless claimed that "powerful journalists" were trying to discredit her.
Because the protagonist in this prequel is a child, she has another new voice actor.