EA is releasing a Battlefield 2042 short film
Teaser trailer released for Exodus, which premieres on August 12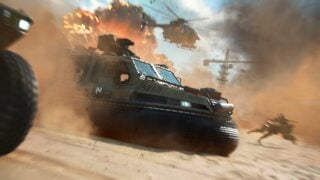 Electronic Arts is to release a short film that sets the scene for the events of Battlefield 2042.
Titled Exodus, the film is part of the world building for DICE's upcoming multiplayer shooter, which doesn't feature a campaign.
"Witness the events that will trigger an all-out war in this standalone short film set in the World of 2042," reads the blurb accompanying a teaser trailer released on Monday, which you can view below.
Exodus will premiere on August 12 at 8am PT / 11am ET / 5pm BST.
"In Battlefield 2042, the world is on the brink," reads EA's synopsis of the game. "Shortages of food, energy and clean water have led to dozens of failed nations, creating the greatest refugee crisis in human history.
"Among these Non-Patriated, or No-Pats, are families, farmers, engineers – and even soldiers. Amidst this crisis, the United States and Russia draw the world into an all-out war. No-Pat Specialists join both sides, not fighting for a flag, but for the future of the Non-Patriated in this new world."
In the run-up to Exodus' release, DICE has said will offer players a look at Battlefield 2042 locations "through the eyes of embedded journalist Kayvan Bechir", starting on August 3.
The standard edition of Battlefield 2042 is set to release on October 22, 2021 priced at $59.99 for Xbox One, PS4 and PC, and $69.99 for Xbox Series X/S and PS5.
However, players who choose to pre-order the Battlefield 2042 Gold Edition for $89.99 on PC and $99.99 on consoles, or the Battlefield 2042 Ultimate Edition for $109.99 on PC and $119.99 on consoles, will receive early access to the game beginning on October 15.
Before then, a Battlefield 2042 open beta will launch in September. EA Play members and customers who pre-order any version of the game will receive early access to the open beta.
DICE recently announced that Battlefield 2042 will support cross-play and cross-progression.
At the same time, it said it had delayed a planned technical playtest from early July to "later this summer" to give it the chance to test cross-play functionality.