A 3D remaster of cult mobile game Ridiculous Fishing headlines July's Apple Arcade releases
An exclusive Hello Kitty life sim will also be coming to the service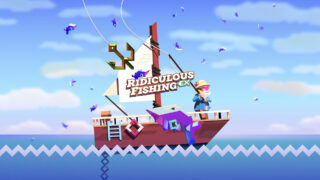 A new 3D remaster of Ridiculous Fishing is the headline addition to Apple Arcade next month.
Ridiculous Fishing EX, which is said to have been rebuilt from scratch by the original development team, takes the 2013 mobile game and gives it a 3D makeover exclusively for Apple's game subscription service.
As in the original version, the game will see players trying to hook fish, before flinging them up out of the water, then shooting them out of the sky to earn cash.
Also coming to Apple Arcade in July is Hello Kitty Island Adventure, a new life sim from Colorado-based studio Sunblink.
It'll be joined by three more '+' versions of existing highly rated App Store games. These versions remove any monetisation present in the standard App Store versions of each game, be that an up-front price, in-game purchases or ads.
The full list of games due for release on Apple Arcade in July is as follows (Apple's descriptions provided):
Ridiculous Fishing EX (Vlambeer) – July 14
Ridiculous Fishing EX is a full and expanded remaster of the hit game and Apple Design Award winner.
Now presented in gorgeous 3D, explore endless hours of gameplay by fishing in vast sea with atypical fishing equipment, such as chainsaws, toasters, and more.
Players follow fisherman Billy as he tries to find redemption from his uncertain past.
New to this remastered version are a competitive mode with (daily, weekly, and monthly) challenges and leaderboards called Pro Fishing Tour, an in-game parody social media feed called BikBok, and an expanded and prestige-able new game plus.
Chase destiny on the high seas and embark on a radical quest for gills and glory.

---
Hello Kitty Island Adventure (Sunblink) – July 28
Welcome to Big Adventures Park, where friendships are key and adventure is just around the corner.
Embark on a cozy adventure with Hello Kitty and Friends and restore an abandoned island to its former glory.
Join new friends in a gorgeous world teeming with adorable creatures, delicious food, and many mysteries to explore.
Get to know supercute and friendly faces like Hello Kitty, Kuromi, Cinnamoroll, and more by discovering their likes, questing alongside them, and eventually becoming best friends.
Craft rare items, solve ancient puzzles, and decorate cabins to bring new visitors and create the ultimate island paradise.

---
App Store Greats
Slay the Spire+ (Humble Bundle) – July 7
A groundbreaking fusion of card games and rougelikes, Slay the Spire+ is a single-player deck-building game where players embark on an epic quest to conquer the ever-changing Spire.
Choose a character and craft a unique deck by selecting from a vast array of cards, each offering distinct abilities and strategies.
Encounter bizarre creatures, navigate treacherous paths, and discover relics of immense power as players ascend towards the pinnacle.

---
Lego Duplo World+ (StoryToys) – July 7
Lego Duplo World+ is packed with open-ended play experiences featuring animals, buildings, exciting vehicles, and trains to inspire imagination and creativity through learning.
Families can explore each scene to find out what's in it, discover how everything works and – of course – play with it.
Lego Duplo World+ supports Multi-Touch, so families can play together and on-the-go for shared games, learning and adventures.
---
Stardew Valley+ (ConcernedApe) – July 21
Experience the ultimate idyllic countryside and embark on an unforgettable farming adventure in this award-winning open-ended RPG.
With over 50+ hours of gameplay, Stardew Valley+ offers mobile-specific features like auto-save and multiple control options.
Players can build their dream farm, raise happy animals, grow seasonal crops, customize their farmer and home, forge meaningful relationships, explore mysterious caves, participate in festivals, enjoy the tranquility of fishing and foraging, and more.
This version also includes content from recent updates — including town upgrades, dating events, fishing ponds, pets, and even more surprises waiting to be discovered as players cultivate the life of their dreams.