A 12-player, co-op Starship Troopers game has been announced
Squad developer Offworld Industries' new game will hit Steam Early Access in 2023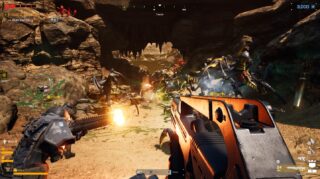 Starship Troopers: Extermination, a 12-player, squad-based co-op FPS inspired by the 1997 film, has been announced.
Set for release next year via Steam Early Access, it's the latest game from Offworld Industries, the Canadian developer and publisher behind tactical FPS Squad and most recently the 50v50 multiplayer shooter Beyond the Wire.
A Starship Troopers: Extermination teaser trailer can be viewed below.
According to the official blurb: "Starship Troopers: Extermination puts players on the far-off front lines in an all-out assault against the Arachnid menace."
"Squad up as a Trooper in the Deep Space Vanguard, an elite Special Forces group within the Mobile Infantry. And get ready to stomp some Bug because no Trooper will ever stand alone as they line up shoulder-to-shoulder with their fellow Vanguards—trusty Morita Assault Rifles in hand—to battle against hordes of bloodthirsty insectoid aliens on the hostile surface of the planet Valaka.
"Work together to complete objectives, acquire resources, build and defend your base of operations, and then escape to the extraction point together."

Starship Troopers: Extermination will include three playable classes (Assault, Support, and Defence), a class progression system, five unique bug types, "a massive map with five unique zones" and a ping communication system, among other features.
Founded in 2014 by a group of game modders and military veterans, Offworld Industries received a strategic investment from Tencent earlier this year, which saw the Chinese giant take a minority stake in the Vancouver-based studio.