80s action heroes Rambo and John McClane are coming to Call of Duty
Movie skins tie in with Warzone's new 1984 Verdansk map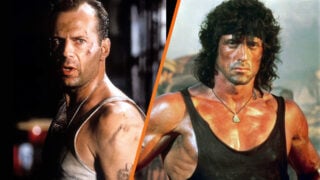 Call of Duty Warzone is set to introduce skins for 80s action heroes such as Rambo and John McClane.
The skins will arrive later this season and tie in with Warzone's new 1984 Verdansk map, which went live last month.
Publisher Activision started hinting at the movie collaborations this week with cryptic tweets and a website for the fictional company "Nakatomi Duct Cleaning". Nakatomi is the corporation featured in the Die Hard movies.
UPDATE: It's official:
ORIGINAL STORY CONTINUES: VGC understands there's more to come, and when we spoke to developer Raven Software last month it hinted as much.
"I'd like to point out that in the slides we showed you [earlier], there was a little 'classified' section for '80s Action'… there is some cool stuff we've got planned for the 80s, so feel free to speculate on that," creative director Amos Hodge said in our Call of Duty Warzone interview.
---
Warzone guides:
Call of Duty Vanguard release date | Call of Duty: Warzone's new Pacific map | Best Warzone loadout | Warzone Red Doors | Warzone best sniper | Warzone best SMG  | Warzone best Stoner 63 | Warzone best AK-47 | Warzone best Bullfrog | Best FARA Warzone loadout | Best AMAX Warzone loadout
---
The latest Black Ops Cold War and Warzone updates have introduced a new weapon, the CARV.2 tactical rifle.
Available via the weapon's in-game challenge and the Plastik Prototype store bundle, the burst-fire weapon "stands out in the tactical rifle class with its high bullet velocity output, offering powerful damage, solid recoil control, and a large ammo pool from the start".
Black Ops Cold War and Warzone Season 3 launched with three new weapons (PPSh-41 SMG, Swiss K31 sniper rifle, Ballistic Knife). The AMP63 machine pistol and Baseball Bat melee weapon will be added mid-season too.
The latest Black Ops Cold War patch also includes playlist updates and various fixes for stability issues.