8-Bit Christmas is a family movie about an '80s child trying to get an NES
See the trailer for Warner Bros' upcoming Christmas film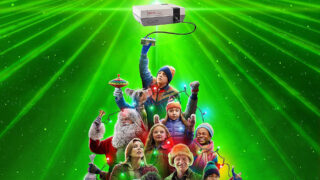 Warner Bros has released a trailer for 8-Bit Christmas, a family movie where the plot revolves around Nintendo.
The movie tells the story of Jake Doyle, a 10-year-old living in the late '80s who wants to get a Nintendo Entertainment System for Christmas.
The story is being told in the present day by an adult Jake to his daughter, meaning it's filled with inaccuracies and over-the-top lies.
Neil Patrick Harris stars as the adult Jake, while Winslow Fegley plays his 10-year-old version.
You can watch the trailer in this embedded video:
8-bit Christmas - trailer
8-Bit Christmas will be available to stream exclusively on HBO Max in the US, starting on November 24.
It has not yet been confirmed how the film will be distributed outside of the US, or on which video services it will be available.
The NES was the most popular Christmas toy in North America in 1988, with the Game Boy following suit in 1989.
Although the movie appears to be comically exaggerating how scarce the console was, it was so popular that by 1990 it was estimated that 30% of US households owned one.
8-Bit Christmas is not the first movie to revolve around the NES. The Wizard, released in 1989, has Fred Savage (The Wonder Years) taking his emotionally withdrawn younger brother Jimmy across America to compete in a Nintendo tournament in California.
The film became a popular internet meme thanks to one scene in particular which featured the ill-fated Power Glove peripheral, coining the popular line: "I love the Power Glove, it's so bad."