343 addresses 'confusion' over Halo Infinite's new customisation system and microtransactions
"Coating" system will let players earn and pay for cosmetic items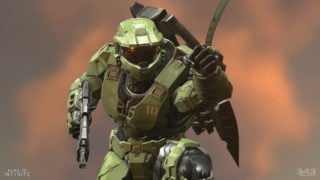 343 Industries has moved to clear up confusion surrounding Halo Infinite's new customisation system and how it ties in with microtransactions.
While Halo Infinite's release was recently delayed from November 2020 to next year, marketing promotions designed to coincide with its original launch date have begun, featuring a variety of in-game customisation offers players can redeem and bank now to unlock in-game later.
According to lead player investment designer Christopher Blohm, Halo Infinite's new "coating" customisation system is "a seven-layer shader that allows us to put any artist-authored color, material, or pattern into seven channels and apply it to in-game items like weapons, armor, and vehicles."
Halo community manager John Junyszek elaborated in a Halo Waypoint post last week: "Coloration, along with materials and patterns, will now be baked into the coating, taking the place of the primary/secondary armor color options found in prior games.
"While we understand that many players are fond of the previous color system, we're very excited about the breadth and scope of armor, weapon, and vehicle customization options that will be available in Halo Infinite because of the coating system."
Junyszek added: "We know this is a lot to wrap your head around, particularly without being able to see it in practice. Learning about some big new customization changes coming to Halo Infinite by seeing some marketing materials and reading a few paragraphs isn't ideal, but with programs already in motion and our date shifting, here we are."
The blog post was met with "a decent amount of confusion" by some members of the Halo community, which Junyszek has since addressed in a series of tweets. The first one confirmed that players will be able to access customisation items in a variety of ways, including earning them in-game and purchasing them with real money.
Microsoft recently revealed the Xbox Series X/S software launch line-up, which is missing a new flagship first-party game. That position was meant to be occupied by Halo Infinite, but in August the game was delayed so 343 can "finish the critical work necessary to deliver the most ambitious Halo game ever at the quality we know our fans expect".
Halo fans do have something to look forward to this holiday season though, with The Master Chief Collection getting an Xbox Series X/S upgrade on November 17.
Available free to existing owners and Game Pass subscribers, the optimised next-gen version will run at 120fps in campaign and multiplayer and up to 4K on Series X. It will also offer cross-gen play and adjustable field of view.