2K is reportedly making a Rocket League rival called 'Gravity Goal'
Players compete using "Tron-like bikes" in what could be a free-to-play title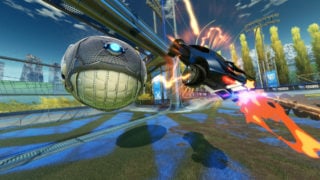 2K is reportedly working on a futuristic rival to Epic Games' popular vehicular sports game Rocket League.
According to Exputer, the unannounced project is currently titled 'Gravity Goal'.
Players reportedly control "Tron-like bikes" rather than cars, which they use to hit a ball into their opponent's goal in high-energy 1v1, 2v2 or 3v3 matches.
Rocket League Season 6 Cinematic Trailer
Gravity Goal lets users throw projectiles at opposing players to cause vehicle damage which slows or halts movement.
It was in closed alpha testing in late 2021 and may be released as a free-to-play game, according to the report.
VGC reported in February that 2K had reached an agreement to develop a new line of Lego sports games.
The publisher has signed a multi-game partnership with Lego, people with knowledge of its plans told us, as the toy firm looks to broaden its games output beyond the expiration of its exclusivity deal with Warner Bros.' TT Games.
WWE and NBA games publisher 2K is understood to be looking to expand its sports offering and sees targeting younger players as one way to do this.
Turbo Golf Racing, an arcade-style multiplayer game that combines racing and golf, was announced in late March. Developed by Hugecalf Studios, the Rocket League-like game will be released this year for Xbox consoles and PC.