24 hours after release, a Switch Sports player has already smashed their TV
The original Wii Sports was notorious for players accidentally flinging their controllers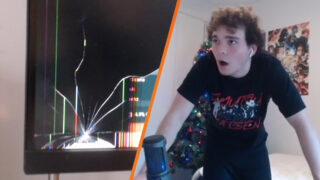 24 hours after the release of Nintendo Switch Sports, a player has already been captured accidentally smashing their television.
Streamer 63man was broadcasting his online tennis session on Saturday when he inadvertently flung a Joy-Con controller at his television, smashing the display.
"If you don't send [that clip] to Live Stream Fails I'm actually divorcing this chat," the streamer said during the stream, referring to the popular Reddit channel that documents streamer mishaps.
You can watch the clip below:
Switch Sports is the successor to Nintendo's hugely popular Wii Sports series, which at over 80 million copies, remains the company's best-selling game ever.
Wii Sports was notorious for its many recorded incidents of players accidentally flinging their Wii Remote controllers during gameplay, sometimes damaging their televisions.
The number of incidents became widespread enough that they were reported by mainstream outlets such as the BBC, and Nintendo offered to replace all controller straps with thicker versions to help prevent accidents during play.
Two years after launch, Nintendo then introduced a Wii Remote jacket accessory, which it said was intended to "provide cushioning for the Wii Remote for people who might accidentally throw or drop their Wii Remotes while playing games."
Both the original Wii Sports games and its new Switch instalment include warning messages upon booting the game encouraging players to be aware of their surroundings and to use Joy-Con straps to avoid accidents.
On Thursday, Nintendo's official support account encouraged parents to monitor their children when playing Switch Sports, so that they don't hit each other or their televisions.
Responding to an ABC news report in 2008, Nintendo of America said: "The Wii Remote is perfectly safe when used as instructed: use a firm grip, don't let go, use the wrist strap and make sure the game-play area has ample open space.
"As when beginning any new physical activity, it's best to pace yourself and not overdo it. Some games, including Wii Sports, include in-game reminders for players to take a break every now and then."
VGC's Switch Sports review in-progress said of the game's offline portion (online was unavailable at the time of review): "At this stage, Switch Sports feels like an unambitious re-tread of a 16-year-old game with very little in the way of options. All eyes are now on the online modes when they go up, to see if they breathe new life into it."
Related Products
Other Products
Some external links on this page are affiliate links, if you click on our affiliate links and make a purchase we might receive a commission.