20+ new Resident Evil 3 images show new areas and enemies
Capcom remake is due to release in April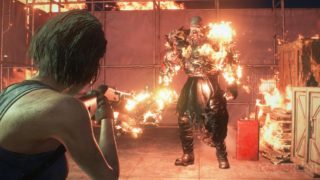 More than 20 new Resident Evil 3 images have appeared online.
The screenshots, which originate from French site Gamergen.com (archived by Reddit), show previously unseen enemies and areas set to feature in Capcom's remake.
Resident Evil 3 follows Jill Valentine as she attempts to escape Raccoon city in the immediate aftermath of a virus outbreak, before the events of Resident Evil 2.
It features more action-oriented gameplay than previous instalments and introduces the Nemesis monster, which pursues players throughout the story.
Capcom officially announced the remake of Resident Evil 3 in December, with a release set for April 3, 2020.
Like 2019's Resident Evil 2 remake, Resident Evil 3 has been remade in Capcom's RE Engine with a new over-the-shoulder camera angle.
Capcom recently revealed that Resident Evil 3's remake will feature more "rearranged" elements than 2019's version of Resident Evil 2.
The title will not revive the Mercenaries game mode featured in the original, instead replacing it with new asymmetric multiplayer mode Resident Evil Resistance.
Resident Evil 3 remake is being partly developed by M-Two Inc, a new studio founded by former PlatinumGames CEO Tatsuya Minami, VGC understands.