13 upcoming Call of Duty Warzone modes uncovered in game files
Explosive physics, 'classic' BR mode and more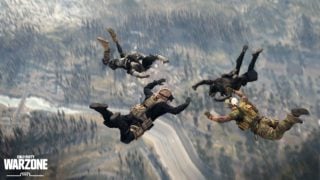 Thirteen upcoming Call of Duty Warzone playlists have been uncovered via a datamine of the game's files.
Added in this week's 15GB update are references to new playlists including 'Classic BR', which disables features such as Plunder and the Gulag, and 'BYOL', which allows players to start the game with their loadout of weapons and equipment.
Also referenced in the datamined files is a playlist that adds "explosive physics" and another which causes players to automatically redeploy upon death if they're carrying enough cash.
The playlists all make reference to BR Duos, the squad setup fans have been eagerly awaiting news on, which VGC understands is planned for release during this game season.
The datamine also potentially sheds light on the Red Access Cards that have started appearing in Warzone since this week's update.
According to the datamine, three colours of Access Card can appear during matches – Red, Blue and Green – and the various secret bunkers scattered around the game map can now have successful codes input into them – although it's still unknown how to do this.
The full list of playlists follows, via r/ModernWarzone:
Classic BR – No Cash, Contracts, Gulags, loadouts, or respawns
Mo Gulag Mo Problems – Dead players go to Gulag until final 3 circles, NO buybacks
BYOL – Bring your own loadout, start w/ your loadout
‪Non Stop – Gas always closing
PewPew – High dmg pistols & Explosive Physics
‪Run Like Hell – Circle is faster than a running player
‪Bottom Line – When a player dies they will drop back into the fight if they have enough cash on them. Gulag disabled
‪Realism – Minimal HUD
‪Infinite Gulag – (No description)
‪Most Wanted – (No description)
‪One shot – (No description)
‪Stimulus – (No description)
‪Inflation Redeployment – (No description)
Infinity Ward recently removed Call of Duty Warzone's new Most Wanted contract feature just 24 hours after it was added to the game.
In a patch released on Thursday night (PT), it confirmed Most Wanted contracts have now been removed and standard Bounty contracts reinstated.
It's not clear if Infinity Ward made the change due to negativity from fans or because of some examples that the feature may have been bugged.
Update, May 2: Infinity Ward has released a Modern Warfare and Warzone fix which targets connection issues and long matchmaking times players have been experiencing following this week's updates. The studio has also said it's working to resolve voice chat problems.