11 new PlayStation VR2 games have been confirmed, 9 of which are on other formats
The exclusives include a new Dark Pictures rollercoaster spin-off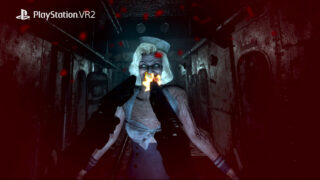 Sony has announced 11 new games set to arrive on PlayStation VR2 sometime in 2023.
The games, which are described on the PlayStation Blog as being available "after PS VR2 launches on February 22", include a spin-off based on The Dark Pictures  Anthology.
The Dark Pictures: Switchback VR is a "fast-paced roller coaster action-horror-shooter" where players shoot weapons at enemies while riding along on rails.
The concept appears to be very similar to Until Dawn: Rush of Blood, another Supermassive-developed horror rollercoaster which launched alongside the original PlayStation VR in 2016.
Of the 11 games announced, only The Dark Pictures: Switchback VR and Crossfire: Sierra Squad appear to be exclusive to PS VR2. The other nine titles are already available on (or are coming to) other formats, and appear to be either ports or enhanced versions of PS VR titles.
The other titles announced include:
Crossfire: Sierra Squad – a VR first-person shooter developed by Smilegate.
The Light Brigade – a single-player roguelike developed by Funktronic Labs, which will be a cross-buy PSVR and PSVR2 title.
Cities VR: Enhanced Edition – a VR adaptation of the city-building game Cities: Skylines. Currently already available on Meta Quest.
Cosmonious High – a school-based game developed by Owlchemy Labs, the creator of Job Simulator. Currently already available on SteamVR and Quest 2.
Hello Neighbor: Search & Rescue – a VR take on the popular Hello Neighbor series, coming to both PSVR and PSVR2.
Jurassic World Aftermath Collection – a compilation of both Aftermath games, which were previously released on Meta Quest.
Pistol Whip VR – an enhanced version of 2019 title Pistol Whip, which is already on Quest and PSVR.
Zenith: The Last City – an enhanced version of the Quest and PSVR MMORPG. Owners of the PSVR version will be able to upgrade for free.
After the Fall – an enhanced version of a co-op VR shooter released in 2021 for Quest and PSVR. Owners of the PSVR version will be able to upgrade for free.
Tentacular – a port of the physics-based octopus game currently available on Quest 2 and SteamVR.
Sony announced today that PlayStation VR2 will officially launch on February 22, 2023, priced at $549.99 / €599.99 / £529.99.
This makes the headset more expensive than the PlayStation 5 console itself.
There will also be a $599.99 / €649.99 / £569.99 bundle which includes a PlayStation Store voucher code for Horizon Call of the Mountain.
Related Products
Other Products
Some external links on this page are affiliate links, if you click on our affiliate links and make a purchase we might receive a commission.