Zorua location: Where to catch Zorua Pokemon Scarlet and Violet
Zorua can be found in multiple locations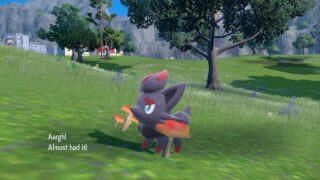 Zorua is back in Pokemon Scarlet and Violet, and we have all  you need to know about Zorua location in the game and the unique mechanic associated with the Pokemon.
Pokemon Scarlet and Violet feature a huge amount of new Pokemon, and some familiar faces, along with them.
We have guides telling you where to find some of the most popular, and rarest Pokemon around, such as Bagon, Pikachu, Eevee, Garchomp, Axew and Lucario.
Pokemon Scarlet and Violet Guides:
Pokemon Scarlet and Violet walkthrough, tips, and Pokemon locations | Roaring Moon location | Iron Valiant location | Shiny sandwich recipes | Pokemon Scarlet and Violet Legendaries | How to find Shiny Pokemon in Scarlet and Violet
---
Zorua location: Where to catch ZoruaPokemon Scarlet and Violet
Zorua can be found in the following locations:
Tagtree Thicket
West Province (Area Three)
Ter Raid Battles
Mass outbreaks
Zorua is found between levels 28 and 36  and appears in both games.

Interestingly, Zorua doesn't actually appear in the overworld. Instead, you'll have to battle other random Pokemon in the area, and if you're lucky, one of them will turn into an a Zorua when the battle begins.
If you defeat all of the Pokemon and none of them are Zorua, fly to another town, fly back and the Pokemon should have respawned.

Zorua evolves into Zoroark at level 30.
Related Products
Other Products
Some external links on this page are affiliate links, if you click on our affiliate links and make a purchase we might receive a commission.