Warzone Best SMG loadout: What is the best SMG in Season 3?
Our guide to the Warzone best SMG loadout to stomp your Call of Duty opponents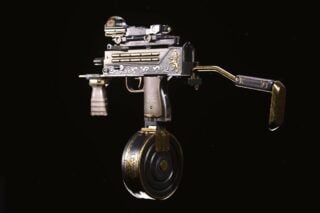 This guide details the Warzone best SMG loadout for Cold War Season 3, so if you're looking for the best SMGs for Call of Duty, you're in the right place.
Call of Duty: Warzone is in a great place right now, following its recent Season 3 update. This is due to a variety of factors, but has a lot to do with the rebalancing of the game's weapons. Specifically, the Warzone SMGs have gone through a substantial change, allowing many of them to be viable.
But which ones are the best? After all, there are so many SMGs to choose from, many of which are highly effective for close quarters engagements. Fortunately, VGC is here to guide you through the best SMGs Warzone has to offer, so you don't need to worry about keeping track yourself.
These are the Warzone best SMG weapons along with recommended builds for each of them.
---
Warzone Season 3 guides:
Warzone best loadout | Warzone best sniper | Warzone best SMG  | Warzone best Stoner 63 | Warzone best AK-47 | Warzone best Bullfrog | Warzone best FARA 83
---
Warzone best SMG loadout: Season 3
The best Warzone SMG loadouts are:
Bullfrog

LC10
MP5 (Cold War)
MAC-10
MP5 (ModernWarfare)
---
BEST SMG: BULLFROG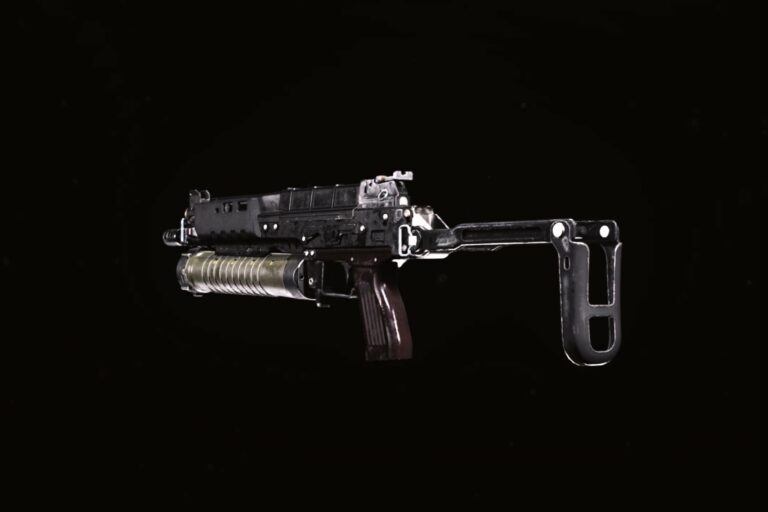 Muzzle: GRU Suppressor
Barrel: 7.4" Task Force
Stock: KGB Skeletal Stock
Ammunition: 65 Rnd
Rear Grip: Serpent Wrap
Kicking off our list is the Bullfrog, a Cold War SMG with competitive range, low recoil, and a high ammo count. One of the leading reasons for using the Bullfrog is due to its fast time to kill (TTK), even at medium range.
The build outlined above is meant for many situations, from up close to around 40 meters. The beauty of this weapon is that it has very few downsides, making it one of the most effective SMGs in the game. It also features usable iron sights, meaning you can get away with not using an optic.
By default, the Bullfrog has 50 rounds, which is more than enough, but can be decked out to have 85 bullets. This weapon has a lot going for it, so you'll definitely want to give it a try, especially if you're looking for a sniper compliment.
For more suggestions on how to build your weapon, read our Warzone best Bullfrog loadout guide.
---
BEST SMG: LC10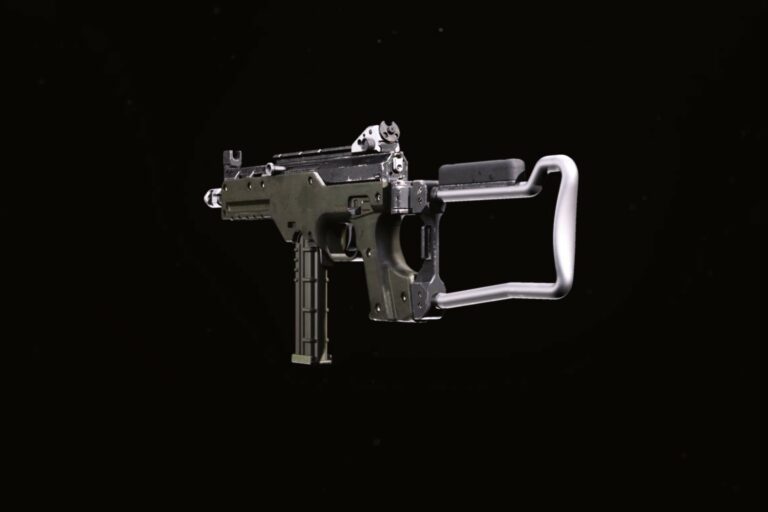 Muzzle: Agency Suppressor
Barrel: 11.9" Reinforced Heavy
Underbarrel: Field Agent Grip
Ammunition: STANAG 55 Rnd
Rear Grip: Serpent Wrap
Next up is the LC10, yet another SMG that works well at medium range. It's similar to the Bullfrog, only it performs better at range. When compared to the Bullfrog, the LC10 actually has a slightly slower TTK up close, but the farther out your target is, the better it performs.
That's not to say the LC10 doesn't work well up close, though. It's highly effective in close quarters situations, especially if you get headshots. And much like the Bullfrog, the LC10 can be customized to include high ammo counts of up to 55 rounds, which will serve you well.
In short, the LC10 is meant for players who want to engage with enemies up to 35 meters or so, allowing for range that almost feels like an assault rifle, while preserving mobility since it's an SMG. Though, it's worth mentioning, the LC10 does have a slower rate of fire, so you'll want to be careful when going up against players with a shotgun or MAC-10 up close.
---
BEST SMG: MP5 (COLD WAR)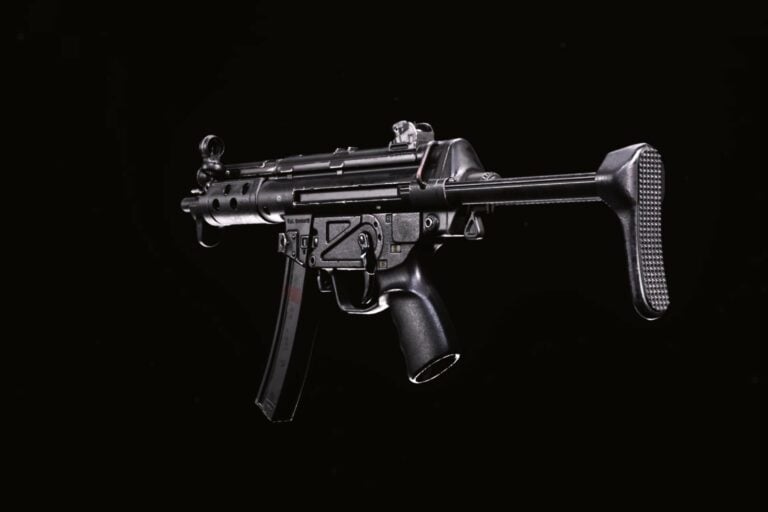 Muzzle: Agency Suppressor
Barrel: 9.5" Task Force
Stock: Raider Stock
Underbarrel: Field Agent Grip
Ammunition: STANAG 50 Rnd Drum
Following that is the trusty MP5, from Black Ops Cold War. This version of the MP5 has a slightly faster time to kill than the Modern Warfare MP5 up close, though the two are so similar, you likely won't be able to tell the difference.
To be considered for this list, an SMG must have competitive TTKs, especially in close quarters, and the Cold War MP5 meets those qualifications, up to around 12 meters. You'll find that it doesn't work as well beyond that, so you'll definitely want to pair this with an assault rifle like the AMAX or AK-47.
For the build above, we've decked out the MP5 to excel at close to medium range, while preserving aim down sights (ADS) speeds. Since it doesn't do exceptionally well from afar, you'll want to add attachments that help extend range and accuracy as much as possible, so it's more versatile. Despite its shortcomings at range, the MP5 is hard to beat in close quarters.
---
BEST SMG: MAC-10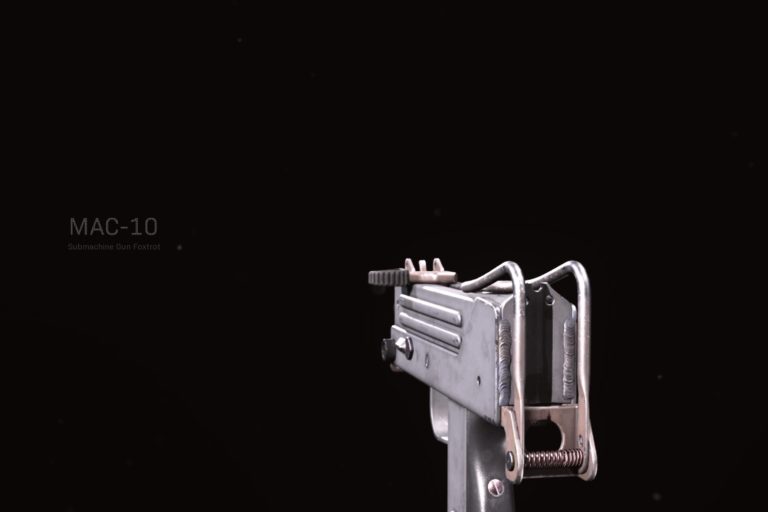 Muzzle: Agency Suppressor
Barrel: 5.9" Task Force
Stock: Raider Stock
Ammunition: STANAG 53 Rnd Drum
Rear Grip: Serpent Wrap
Although the MAC-10 received a slight nerf following the Season 3 update, it's still one of the leading SMGs in the game. Its lightweight form, fast rate of fire, and damage range are all competitive enough to keep it in the meta.
While it actually has a slightly slower TTK than the Bullfrog up to 13 meters or so, you'll find it to be even better when used beyond that, up to around 23 meters. If you can catch someone within that sweet spot, you'll likely win the gunfight with a MAC-10.
In terms of attachments, this build is geared towards range and fast ADS speeds, allowing for it to be as versatile as possible. You can go with a smaller mag count to improve the ADS speeds, but the MAC-10's rate of fire is so fast, that you'll likely need as much ammo as you can get.
---
BEST SMG: MP5 (MODERN WARFARE)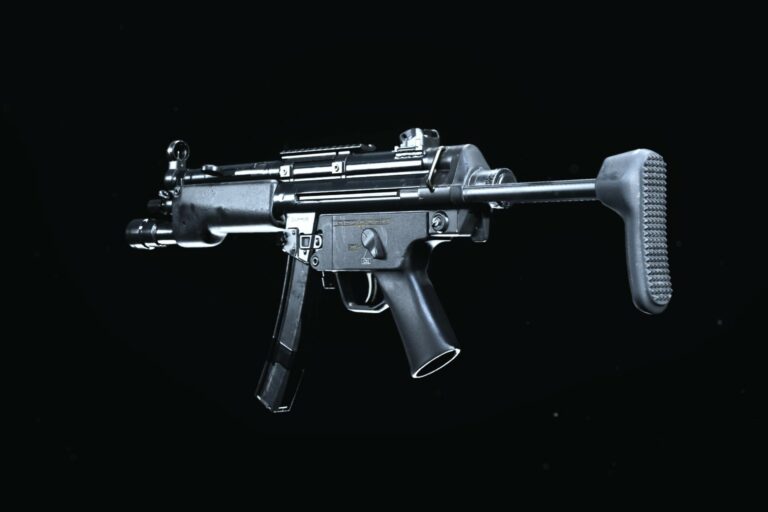 Barrel: Monolithic Integral Suppressor
Laser: Tac Laser
Underbarrel: Ranger Foregrip
Ammunition: 45 Round Mags
Rear Grip: Stippled Grip Tape
Finally, let's touch on the Modern Warfare MP5 because it's still one of the best SMGs in Warzone. When compared to the Cold War MP5, this one is slightly better at range, but the difference between the two is negligible.
The Modern Warfare MP5 is exceptional up close and is relatively easy to control within that 12 meter sweet spot. With this MP5, you'll have a bit more flexibility with its attachments, since there are a couple multipurpose barrels that give suppression, as well as a boost to damage range.
As you can see in the loadout above, we've got the MP5 built for medium range, while still maintaining fast ADS speeds. The one downside is that this weapon maxes out at 45 rounds, while the Cold War counterpart can hold up to 50, which can make a difference. Though, this MP5 is better at range, so it's a tradeoff either way.