Warzone Best Bullfrog Loadout – Season 3
Our guide to the best Bullfrog SMG loadout in Season 3 of Call of Duty Warzone
In this guide to the Warzone Best Bullfrog Loadout for Season 3, we show you how to build the best class for the Cold War SMG that's aggressive and highly accurate.
Following the Call of Duty: Warzone Season 3 update, many of the game's weapons have been improved to be more effective. This rebalancing has allowed certain weapons to shine through, such as the Bullfrog, an accurate SMG with a high ammo count.
Prior to the Season 3 update, the Bullfrog was still a great choice, but due to the overpowered FFAR 1, there wasn't much reason to use anything else. Now that the FFAR 1 has been nerfed, players have been gravitating towards the Bullfrog, and for good reason. It has a great time to kill (TTK), has an impressive headshot damage multiplier, and is easy to use.
Now that the Bullfrog has made its way into the Warzone meta, you'll want to give it a try. Thankfully, there are a few different class setups that are effective across many situations. These are the best Warzone Bullfrog loadouts to use in Season 3.
---
More Call of Duty:
MW3 best loadout  | Best Warzone loadout | MW3 best sniper |  MW3 best shotgun | MW3 MCW loadout
---
WARZONE BEST BULLFROG LOADOUT: SEASON 3
In this article we'll detail the best Bullfrog loadout for:
Best Bullfrog loadout: Accurate
Best Bullfrog loadout: Aggressive
Best Bullfrog loadout: Speed
---
BEST BULLFROG LOADOUT: ACCURATE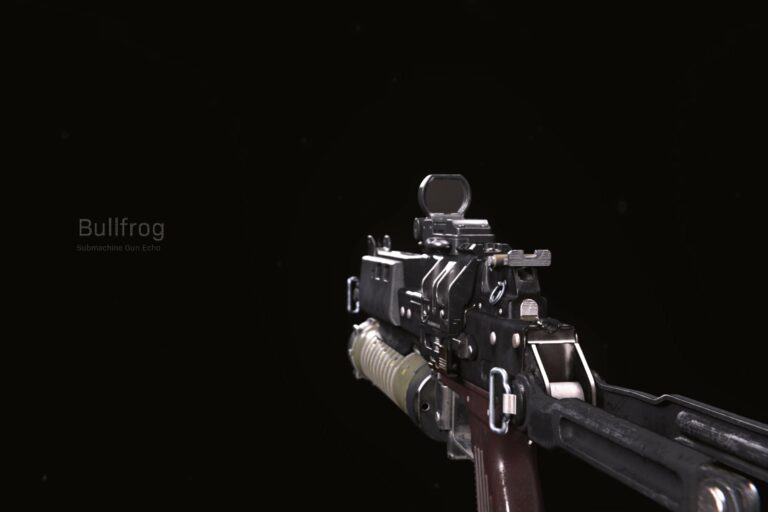 Muzzle: GRU Suppressor
Barrel: 8.1" Liberator
Optic: Microflex LED
Underbarrel: Spetsnaz Grip
Ammunition: 65 Rnd
One of the leading benefits of the Bullfrog is how easy it is to use. You can keep your crosshairs on your enemies with relative ease. But you can also build the weapon to be even more accurate. To do so, equip the GRU Suppressor, which keeps you off the minimap when firing, improves your vertical recoil control, bullet velocity, and effective damage range. You'll feel the effects of this attachment when firing from medium range.
After that, go with the 8.1" Liberator Barrel for improved bullet velocity. This doesn't help your accuracy, but it will improve your chances of taking out an enemy from farther distances, which is how this build should be primarily used. Then, we recommend an Optic to allow you to stay on your target much easier. Many players have grown fond of the Microflex LED, but you can also go with the Hawksmoor. Anything below 1.5x magnification is a good choice here.
To improve your recoil control, equip the Spetsnaz Grip Underbarrel. While this will penalize your firing movement speed, it will allow you to keep your crosshairs on your enemy, thanks to the improved vertical and horizontal recoil control.
Finally, we highly suggest using the 65 Rnd Ammunition type. By default, the weapon has 50 rounds, which is actually respectable, but those additional 15 bullets will often get you out of a bind. There's also no penalty to accuracy when using an extended mag, so you might as well come equipped with more ammo.
---
BEST BULLFROG LOADOUT: AGGRESSIVE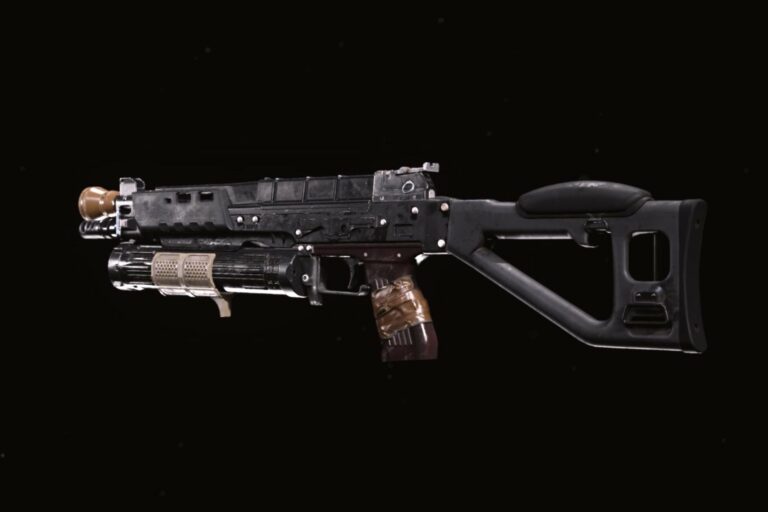 Muzzle: GRU Suppressor
Barrel: 7.4" Task Force
Stock: KGB Skeletal Stock
Ammunition: 65 Rnd
Rear Grip: Serpent Wrap
Arguably the most practical Bullfrog loadout is one that covers a lot of your bases, from up close to medium range. With this build, you'll find it to be useful if you're an aggressive player, whether you're in your enemy's face or firing from afar. This build doesn't necessarily need to be used in close quarters engagements, but excels in many situations thanks to its accuracy, large ammo count, and fast ADS speeds.
Once again, start with the GRU Suppressor for that increased vertical recoil control, bullet velocity, and damage range, while keeping you off the minimap. Then, we recommend the 7.4" Task Force, for increased damage range, bullet velocity and strafe speed. Follow that up with the KGB Skeletal Stock, which gives you faster ADS firing move speed, faster aim walking movement speed, and quicker sprint to fire times. This attachment will definitely help up close.
After that, you'll want to stick to the 65 Rnd Ammunition type to help you take out more than one enemy before needing to reload. Finally, we advise going with the Serpent Wrap to improve your ADS speeds. You'll find this build useful if you like taking enemies on from many different distances. Pair it with a long range weapon and you'll be set to dominate the battlefield.
---
BEST BULLFROG LOADOUT: SPEED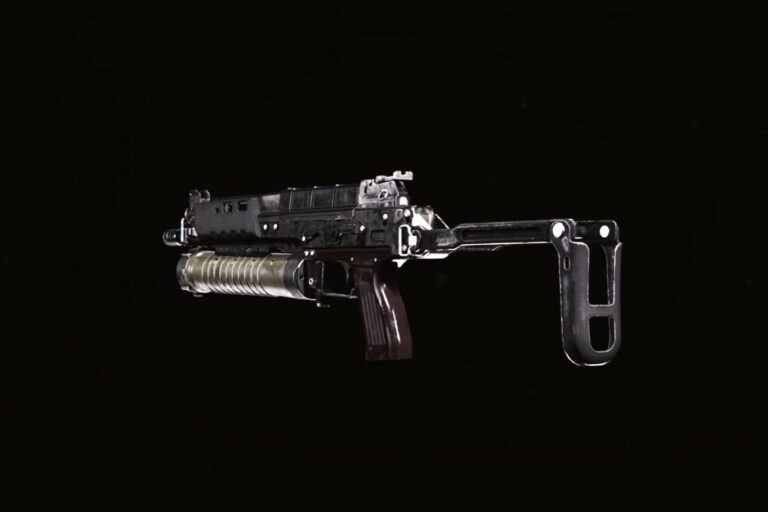 Barrel: 7.4" Task Force
Laser: Tiger Team Spotlight
Stock: KGB Skeletal Stock
Underbarrel: Bruiser Grip
Rear Grip: Serpent Wrap
But perhaps you're someone who likes a more unorthodox class setup. If that's you, then you'll likely enjoy this one. With this loadout, we've decked out the Bullfrog to favor speed across many fronts. This is an in-your-face, run and gun build that isn't good for those who like to stay back.
Start by skipping the first attachment slot to preserve your mobility and ADS speed when using the Bullfrog. Then, go with the 7.4" Task Force Barrel. This does improve the weapon's damage range, bullet velocity, and strafe speed, but the main reason to use it is that it gives you a mobility boost. After that, equip the Tiger Team Spotlight Laser for increased movement speed and aim walking movement speed. This will make your weapon slightly less stable, but since you'll be primarily using it up close, you shouldn't have too many issues landing your shots.
Follow that up with the KGB Skeletal Stock for added firing movement speed, aim walking movement speed, and ADS firing move speed. This will allow you to zip in and out of cover quickly while pushing your opponents. They won't know what hit them.
To allow yourself to move even faster, we advise going with the Bruiser Grip Underbarrel in this case. This attachment increases your movement speed and helps with your hip fire accuracy with no penalties whatsoever. You can also swap that for the VDV Speedgrip, which improves your sprinting move speed, but at the expense of general walking speed, so it's a trade off.
Finish off the build with the Serpent Wrap Rear Grip for better ADS speeds. This, too, is an aggressive build, but is meant for sticking close to your enemies, rather than at medium range. If you like being in your opponent's face, you'll probably like this setup on Rebirth Island. Find yourself losing gunfights due to running out of ammo? You can swap the Task Force Barrel for additional ammo that could save your life.
Related Products
Other Products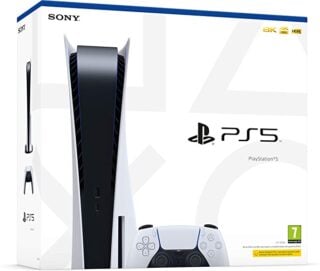 PlayStation 5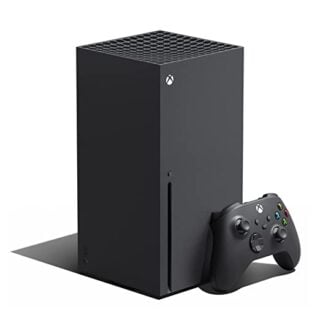 Xbox Series X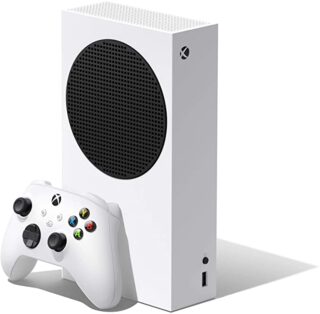 Xbox Series S
Some external links on this page are affiliate links, if you click on our affiliate links and make a purchase we might receive a commission.