Super Nintendo World keys guide: Where to find the keys and fight Bowser Jr.
Where to find the five keys at Super Nintendo World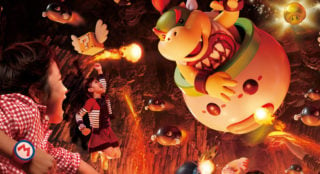 Super Nintendo World keys are acquired by defeating three of five Bowser Jr. minions; a Goomba, Koopa Troopa, Piranha Plant, Thwomp and Bob-Omb. After you collect at least three keys, you can enter the dungeon to fight Bowser Jr in a final boss battle.
Some of the mini games, including the final challenge against Bowser Jr., require multiple players to finish. However, if you come alone don't worry: staff will pair you with other guests to get the correct number of players required for each game.
The lines for these games aren't necessarily lengthy: they only take a few seconds to a few minutes for each. Keep in mind, it's entirely possible to lose these challenges: victory will earn you a level complete fanfare, while defeat will sound the game over music. Good luck!
Super Nintendo World Keys Map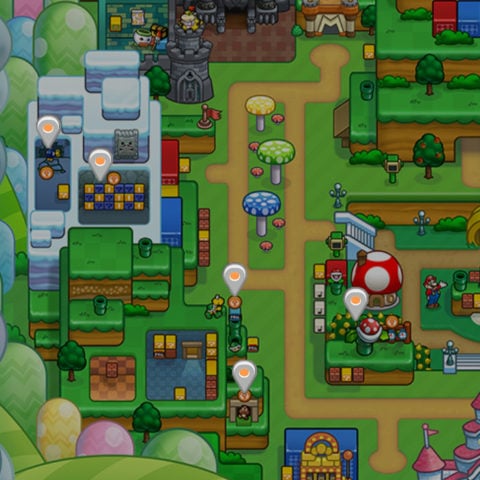 Goomba: One Player
Piranha Plant: Four Players
Koopa: One Player
Thwomp: Three Players
Bob-Omb: Four Players
Bowser Jr.: Up to 12 Players
Goomba Crazy Crank Key guide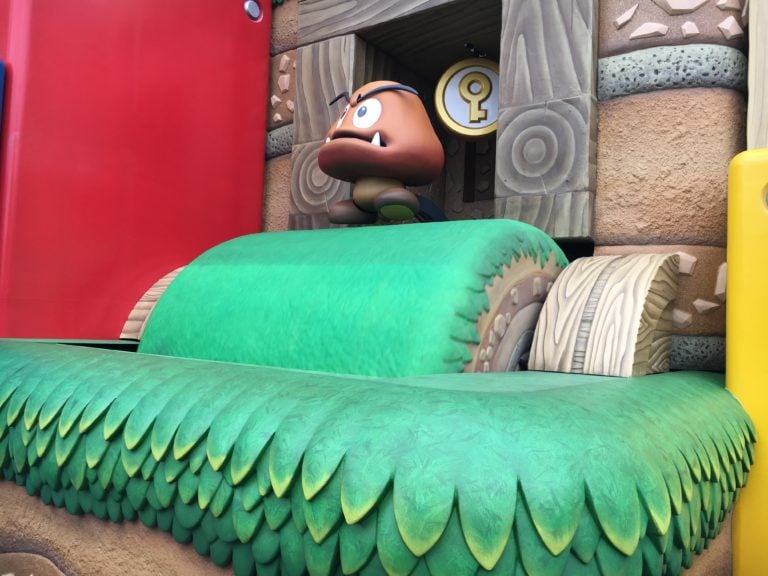 The first key is located near the entrance on the left, where players can roll over a goomba to win a key. When you begin the challenge, a Goomba will start walking on a nearby rolling hill, which will play music that speeds up as the time limit gets closer to ending.
You need to roll the goomba back by spinning a wheel with a consistent and rapid pace, without going too fast (don't break the game!) or too slow. If you win, the goomba will fall back and you can get the key. It's probably the easiest mini game, but people do sometimes lose.
Piranha Plant Nap Mishap Key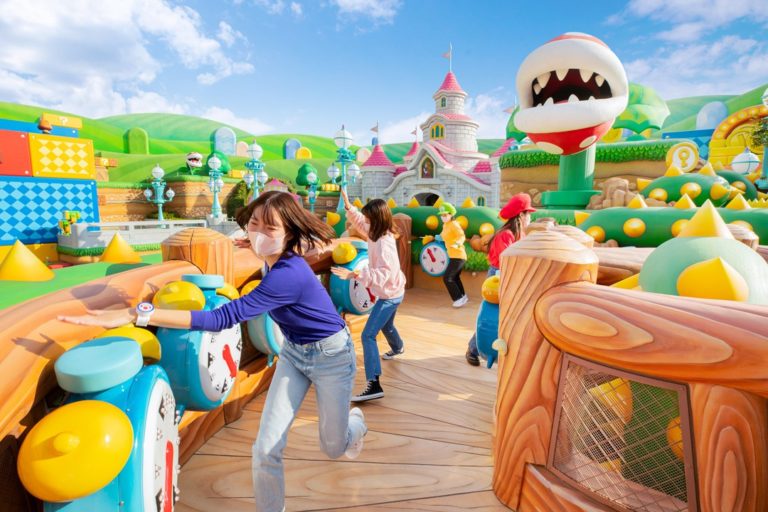 The next game is on the right of the first, where four players have to defeat a piranha plant. Well, more like make sure he stays asleep. When the game begins, players have to slam alarm clocks off when they ring.
You can tell which is ringing based on the flashing light of the clock, which flash red when alarming and white when silent. There's a general time limit, where a certain number of clocks have to be turned off to win the key. Be careful – clocks you've already silenced will turn on again in a short time.
Koopa Troopa POWer Punch Key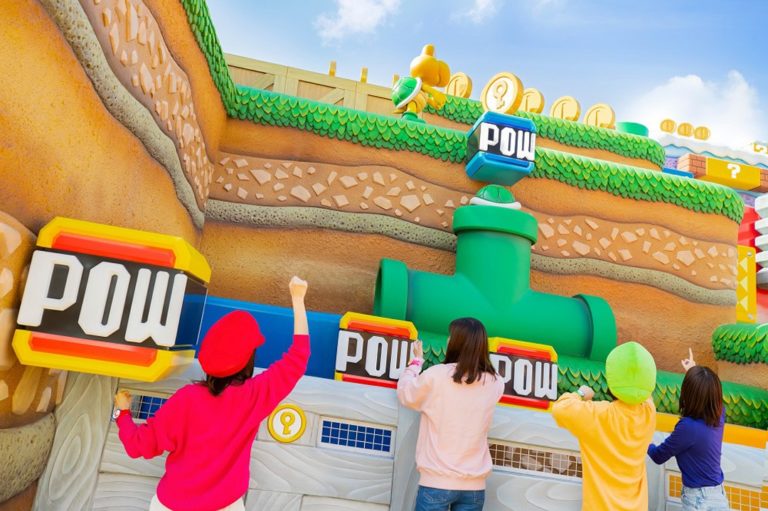 The next game is the harder of the two single-player games. You have the knock over a Koopa Troopa using the shell of its fallen brethren. The shell will bounce in and out of a pipe, and it's your job to hit a POW block which will set off a line of others to bounce the shell up out of the pipe, knocking out the target.
This is a timing-based challenge and you only have three chances to hit the Koopa Troopa. If you time it just right, just as it's halfway between the wall, going back into the pipe, you should be able to get it. Adjust accordingly. You'll hear a sound effect if you hit it too early or late.
Thwomp Panel Panic Key

The first of the two underground mini games is against a Thwomp. Well, kinda. You never actually see the thwomp, only its dirty work. It's a three-player game which has you flipping tiles on a wall from yellow to blue. Again, there's a short time limit, but overall, it's a pretty simple premise. If you have two quick friends, it should be a piece of cake.
Bob-omb Kaboom Room Key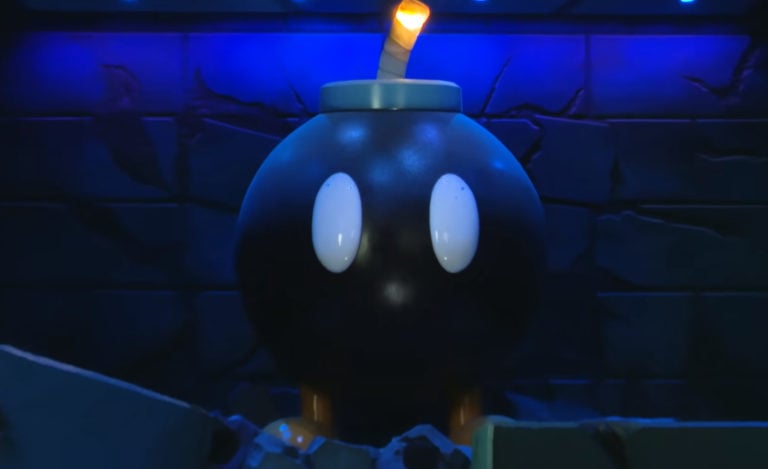 The final challenge is definitely the most difficult and the one where players lose most often. Making matters even worse, it's a multiplayer game, so an entire group can lose a lot of time having to find a different key or get back in line to try again. The Bob-omb challenge was briefly previewed by Miyamoto in his Super Nintendo World Direct. A giant Bob-omb has destroyed one of the keys, and its up to four players to gather the pieces and put it back together, like a puzzle.
The first job is to gather the pieces, which are sent to screen displays in the walls. The pieces will teleport back to a screen under the giant bob-omb, where players have to piece them back together in a circular puzzle. The Bob-omb has a tendency to explode again, sending the pieces back to the walls. However, after a second time, the giant Bob-omb explodes, it's game over. This is definitely the most difficult of the mini-games and results in frequent losses.
Bowser Jr. Shadow Showdown
After you've acquired at least three keys, it's time to take down the big baddy of the park: Bowser Jr.! Located near his pop's castle, you'll have to scan your wristband to unlock the door to enter his small dungeon. Once inside, you'll learn the story of how he stole Princess Peach's golden mushroom, and it's up to you and your friends to win it back.
Like the ride queues, the line for this boss battle is full of personality. While Bowser's Castle is full of Bullet Bills, Bob-ombs and oil drums, Bowser Jr. has opted for more playful weapons, like poison mushrooms, clown cars and boomerangs. His lair is also full of graffiti, no doubt made with his paintbrush.
---
Super Nintendo World Guide Coverage
Related Products
Other Products
Some external links on this page are affiliate links, if you click on our affiliate links and make a purchase we might receive a commission.