Super Nintendo World food and drink guide
What to order at Kinopio's Cafe, Yoshi's Snack Island and Mario's Pit Stop Popcorn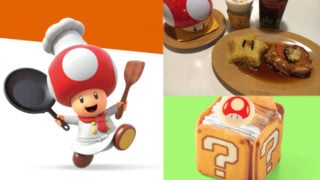 Super Nintendo World may be a fantastic real-life recreation of the Mushroom Kingdom, but it also features something no good theme park attraction should be without: themed restaurants.
The park has its own large cafe as well as a couple of smaller food stands, all of which offer unique Mario-themed meals, drinks and snacks. If you're planning to visit at some point it's worth planning ahead, so here's our guide to what's on offer and what we recommend.
There are a couple of things to bear in mind before we get into the eateries themselves: firstly, there are no vending machines or ATMs in the park, and once you've entered with your time card, once you leave you cannot return.
You should also be aware that all the stores in the park only take cards with chips, so if your current debit or credit card doesn't have a chip yet you'll need to update it before planning a trip.
Finally, be sure to bring a bottle of water with you for your visit, as it may be some time before you can grab a drink. Once you're in the park, though, lines for snacks and drinks are relatively short compared to other attractions and rides.
Universal Studios Japan is definitely more action-oriented than rival parks, so you should also eat a healthy meal before visiting. Although, if you forget, that's where Kinopio's Cafe comes in…
Kinopio's Cafe
Naturally, the best place to get food in Super Nintendo World is Kinopio's Cafe (Toad's Cafe), which looks like a giant Toad House from the Super Mario series (they originally appeared in Super Mario Bros 3).
It may look small on the outside, but when you step inside you'll find a massive dining area with plenty of space to sit and enjoy your meal.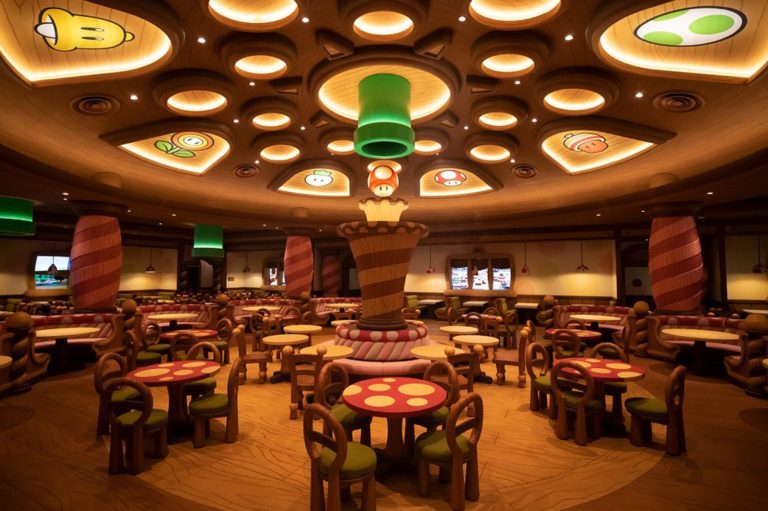 A lunch for two at Kinopio's Cafe will set you back around ¥4000 yen ($36), which is pretty standard in Japan for eating out. The quality of the food itself is fine: it could be argued that Japanese burgers don't compare to those in the west, especially the United States, and the desserts are fairly standard and more expensive than their actual value.
Of course, at a place like this you aren't just paying for the food itself, you're paying for the experience and the way they look. In that respect, they're a success.
What may be disappointing, however, is that you don't get to keep any of the dishes. While you can sometimes get dishes when you make a particular purchase or pay over a certain amount in some theme cafes in Japan, that isn't the case here.
The food selection at the cafe is wide and varied, but you're unlikely to be able to customise your order, so if there's something on a dish you don't like you may be unable to remove it. The cafe can also get extremely busy, and while you should have no problem finding a seat once your meal's ready it may take you anything from 20 to 40 minutes to get your food.
It's also worth bearing in mind that you have to choose your meal and pay before sitting down, so if you want to order anything more, you'll have to exit the café and get back in line. Luckily, none of the desserts melt, so you may want to order everything in one go.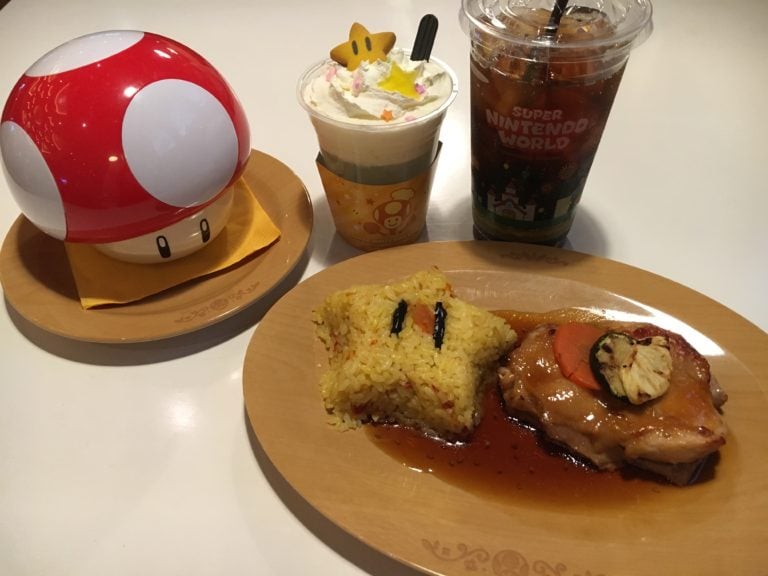 Once you order your food, you'll be given a number and asked to sit down in a designated area. When your food is ready, it'll be brought to you by staff and they'll take your number back. They'll even take a photo of you and your food if you're the Instagram type.
There are eight main dishes on the menu, each themed on certain characters like Mario, Yoshi, Bowser and even the Fish Bones enemy (which made us do a double-take, but presumably it's more fish than bones).
Of what we tried, our favourites were the Luigi's Green Curry Chicken Sandwich, which has a little bit of heat to it, and Yoshi's Spinach Carbonara. The eight main dishes are: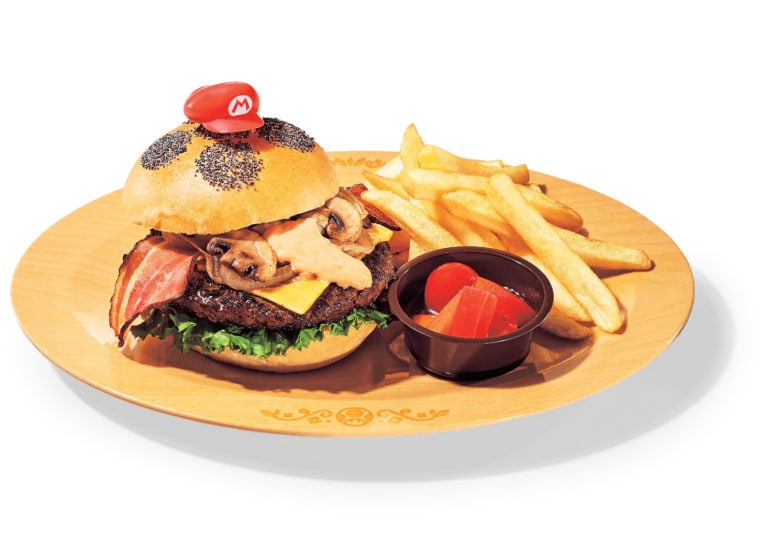 King Bowser's Hamburger Steak with Bread or Rice – ¥2,100 ($19.26)
Fish Bone Meuniere with Bread or Rice – ¥2,100 ($19.26)
Mario's Bacon Cheeseburger – ¥2,000 ($18.34)
Luigi's Green Curry Chicken Sandwich – ¥2,000 ($18.34)
Teriyaki Chicken & Super Star Rice – ¥1,900 ($17.43)
Chef's Special: Omelet Rice with Shrimp & Mushroom Cream Stew – ¥1,900 ($17.43)
Yoshi's Spinach Carbonara – ¥1,900 ($17.43)
Fire Flower Spaghetti & Meatballs – ¥1,900 ($17.43)
If those prices are a little too rich for your liking there's a separate side menu for smaller dishes like pizza, soup and salad. The soup, while simple, is tasty, and even comes in a bowl that looks like a Super Mushroom.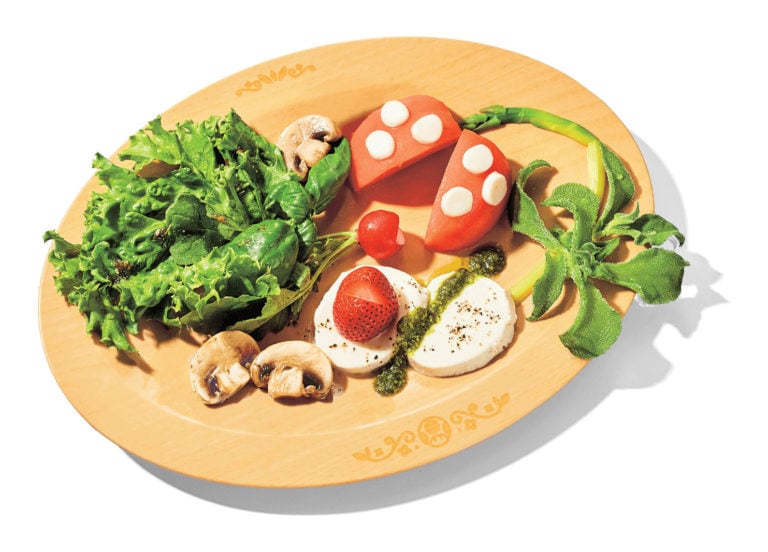 Piranha Plant Caprese – ¥1,300 ($11.92)
Yoshi's Favorite Fruit & Veggie Salad – ¥1,300 ($11.92)
Mushroom Soup – ¥800 ($7.34)
Super Mushroom Pizza Bowl with Mushroom Tomato Sauce – ¥1,500 ($13.76)
Portobello Mushroom Pizza Topped with Bacon & Vegetables – ¥1,500 ($13.76)
Naturally, given the park's family-friendly setting there are also a couple of options for children. The hamburger meal even comes with a little Mario figure:
Kids Hamburger Meal with Mario Figurine Pick – ¥1,400 ($12.84)
Kids Curry & Rice Meal – ¥1,000 ($9.17)
Once you've finished your main meal you may be tempted to get something from the dessert menu. These come in fairly small portions, with the exception of Peach's Cake, which is the most expensive item on the menu for a reason.
The dessert designs really shine, particularly the Question Block Tiramisu, which contains a little goodie inside. Our favourite dessert, however, is the flagpole cake: it's definitely the most creative of the desserts, although it doesn't quite make sense as a food item.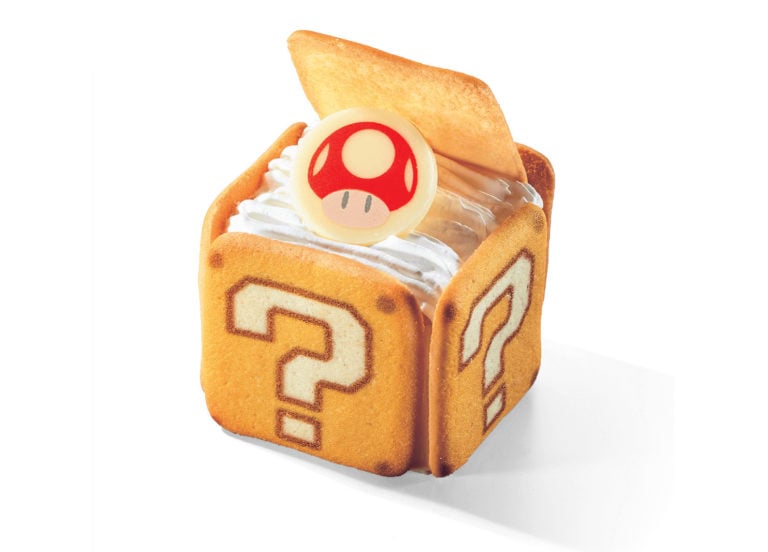 Question Block Tiramisu – ¥700 ($6.42)
Goal Pole Cake – ¥800 ($7.34)
Double Cherry Chocolate Cupcake – ¥700 ($6.42)
Princess Peach's Cake (for three to four people) – ¥2,800 ($25.68)
Finally, here's the drinks menu. While the two Super Star items are themed, you can also go for cheaper, more traditional drinks like cola or coffee, though it's worth bearing in mind that there are no free refills on the soft drinks and you won't be able to easily get in line to order another, so you may want to pace yourself. Water isn't on the menu, but is available and is free.
Super Star Lemon Squash – ¥600 ($5.50)
Super Star Hot Yuzu Lemonade – ¥600 ($5.50)
Regular Soft Drink – ¥320 ($2.93)
Large Soft Drink – ¥380 ($3.48)
Hot Coffee / Tea – ¥320 ($2.93)
Fruit Juice (Apple / Orange) – ¥410 ($3.76)
Yoshi's Snack Island
The smallest of the three food areas in the Super Nintendo World section, Yoshi's Snack Island is a great choice if you're looking for a quick snack or drink in a (comparatively) cosy and calm part of the park.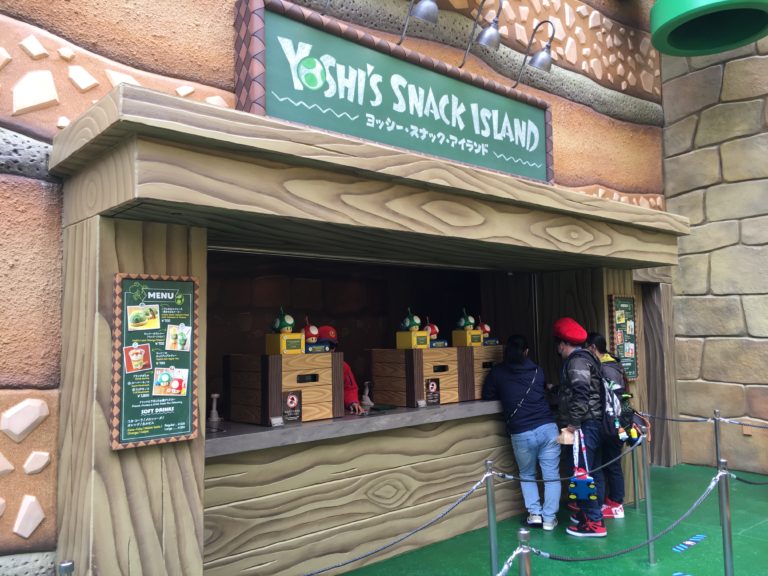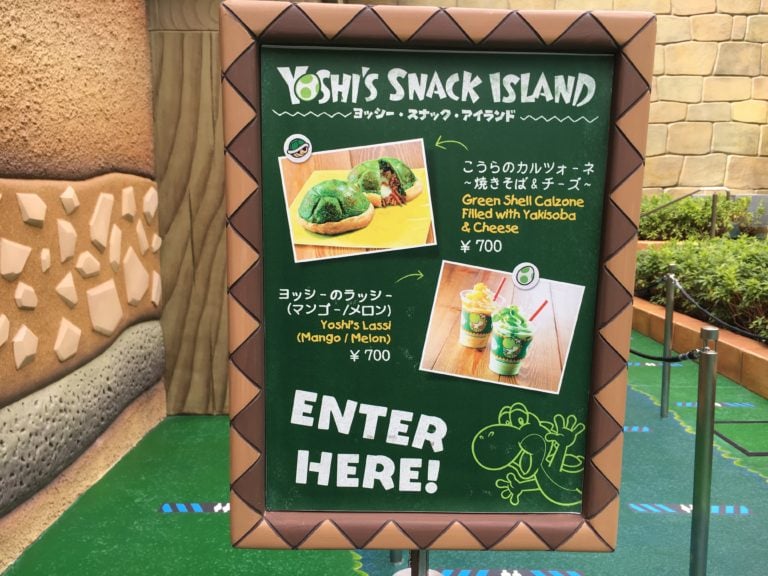 The menu is very limited and there are no seating options here: it's more of a food stand than a proper dining area. The food is still good, though, and should still fill you up.
The drinks on offer include Yoshi's Lassi (mango or melon) and Yoshi's Hot Apple Tea. They also have traditional soft drinks, as well as optional Super Mushroom and 1-Up Mushroom drinks bottles – the latter are ¥1,800 ($16.50) each.
In terms of food, there's a Koopa shell snack with yakisoba in it. Be warned, though: while tasty, it's also pretty messy.
Luckily, there are restrooms on the ground level near the photoprint booth so you can clean yourself up in there, and there are also garbage cans hidden in plain sight. You may not even notice the bins until you need them – we actually hesitated to use them in case they were fake.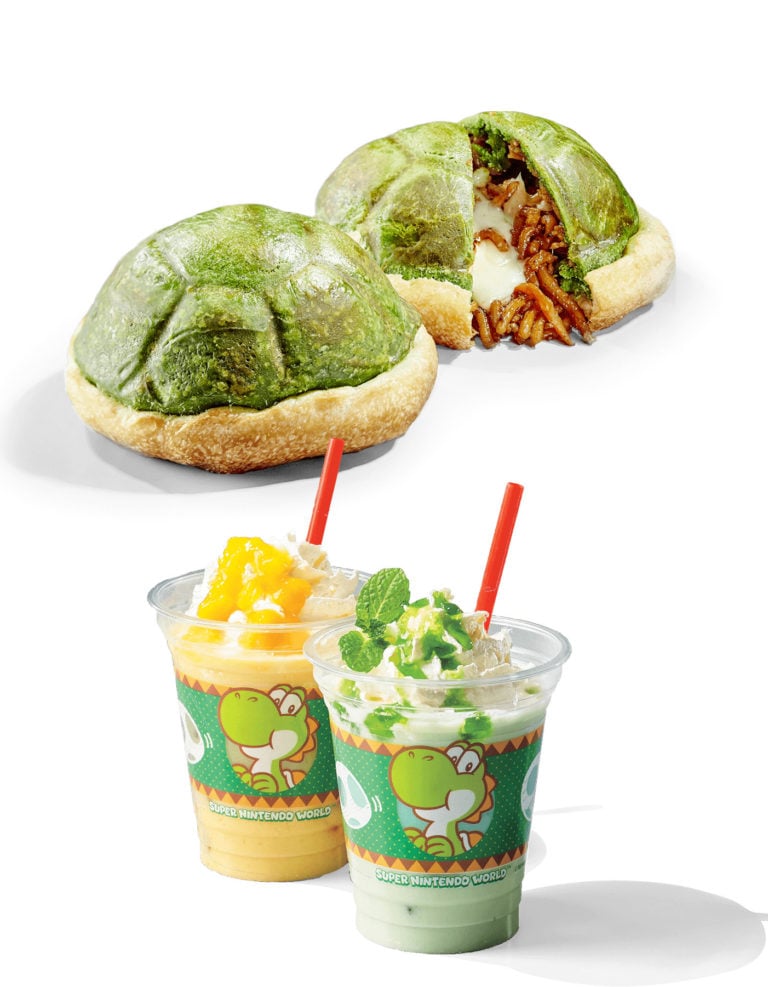 Green Shell Calzone Filled with Yakisoba & Cheese – ¥700 ($6.42)
Yoshi's Lassi (Mango / Melon) – ¥700 ($6.42)
Yoshi's Hot Apple Tea – ¥700 ($6.42)
Regular Soft Drink – ¥320 ($2.93)
Large Soft Drink – ¥380 ($3.48)
Mario's Pit Stop Popcorn
If you're looking for a snack that doubles as a unique souvenir, your best bet may be Mario's Pit Stop Popcorn, which offers flavoured popcorn in a Mario-themed bucket.
These are very pricey, but they look great and they light up too: each has a hidden switch that turns on a light (either flashing or continuous), allowing the Super Star to shine or the wheels on the Mario Kart to glow.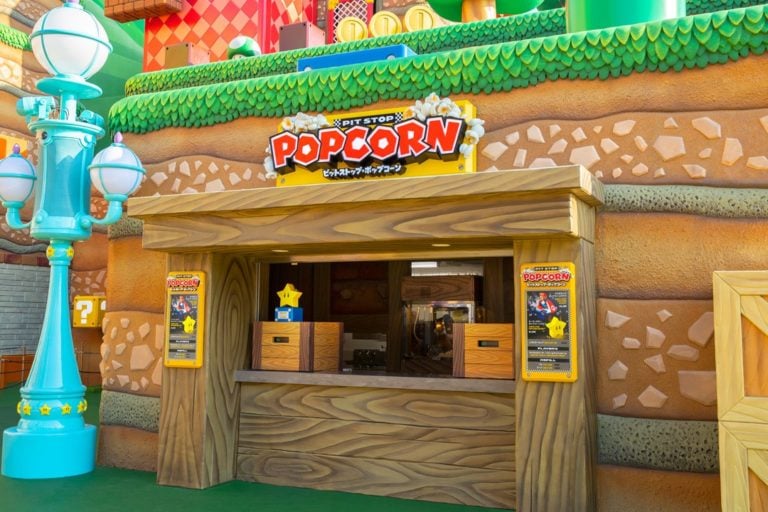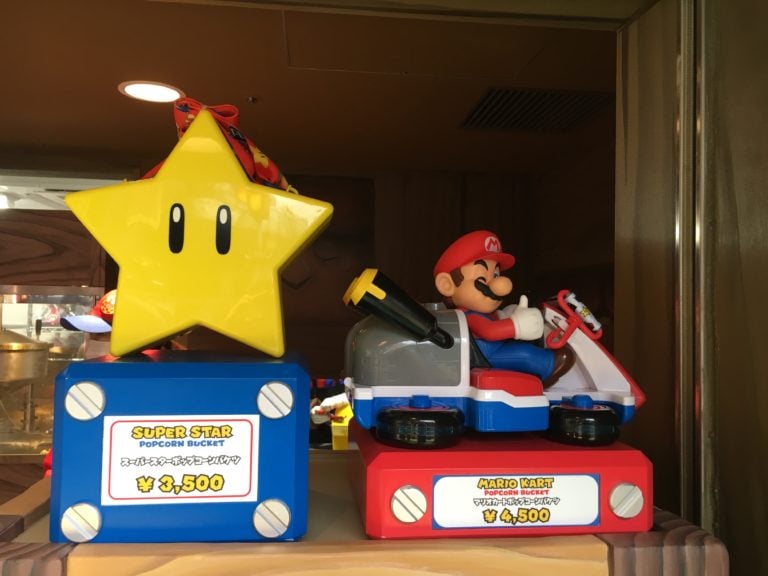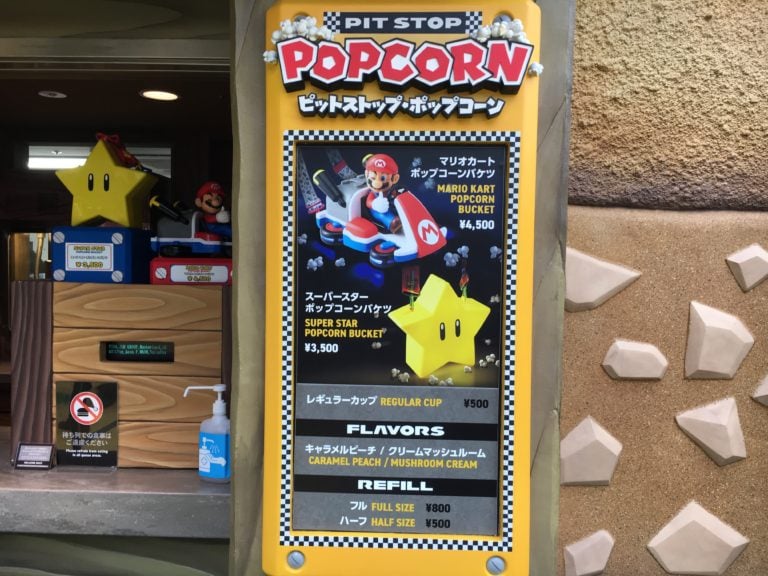 The Super Star Popcorn Bucket is probably the most popular of the two from what we saw, presumably because it's the cheaper of the two options. Both novelty buckets are also larger than the regular cups.
We love the designs of the popcorn buckets, but they can be very difficult to clean. You may wish to buy one with no popcorn in it then buy a regular cup to hold your snack, to keep your bucket in pristine condition if you want to collect it. If you choose to put the popcorn in the bucket, it's at least machine washable.
The popcorn comes in two different flavours, Caramel Peach (sweet) and Mushroom Salt (savoury). Japanese caramel popcorn is delicious, and the sweetness of the peach only serves to enhance the sweetness of the caramel.
The mushroom salt popcorn, while tasty, may be too salty for some. It has a very distinct mushroom flavour that is not overpowering, but also not subtle. It's perhaps more of a traditional salted popcorn, though in our experience most salted popcorn in Japan has too much salt anyway so it's not like this is doing anything wrong in that respect.
Mario Kart Popcorn Bucket – ¥4,500 ($41.28)
Super Star Popcorn Bucket – ¥3,500 ($32.11)
Regular Cup – ¥500 ($4.58)
Full Size Refill – ¥800 ($7.34)
Half Size Refill – ¥500 ($4.58)
Mario Cafe & Store
There's one more Mario-themed eatery in Universal Studios Japan but it's not located within Super Nintendo World and is only around for a limited time.
It's more of a sweet shop than a proper cafe, because it only offers five options – two food items and three drinks – and they're mostly the same.
The straws, however, are quite funny. The Mario and Luigi ones have moustaches on them, so when you're drinking it looks like you have a moustache. The Peach drink, meanwhile, has a crown on its straw, which makes sense but isn't quite as effective unless you drink through a hole in the top of your head.
Mario's Cap Strawberry Shortcake Pancake Sandwich – ¥1,100 ($10.09)
Luigi's Cap Grape No-Bake Cheesecake Pancake Sandwich – ¥1,100 ($10.09)
Princess Peach's Peach Soda – ¥600 ($5.50)
Mario's Strawberry Soda – ¥600 ($5.50)
Luigi's Green Apple Soda – ¥600 ($5.50)
---
Super Nintendo World Guide Coverage
Related Products
Other Products
Some external links on this page are affiliate links, if you click on our affiliate links and make a purchase we might receive a commission.