Striker Odyssey codes September 2023
Codes for spins, prodigy spins and SP resets can be found here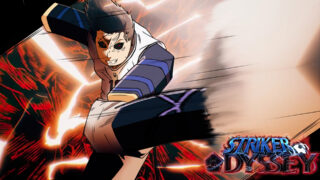 Striker Odyssey codes can be used in the popular Roblox experience to get spins, prodigy spins, SP resets and more.
Striker Odyssey is a Roblox game inspired by the anime Blue Lock, and has players creating a character then using them to take part in football / soccer games.
Players can also redeem codes in the game to acquire free spins, prodigy spins, SP resets and other rewards. These codes are often reset, so you should check back here regularly to find out which Striker Odyssey codes are working, and which have already expired.
If you found this article useful, be sure to check out our other Roblox codes guides including those for Project Slayers codes, Shindo Life codes, Blox Fruits codes, King Legacy codes, YBA codes and Anime Adventures codes.
Latest update
We've added one new Striker Odyssey code (at the top of the page). Keep checking back regularly – as new codes are added to the game we'll add them to this page and update it.
---
New Striker Odyssey codes (September 2023)
GOJONOO: Free Spins
20MVisits: Free Spins
45KFavorites: Free Spins
20MVisitsSP: Reset SP
45KFavoritesSP: Reset SP
35KLikes: Free Spins
LUFFY5GEAR: Free Spins
NewSPResetCodeWow: Reset SP
NewCodeWow: Free Spins
15MVisits: Free Spins
32KLikesSPReset: Reset SP
KAISERSPReset: Reset SP
KAISER: Free Spins
30KLikes: Free Spins
AIKU: Free Spins
27KLikesSPReset: Reset SP
10MVisits2: Free Spins
25KLikes: Free Spins
LOKI: Free Spins
22KLikesSPReset: Reset SP
20KLikes: Free Spins
---
Expired Striker Odyssey codes
Striker Odyssey codes come and go fairly regularly, which means some codes you may find elsewhere may have expired.
Here's a list of some of the most recently expired ones, for your reference.
Shidou
17KLikesSPReset
15KLikes
12KLikesSPReset
10KLikes
BarouUpd
1MVisists
NewCode
---
How to redeem Striker Odyssey codes

Redeeming a Striker Odyssey code is a straightforward process.
Once you load the game from the Roblox launcher and see the title screen, don't choose Play, because that will take you into the game.
Instead, choose Customize, and look at the bottom-left of the screen, where you'll see a small box that says 'Code'.
Choose that box and enter your code there to redeem it. If it doesn't work your code may be expired.
---
What are Striker Odyssey codes?
Striker Odyssey codes help unlock useful items in the game, such as spins, prodigy spins and SP resets.
Players can redeem the codes above to get rewards. However, they don't last forever, so it's worth checking this page often to find new codes.
---
Where to find more Striker Odyssey codes
New Striker Odyssey codes are often found on the game's official YouTube account.
However, the easiest way to find more Striker Odyssey codes is to let us do the work for you and keep checking back on this page daily.
More Roblox guides:
Roblox codes | Project Slayers codes | Shindo Life codes | Blox Fruits codes | King Legacy codes | Anime Mania codes | YBA codes | All Star Tower Defense codes | Pet Simulator X codes | Bee Swarm Simulator codes