Starfield Traits Guide: Best Traits, All Traits Explained
Every trait in Starfield explained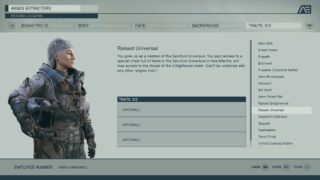 What are traits in Starfield and how do they work?
Traits in Starfield are choices that you're going to have to make at the start of the game that will have an impact on your character. These things can vary from changes to your stats, or even new characters and missions.
Want to know what every single trait in Starfield does? Find out in our guide below.
---
Starfield New Game Plus | Starfield Contraband | Crimson Fleet quests | Ryujin Industries quests | Freestar Collective quests | Starfield fast XP gain | Starfield boost pack | Starfield console commands
---
---
Starfield Traits Guide: All Traits Explained
Alien DNA

This trait gives you increased health and oxygen from the star of the game, but following this, healing and food items aren't as effective.
---
Dream home

Dream Home is one of the few traits in Starfield that actually unlocks its own side mission and a new location. Dream Home, as the name might suggest, grants you access to a home in Starfield. For more information about the Dream Home mission and owning a home in Starfield, check out our Starfield Dream Home guide.
---
Empath

If you choose this perk, doing actions that your companions will like, results in a temporary increase in combat effectiveness. However, similarly, if you do the opposite, you'll lose some combat effectiveness.
---
Extrovert
This trait means that you'll use less oxygen when you're traveling with human companions.
---
Hero Worshipped

This trait gives you access to the Adoring Fan, who is a companion who can join your crew in the game. For more about the Adoring Fan and how to recruit him, check out our Adoring Fan companion guide.
---
Introvert

You'll expend less oxygen when you're traveling alone.
---
Kid Stuff

Kid Stuff is one of the most unique traits in Starfield and one that we recommend that you take. Kids Stuff will mean that your parents exist in the game, and you can go and visit them as part of a quest. You can't kill them. Don't ask us how we know that.
---
Neon Street Rat

As you might expect, Neon Street Rat gives you better rewards from missions on Neon. You'll naturally reach Neon as part of the main quest.
---
Raised Enlightened

This option will give you access to items that are exclusive to this trait when you reach New Atlantis. You can only pick one religious trait.
---
Raised Universal

This option will give you access to items that are exclusive to this trait when you reach New Atlantis. You can only pick one religious trait.
---
Serpent's Embrace

You'll get a temporary boost to health and oxygen, but you'll actually lose some health and oxygen if you don't jump enough.
---
Spaced
Your health and oxygen are increased in space. However, when you're on a planet, they're reduced.
---
Taskmaster

Crew costs more to hire, but you'll occasionally get a free repair for your ship.
---
Terra Firma

Health and Oxygen are much increased on planets. However, if you're in space, this is reduced.
---
United Colonies Native

This trait will give you increased dialogue options related to the United Colonies. You'll also get better rewards from their faction missions.
---
Wanted

This trait is a good one if you're planning to play as a scoundrel in Starfield. The wanted trait gives you a boost to damage when your health is low, but it means that while you're flying around the galaxy, you're likely to be interrupted by bounty hunters. How you deal with these bounty hunters is up to you.
Related Products
Other Products
Some external links on this page are affiliate links, if you click on our affiliate links and make a purchase we might receive a commission.