Starfield tips for beginners
Check out these beginner tips for Starfield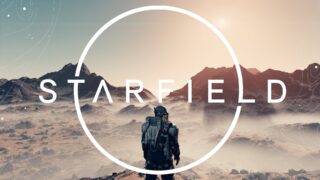 Looking for some Starfield tips for beginners?
Starfield is finally here, so we've put together a guide with some beginner tips from Starfield that should get you on your way across the galaxy. This Starfield beginners guide will give you all the information you need on how lockpicking works, how the boost pack works, the best traits in Starfield, and what background you should pick.
If there's anything else you want to know, we've got guides covering just about everything in Starfield.
---
Starfield New Game Plus | Starfield Contraband | Crimson Fleet quests | Ryujin Industries quests | Freestar Collective quests | Starfield fast XP gain | Starfield boost pack | Starfield console commands
---
---
Starfield tips for beginners: Best Backgrounds in Starfield

If you've just started Starfield, you'll be asked to select your background as part of the game's character creation. There are 21 different backgrounds, each of which means that you'll start the game with a different set of beginner skills.
It's worth remembering that within a few hours of starting your Starfield journey, you'll have leveled up enough times to put as many skill points into other skills as you'd like, so don't worry about it too much. We'd recommend the following backgrounds for an easier start:
Bounty Hunter
Combat Medic
Soldier
Check out our full Starfield backgrounds guide for all the information about the backgrounds in Starfield.
---
Starfield tips for beginners: Best Traits in Starfield

Another early choice you're going to have to make in Starfield is your traits. Traits in Starfield are choices that you're going to have to make at the start of the game that will have an impact on your character. These things can vary from changes to your stats, or even new characters and missions
These are unique in the sense that they can't be changed, and will have effects throughout your game. We'd recommend checking out our full Best Traits in Starfield guide for all the information about what every trait does, and which ones you should prioritize.
---
Starfield tips for beginners: Best Starfield perks

Starfield features dozens of different perks, but you're going to have to pick carefully which ones you take with you on your journey.
While you'll eventually be able to fill up the skill tree due to recent revelations about Starfield's level cap, during your first run through the game, you'll likely want to know which perks are the best ones to pick to have the best Starfield experience. Check out our Starfield perks guide for more info.
---
Starfield tips for beginners: How to dock

Docking your ship in Starfield can be pretty awkward. Despite the game not being great about explaining how to do it, once you check out our Starfield docking guide, you'll be docking like a pro.
---
Starfield tips for beginners: How to use the boost pack

Using the boost pack in Starfield is one of the best ways to get around planets, as not only does it mitigate fall damage, but depending on the boost pack, you can really make your way across huge expanses of space quickly.
You can get the boost pack skill very early, right from the jump depending on what perks you pick, but if you want to know more, you should check out our Starfield boost pack guide. 
---
Starfield tips for beginners: Is Starfield Steam Deck compatible?

Can you play Starfield on your Steam Deck? Well, the answer is complicated. While the game WILL run, your results may vary, so you should check out our full Starfield Steam Deck guide for the best information on getting the game running on Valve's handheld PC.
---
Starfield tips for beginners: Contraband explained

Looking to walk on the wild side and smuggle cargo in Starfield? Smuggling cargo in Starfield is an essential skill of being a space pirate. You may have noticed that when you enter certain areas of the game, you'll be greeted by scanners that will check if you're holding any illegal goods.
Check out our full Starfield smuggling cargo guide for all the details you need.
Related Products
Other Products
Some external links on this page are affiliate links, if you click on our affiliate links and make a purchase we might receive a commission.