Spider-Man 2 You Know What to Do Trophy Guide: Aunt May's grave location
As Peter, visit Aunt May's Stadium with this guide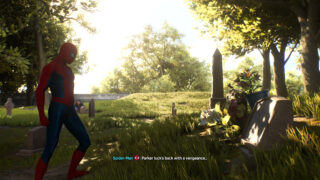 The You Know What to Do Trophy in Spider-Man 2 asks players to do the following:
As Peter, visit Aunt May's grave
Not exactly the most light-hearted trophy ever, but nevertheless, you're going to have to do it if you want the Spider-Man 2 platinum trophy. The trophy is a reference to the first game, which saw you have to visit Uncle Ben's grave.
Thankfully, it's in the same location as Uncle Ben's grave was in the first game. So in this guide, we'll so you how to complete the You Know what to Do trophy in Spider-Man 2.
---
Spider-Man 2 You Know What to Do Trophy guide: Aunt May's grave location

Aunt May's grave can be found in the North West of the map, in the Harlem area of New York. It's behind the church, in an open part of the cemetery. Once you approach it, you'll be given a prompt to interact with it.
And that's it, once you do this, you'll get the You Know What To Do trophy in Spider-Man 2.
---
For more Spider-Man 2 guides, click over to our Spider-Man 2 suits list and All Spider-bot locations, or find out how to unlock the Classic Black Suit, Noir Suit, and Spider-Punk suit.
We also have a guide to the Just Let Go Trophy and the Spider-Man 2 Spider-Bot Ending Explained.