Spider-Man 2 Ending Explained: Who is Cindy Moon?
Wondering what happened at the end of Spider-Man 2? Find out here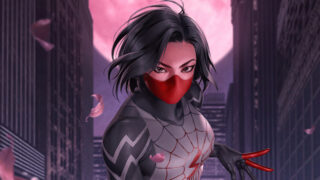 Finished Spider-Man 2? Wondering about the ending of Spider-Man 2? Curious about Cindy Moon? Find out everything you need to know about Spider-Man 2's ending here. Spoilers, obviously.
LAST CHANCE! SPOILERS AHEAD!

Spider-Man 2 Ending Explained
At the end of Spider-Man 2, Peter and Miles defeat Venom, and detach the Symbiote from Harry. This gravely injures Harry, almost assuring that he won't survive. He's placed into a Coma at Oscorp. This enrages Norman Osborn, who believes that the Spider-Mans are responsible for all-but-killing his son.
At his son's bedside, Norman grabs his phone and speaks to an unknown caller. He says "Get the G-Serum ready, ASAP." Now, as anyone who's paid attention to a Spider-Man story before knows, the G-Serum is the chemical element that turned Norman Osborn into the Green Goblin. Does this mean that the Green Goblin will be the main villain in Spider-Man 3? It certainly suggests he could be.
---
Spider-Man 2 Mid-Credit Scene Explained

The first post-credit scene sees Norman Osborn approach Otto Octavius, Doc Ock, in the RAFT. Ock asks Octavius what he wants, and Osborn says  "The Spider-Men" because they "ruined (his) son."
Octavius says this is good because "We all have to experience loss, even you, Norman." Norman then asks him what he is writing, to which Octavius responds "The final chapter."
This could possibly be an illusion to Doc Ock making a return in the third game, especially if he is freed in order to help Norman with the G-Serum, and presumably, to build him a suit as the Green Goblin.
Spider-Man 2 Post-Credit Scene Explained

The final post-credit scene in Marvel's Spider-Man 2 sees Miles get ready to meet his mother's new boyfriend. During this scene, we find out that Rio's boyfriend is Albert Moon, and that he's brought along his daughter Cindy Moon.
Who is Cindy Moon?
Cindy Moon is the alter ego of Silk, a recent addition to the Marvel universe, who first appeared in The Amazing Spider-Man #1, published in 2014. She is a Korean-American who was bitten by the same spider that gave Peter Parker his powers.
Could this mean that we Silk as a playable character in a third Spider-Man game? Who can say. We don't know what age she is, or if she's been exposed to the spider that traditionally gives her her powers yet.