School of Hierarchy codes September 2023: How to get free EXP, money and more
Codes for free EXP, money and items are here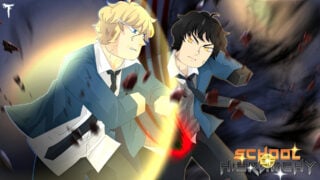 School of Hierarchy codes can be used in the popular Roblox experience to get extra EXP, money and items.
School of Hierarchy is made by EclipsorDDia and is based on the WebToon Comic unOrdinary. While the game is still in a fairly early stage, it's still fully playable.
The game has players building their abilities so they can eventually level up to higher tiers and gain new abilities.
It also has some bonus codes which can be redeemed for extra items, to let players reach those higher tiers a little faster.
Latest update
We've run a check for new School of Hierarchy codes but we haven't found any new codes since our last update. Keep checking back regularly, however – as new codes are added to the game we'll add them to this page and update it accordingly.
These codes won't last forever (a previous one, '10Potential', has already expired) so it's worth coming back here regularly to see which School of Hierarchy codes have been newly added.
If you found this article useful, be sure to check out our other Roblox codes guides including those for Shindo Life codes, Blox Fruits codes, King Legacy codes, Anime Mania codes and YBA codes.
---
New School of Hierarchy codes (September 2023)
FixPls – free EXP
SpinMoney1 – free rewards
---
Expired School of Hierarchy codes
These codes used to work in School of Hierarchy, but are now expired.
We're including them below in case you find them on another list and want to see if they still work – if they're on here, they don't.
1MEXP
1MilMoney
10Potential
Fragmenting
MaintenanceComplete
POWWWEEERRRRR
SeraFairy
---
How to redeem School of Hierarchy codes
It can be hard to redeem School of Hierarchy codes if you don't know where to look.
Start the game and press M on your keyboard to bring up the game's menu.
From there, select the little gear icon to go to the game's Settings, where you can then find a text box at the bottom of the screen.
Enter your code there and select Enter to redeem it.

---
What are School of Hierarchy codes?
School of Hierarchy codes help players unlock items in the Roblox game School of Hierarchy, such as EXP bonuses and extra money.
Players can redeem the codes listed above to get extra bonuses for their characters on top of the stuff they get by playing through the game normally.
However, as with other Roblox games with codes in them, these codes don't always last forever, so it's best to keep checking to see when more have been added.
More Roblox guides:
Roblox codes | Project Slayers codes | Shindo Life codes | Blox Fruits codes | King Legacy codes | Anime Mania codes | YBA codes | All Star Tower Defense codes | Pet Simulator X codes | Bee Swarm Simulator codes