Rellor Evolution: How to evolve Rellor into Rabsca – Pokemon Scarlet and Violet
How to evolve Rellor into Rabsca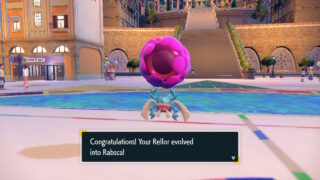 Pokemon Scarlet and Violet is finally here, bringing with it a huge new world, a ton of new Pokemon, and plenty of new mysteries to uncover.
Some of the new Pokemon also bring with them totally new evolution mechanics, some of which might not be too obvious at first. One of the Pokemon to receive a new evolution method is Rellor, a new bug-type Pokemon you can find early in the game.
So read on to find out How to evolve Rellor into Rabsca.
Pokemon Scarlet and Violet Guides:
Pokemon Scarlet and Violet walkthrough, tips, and Pokemon locations | Roaring Moon location | Iron Valiant location | Shiny sandwich recipes | Pokemon Scarlet and Violet Legendaries | How to find Shiny Pokemon in Scarlet and Violet
---
Rellor Evolution: How to evolve Rellor into Rabsca – Pokemon Scarlet and Violet
After you've caught a Rellor, you're going to want to make it the first Pokemon in your party, so that you can take it out of it's Pokeball using the Let's Go feature.
Once you've done this, you're going to need to walk for 1000 steps with Rellor in order to make it eligible to evolve.
The best way to do this is to release it inside of a town, so that it doesn't try to battle anything. If you run, Rellor will go back in it's ball, so you're going to have to walk slowly in order for it to be ready to evolve.
Once you think you've walked enough, level it up once and Rellor will evolve into Rabsca.

Related Products
Other Products
Some external links on this page are affiliate links, if you click on our affiliate links and make a purchase we might receive a commission.