Pikmin 4 White Onion location
How to find the White Onion to make your own poisonous Pikmin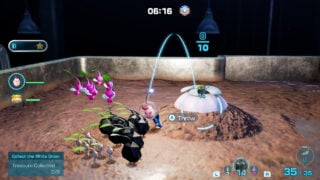 Pikmin 4 White Onion location is the subject of this guide, which will help you find and unlock the ability to create your own White Pikmin.
White Pikmin are essential in the latter half of Pikmin 4's story, when their ability to withstand poisonous creatures and environments will help you explore and track down valuable treasure.
However, because you won't be able to find them until the latter half of the story, this guide contains some spoilers for Pikmin 4 – don't read if you want to keep everything a surprise!
---
Pikmin 4 Onion Locations
Purple Online location | White Onion location | Ice Onion Location | Rock Onion Location | Pink Onion Location
---
How to unlock the White Onion in Pikmin 4

In order to find and unlock the White Onion in Pikmin 4, you'll need to complete the following milestones in the main campaign:
Reach the first ending, after finding Olimar in Hero's Hideaway.
Finish every Olimar's Shipwreck Tale mission, found by speaking to him in the hub area.
Enter the new cave in the hub area, 'Trial of the Sage Leaf'.
You'll unlock the White Onion by completing the first five Dandori challenges in this cave.
The fifth challenge, "The White Key", is where you'll find the Onion. In this challenge, you'll need to uncover several hidden treasures in order to unlock a gate, where the item is located.
In order to get the White Onion back to your ship in time, you'll need to collect all treasures with at least a minute remaining on the clock. Many are hidden above the walkways in spiderwebs, and make sure to utilise your Winged Pikmin to carry them back quickly.
You should also ignore enemies where possible. For the large boss creature in front of the White Onion gate itself, we recommend using Oatchi to attack, providing cover for your Pikmin as they carry the Onion nearby.
Related Products
Other Products
Some external links on this page are affiliate links, if you click on our affiliate links and make a purchase we might receive a commission.