Pikmin 4 Purple Onion location
How to find the Purple Onion and gain the ability to grow Purple Pikmin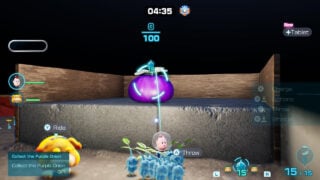 Pikmin 4 Purple Onion location is the subject of this guide, which will help you unlock the ability to grow Purple Pikmin.
Purple Pikmin are the strongest Pikmin in the game, with the strength of ten normal Pikmin and the ability to create gravity waves when thrown.
You won't be able to access them until half way through the game, after the completion of many key story missions. As such, this guide contains some spoilers for Pikmin 4 – don't read if you want to keep everything a surprise!
---
Pikmin 4 Onion Locations
Purple Online location | White Onion location | Ice Onion Location | Rock Onion Location | Pink Onion Location
---
How to unlock the Purple Onion in Pikmin 4

Before you're able to find the Purple Onion in Pikmin 4, you'll need to reach the following milestones during the game's story:
See the game's first ending, after locating Olimar in Hero's Hideaway.
Complete all of the Olimar's Shipwreck Tale missions, accessible by speaking to him in the hub area.
Enter the new cave in the hub area, 'Trial of the Sage Leaf'.
You'll unlock the Purple Onion by completing all ten Dandori challenges in this cave.
The final challenge, 'The Purple Key', is what's needed to uncover the onion. In this challenge, you'll need to navigate a maze while carrying the Purple Onion, within a time limit.
Worse, you'll have to avoid a creature known as the Waterwraith, who patrols the arena on two giant wheels. Standard attacks cannot harm this enemy, and any Pikmin in its path will be instantly wiped out.
You can complete this challenge by avoiding the Waterwraith, especially if you've maxed out Oatchi so that he can carry the Purple Onion by himself.
However, what the challenge doesn't tell you is that Purple Pikmins' gravity waves can make the Waterwraith temporarily appear and be exposed to attack. So it's recommended you turn up with some Purple Pikmin uncovered from other caves.
After this point, Waterwraith will run around the arena without its wheels, but it's essentially harmless.