Pikmin 4 Ice Onion location
How to find the Ice Onion and grow Ice Pikmin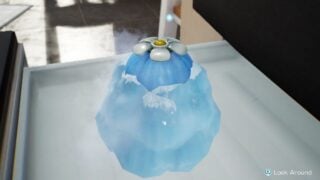 Pikmin 4 Ice Onion location is the subject of this guide, which will show you how to find and unlock the useful Ice Pikmin.
When you start the game, you'll gain access to a small number of Ice Pikmin. However, if you lose them in battle you'll soon be wanting a better way to create more than by revisiting caves looking for wild ones.
Ice Pikmin can freeze enemies during battle, making them much easier to defeat, as well as freeze bodies of water and withstand ice attacks.
The Ice Onion is located in one of the latter areas of the story, so only read on if you don't want that particular detail spoiled.
---
Pikmin 4 Onion Locations
Purple Online location | White Onion location | Ice Onion Location | Rock Onion Location | Pink Onion Location
---
How to unlock the Ice Onion in Pikmin 4

To find the Ice Onion in Pikmin 4 you'll need to have unlocked the fourth area of the game, Hero's Hideout.
The Onion is located at the north of the map, but it only appears once you've completed a particular cave. First, you'll need to gain access to the kitchen countertop, which is reached by hopping on a drone elevator.
Here, after some exploring, you'll uncover a cave entrance on a kitchen hob surrounded by fire. In order to access it, both you and Oatchi will need to have purchased the fire-resistant upgrades from the hub.
Enter the cave and complete its four floors and boss fight, and you'll exit via a different cave exit north of where you entered. Hop onto the nearby drone and down to the fridge, and you'll find the Ice Onion.
Related Products
Other Products
Some external links on this page are affiliate links, if you click on our affiliate links and make a purchase we might receive a commission.