Pet Simulator 99 release date and everything we know so far
When is Pet Simulator 99 out? Can you transfer your pets over?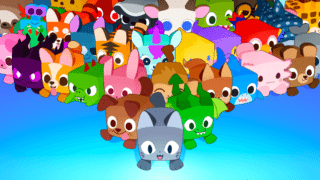 When is Pet Simulator 99 out? Can you transfer your Pet Simulator X pets over to Pet Simulator 99?
There are loads of questions surrounding the newly announced Pet Simulator 99, but in this article we'll attempt to answer some of them.
When Pet Simulator 99 is eventually released, we'll also provide you with any in-game codes released for it.
For now, though, here's what we know about the Pet Simulator 99 release date and the other information revealed so far.
---
What is Pet Simulator 99?
Pet Simulator 99 is an upcoming Roblox experience from BIG Games.
BIG Games released Pet Simulator X in 2021, and Pet Simulator 99 is its sequel.
In case it wasn't obvious, the name comes from the fact that, at least at launch, the game will feature 99 pets.
The new game will have a bunch of new gameplay mechanics which BIG Games promises will give it more variety than Pet Simulator X had.
---
When is Pet Simulator 99's release date and time?
You won't have long to wait until you can play Pet Simulator 99 on Roblox.
BIG Games has confirmed that Pet Simulator 99 will be released on December 1 at 11am CST.
If you don't know what that means in your time zone, here's how that translates:
US (West Coast) – December 1 at 9am PT
US (East Coast) – December 1 at 12pm ET
UK – December 1 at 5pm GMT
---
How to transfer Pet Simulator X pets to Pet Simulator 99

If you've been playing Pet Simulator X, you may be worried that all your progress will be lost and you'll be starting all over again with no pets.
That's thankfully not the case, because you can start transferring your pets to Pet Simulator 99 now.
If you log into Pet Simulator X and walk to the Pet Box, you can transfer pets, huges, titanics and eggs.
There's a limit to how many you can transfer at a time, but this limit refreshes every seven days, and the Pet Box will remain in Pet Simulator X for six months.
When you get your pet in Pet Simulator 99, it'll have the same serials, signatures and gold/rainbow status. According to BIG Games, the only things that won't transfer over are nicknames and enchantments, because they work differently in the new game.
Other Products
Some external links on this page are affiliate links, if you click on our affiliate links and make a purchase we might receive a commission.