NBA 2K23 MyTeam Season 1: All Rewards, free packs and players
Earn a Pink Diamond Scottie Pippen in NBA 2K23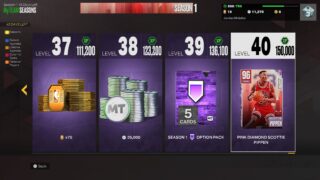 NBA 2K23 is here, and it brings the first season of MyTeam for NBA 2K23.
MyTeam is the mode in which players can earn or buy cards of their favourite players in order to build their dream lineup.
Players can be acquired through opening packs, completing challenges, or via season rewards.
The first season rewards are largely focused on Michael Jordan's teammates, the legendary mid-90s Chicago Bulls team.
NBA 2K23 SEASON ONE REWARDS
Level 1 (0 XP) – Onyx Giannis Antetokounmpo Free Agent card
Level 2 (250 XP) – 1 Token
Level 3 (500 XP) – Finisher Award Pack
Level 4 (750 XP) – Free Agent Award Pack
Level 5 (1000 XP) – Ascension
Level 6 (1250 XP) – Shot Creator Award Pack
Level 7 (1500 XP) – 3 Tokens
Level 8 (1800 XP) – Emerald Steve Kerr card
Level 9 (2100 XP) – Unauctionable Base Season 1 Award Pack
Level 10 (2550 XP) – Season 1 Ball
Level 11 (3050 XP) – Ascension
Level 12 (3650 XP) – Playmaker Award Pack
Level 13 (4350 XP) – 5 Tokens
Level 14 (5150 XP) – Unauctionmable Standard Season 1
Level 15 (6100 XP) – Elite Franchise Highlight Exchange
Level 16 (7200 XP) – Sapphire Bill Cartwright card
Level 17 (8450 XP) – Unauctionable Standard Season 1
Level 18 (9900 XP) – Ascension
Level 19 (11550 XP) – Shoe Colourway
Level 20 (13400 XP) – 10 Tokens
Level 21 (15500 XP) – Unauctionable Deluxe Season 1 Award Pack
Level 22 (17850 XP) – Ascension
Level 23 (20500 XP) – Elite Franchise Highlight Pack
Level 24 (23450 XP) – Ruby Toni Kukoc
Level 25 (26750 XP) – Historic Trophy Case Pack
Level 26 (30450 XP) – Ascension
Level 27 (34600 XP) – Moments Trophy Case Pack
Level 28 (39250 XP) – 20 Tokens
Level 29 (44450 XP) – Current Trophy Case Pack
Level 30 (50250 XP) – Ascension
Level 31 (56700 XP) – Elite Franchise Highlight Pack
Level 32 (63850 XP) – Amethyst Horace Grant
Level 33 (71750 XP) – Amethyst Prize Ball
Level 34 (80400 XP) – Season 1 Consumables Pack
Level 35 (89850 XP) – Season 1 Shoe Boosts Pack
Level 36 (100100 XP) – Ascension
Level 37 (111200 XP) – 75 Tokens
Level 38 (123200 XP) – 25,000 MT
Level 39 (136100 XP) – Season 1 Option Pack
Level 40 (150000 XP) – Pink Diamond Scottie Pippen