MultiVersus Tom & Jerry Guide: Moves and strategies
Learn all the moves and how to master Tom & Jerry in Warner Bros' fighting game MultiVersus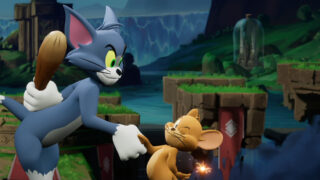 This MultiVersus Tom & Jerry guide will give you the moves and strategies you need to master the famous cartoon duo.
If you want to know how to use Tom & Jerry's special moves, this guide breaks them all down and gives tips on how to use them.
It also gives general strategies on the best way to use Tom & Jerry when fighting against opponents online.
And if you don't even know who Tom & Jerry are, we've got you covered there too.
For more MultiVersus guides and tips, consider reading our full MultiVersus guide for strategies on every character, as well as our MultiVersus unlockables guide which details unlockable variants, taunts, emotes and more.
MultiVersus Tom & Jerry guide – Who are Tom & Jerry?
Tom and Jerry are perhaps the most famous cat and mouse duo of all time (sorry, Itchy and Scratchy fans, but it's true).
The pair originally made their debut in an animated short back in 1940, and have since been in countless TV shows and even a couple of movies.
Although on occasion the pair have been friends who've worked together, it's fair to say that Tom and Jerry are at their best when they're fighting, with Tom constantly trying to hurt Jerry and always ending up in pain as a result.
Although Tom and Jerry have been able to speak on occasion in the past, this mercifully isn't the case in MultiVersus, with the pair seemingly based on their mute '40s-'50s characters.
---
MultiVersus Tom & Jerry guide – Skin variants
Tom and Jerry don't traditionally wear clothes, being animals and all, so their default skin is essentially them as they're usually seen, wearing no outfit.
At launch, they have one variant, which is called 'Pirates Tom & Jerry'.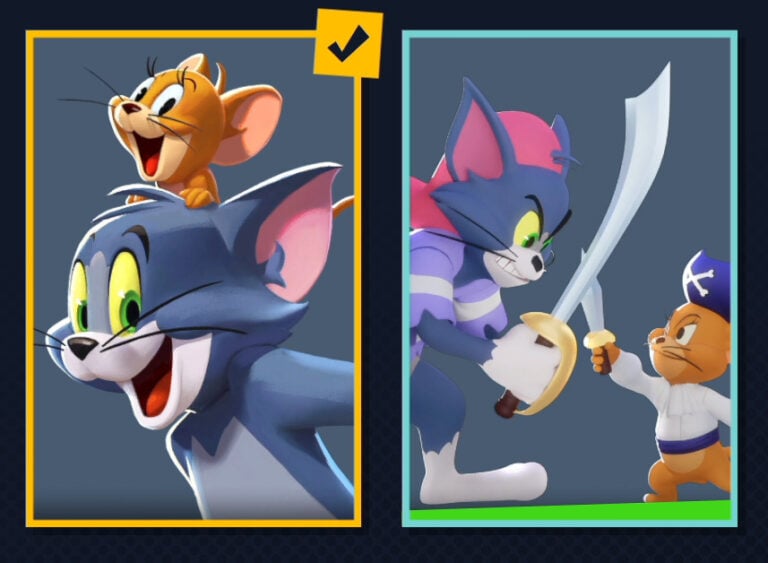 As the name suggests, this dresses the pair in pirate outfits, based on their 2006 movie Tom and Jerry: Shiver Me Whiskers.
The Pirates Tom & Jerry variant can't be unlocked through gameplay, and has to be bought with 500 Gleamium (the game's premium currency).
---
MultiVersus Tom & Jerry guide – Fighting strategies
Tom & Jerry come under the 'mage' category, which means they specialise in distance attacks and don't have very good defensive skills.
The two come as a pair, making for some interesting moments when they're separated (similar to the Ice Climbers in the Super Smash Bros series).
Tom can use his Standard Special move to fire Jerry as a projectile, which enables an ally to pick him up instead.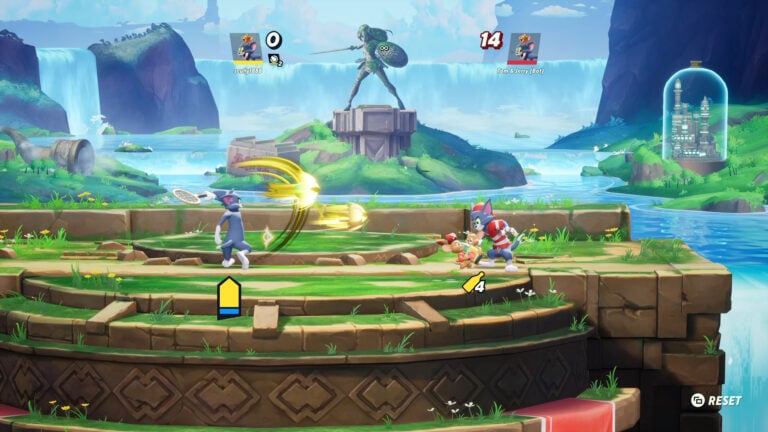 When an ally is holding Jerry they'll gain a 'cheese' buff, which means their attacks do more damage.
It's also important to note Tom & Jerry's standard neutral attack, which sees Tom swinging a tennis racquet. This is an extremely useful move.
Not only does it do damage, it can also be used to make some moves more powerful (as detailed below) and can even reflect enemy projectiles.
---
MultiVersus Tom & Jerry guide – Moves
Slingshot Sharpshooter
(Neutral, ground or air)
As the name suggests, this move lets Tom fire a slingshot, but poor Jerry is the ammo.
Naturally, this does damage to the enemy but it does leave Jerry exposed to attacks until either Tom or your ally picks him up.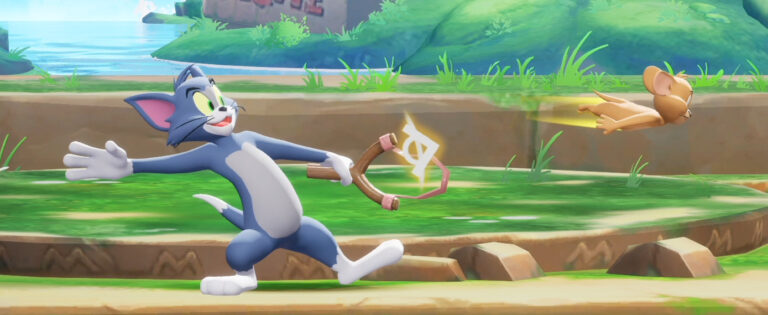 While Jerry is away, you can press the neutral attack button to make Jerry fire a champagne cork at enemies.
Alternatively, performing a Neutral Special again while Jerry is away will make Tom fire a tennis ball at Jerry, who will then lob it back to Tom.
If you can then use Tom's neutral attack (his tennis racquet move) at the right time, you'll smack the ball with great force and send it across the screen as a very powerful projectile.
---
Goin' Fishin
(Side, ground or air)
This has Tom casting out a fishing line, which can be aimed to an extent.
If the line misses the enemy it will sit on the ground, until you decide to reel it back in.


If you reel it in when an opponent is standing over it, it'll cause them damage, so timing is key with this one.
If the lure misses the ground and falls off the edge of the stage it'll automatically reel back in and you'll need to try again.
---
Rocket Mouse
(Up, ground or air)
If Tom has Jerry with him, performing the Up Special makes him tie Jerry to a small rocket and ignite it.
When the rocket takes off, you can control it with the stick, similar to Snake's missile or Ness's PK Thunder move in Smash Bros.

If you don't have Jerry with you, then the rocket can't be controlled. Instead, it will home in on Jerry and explode near him, hitting any enemies in its way.
This move can also be performed in the air, but the rocket can't be aimed even if Jerry's on it.
---
Snap Trap
(Down, ground)
It's the oldest trick in the book, but Snap Trap has Tom laying down a mouse trap in the hope that an enemy will run over it.
If anyone's silly enough to do so, they'll naturally take damage, though more realistically you'll have to try to knock them into it.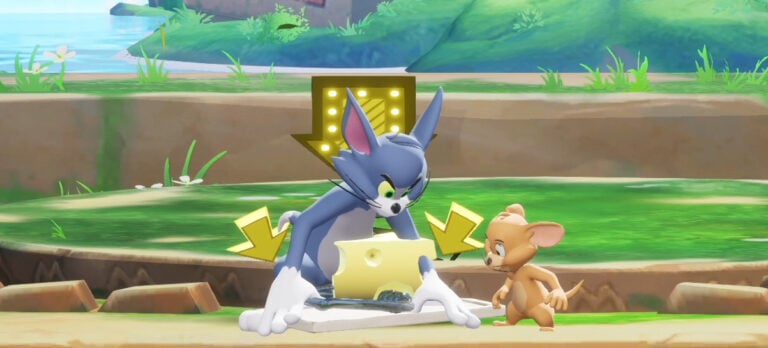 If an ally is holding Jerry (and therefore has a 'cheese' buff), they can run over the trap and add extra cheese to it.
This ensures it does more damage when (or more likely if) an opponent runs into it.
---
Look Out Below
(Down, air)
If Tom's in the air when you perform the Down Special he instead drops a stick of dynamite.
This bounces off the ground, then explodes on its second bounce, doing damage to nearby enemies.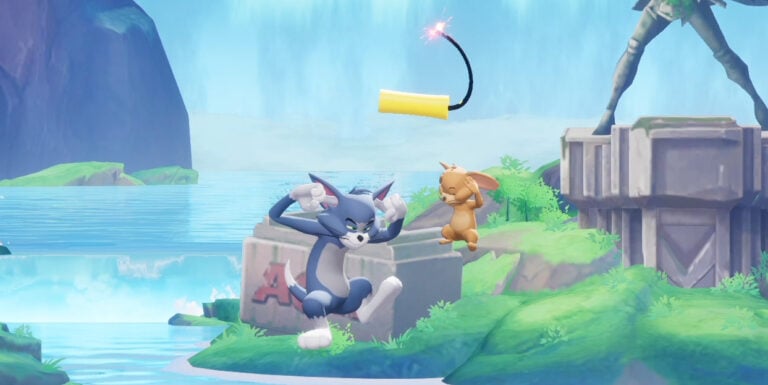 The dynamite drops slowly enough that you can be standing next to it as it bounces. This allows for something a little fancy.
If you can land on the ground and perform your neutral attack after the dynamite bounces, you'll hit it with your tennis racquet and send it across the screen.
---
MultiVersus Guides
MultiVersus characters | MultiVersus tier list | MultiVersus Guide | MultiVersus unlockables guide | Finn MultiVersus guide | Garnet MultiVersus guide | Iron Giant MultiVersus guide | LeBron James MultiVersus guide | Reindog MultiVersus guide | Superman MultiVersus guide| MultiVersus Gizmo guide
---
Related Products
Other Products
Some external links on this page are affiliate links, if you click on our affiliate links and make a purchase we might receive a commission.