MultiVersus Taz Guide: Moves and strategies
Learn all the moves and how to master Looney Tunes' Taz in Warner Bros' fighting game MultiVersus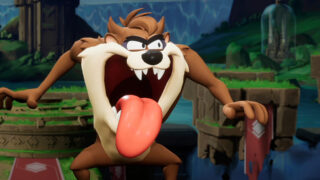 This MultiVersus Taz guide will give you the moves and strategies you need to master the Tasmanian Devil.
If you want to know how to use Taz's special moves, this guide breaks them all down and gives tips on how to use them.
It also gives general strategies on the best way to use Taz when fighting against opponents online.
And if you don't even know who Taz is, we've got you covered there too.
For more MultiVersus guides and tips, consider reading our full MultiVersus guide for strategies on every character, as well as our MultiVersus unlockables guide which details unlockable variants, taunts, emotes and more.
MultiVersus Taz Guide – Who is Taz?
The Tasmanian Devil, best known as Taz, is a cartoon character from the Looney Tunes series.
Taz made his debut way back in 1954 in a cartoon called Devil May Hare, in which Bug Bunny tries to trick him into not eating him.
The character was briefly retired after this cartoon, with Warner Bros' studio animation head at the time saying the character was too violent for children.
When studio head Jack Warner pointed out that he had received boxes full of letters from fans who wanted to see more of Taz, he was brought back.
Taz even got his own animated series in the '90s, called Taz-Mania, which also got a spin-off Mega Drive game.
Jim Cummings, who voiced Taz in Taz-Mania, returns to reprise the role in MultiVersus.
---
MultiVersus Taz guide – Skin variants
Taz's default skin is… well, there's no other way to put this, he's naked, like he usually is.
At launch, he has one variant, which is called 'Beachcomber Taz'.
This doesn't appear to be based on a specific outfit, but Taz has been known to wear beach outfits in the past (particularly on merchandise).
The Beachcomber Taz variant can't be unlocked through gameplay, and has to be bought with 500 Gleamium (the game's premium currency).
---
MultiVersus Taz Guide – Fighting strategies
Taz is a 'bruiser' character, which means he likes to get stuck in and deal physical damage up close.
At the moment, Taz has some notoriety among the MultiVersus community for his spin move, which is pretty overpowered.
The fact this move has no cooldown, can do some serious damage and can be difficult for beginners to avoid means he's the fighter of choice for 'cheap' players looking for an easy win.
The game's director has hinted that the spin may be getting nerfed soon though, so if you're a spin-spammer, enjoy it while it lasts.
The spin aside, Taz's other main gimmick which separates him from the rest of the roster is his ability to deal out 'tasty' debuffs to his opponents.

A large number of Taz's melee moves deal 'tasty' when they hit, which start building up an opponent's tasty stat.
When this stat reaches its maximum, the opponent will briefly turn into a giant roast chicken and will be unable to attack.
If a cooked chicken opponent takes damage, they'll drop smaller pieces of chicken which can heal Taz and his allies.
Taz can also lick his allies by passing by them, healing them a bit. This has a cooldown, though, meaning you can't just run back and forth licking them within an inch of their lives.
---
MultiVersus Taz Guide – Moves
Chew Em Up, Spit Em Out
(Neutral, ground or air)
Given that he's a greedy sod, it's perhaps unsurprising that Taz's main special move is the ability to eat his opponents, stunning them.
While opponents are in Taz's mouth, the player can keep pressing the Special button to chew them, dealing damage, or can press a direction to spit them out.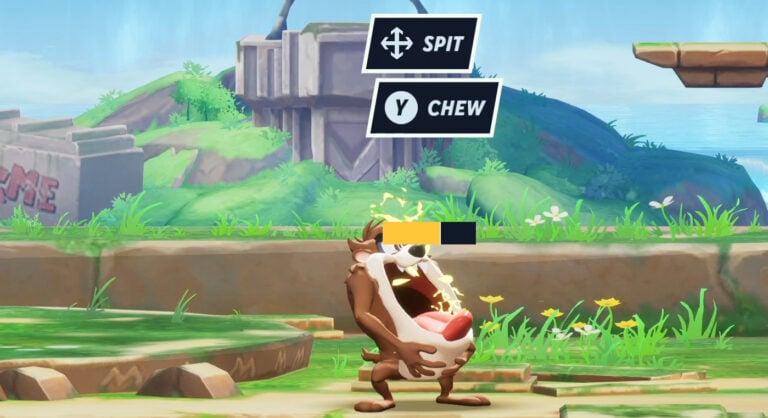 While this is happening, the opponent can bash buttons to try to escape, so Tax can only keep them in his mouth for a limited time.
This move has a secondary function – if an opponent fires a projectile at you, you can swallow it by timing this move perfectly.
This not only avoids the attack, but also comes into play with Taz's 'You Spit What You Eat' move (see below).
---
Taz-Nado
(Side, ground or air)
Everyone associates Taz with his giant spinning brown tornado, so of course it's a special move in MultiVersus.
Doing the Side Special move makes Taz spin forwards in his tornado for a limited time, hitting enemies multiple times as he does.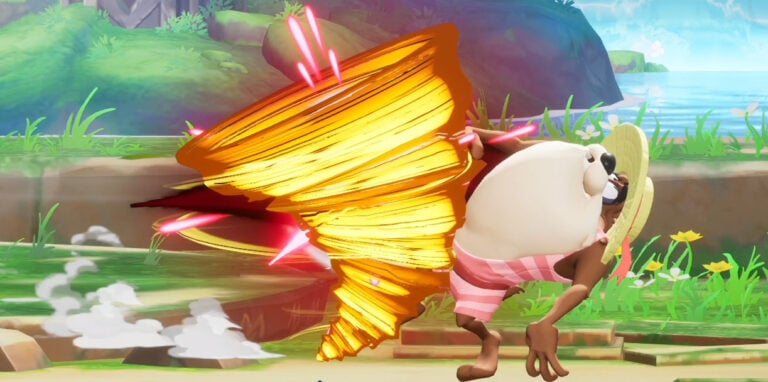 If you pass by an ally while doing this move you'll extend how long it lasts, and also increase your ally's movement speed for a short while.
This move can also be performed in the air, where it raises Taz upwards slightly.
As previously noted, this move is notorious for being the most annoying one in the game because the lack of cooldown makes it easy to spam. Enjoy it while it lasts, because a nerf appears to be on the cards.
---
Dogpile! Dogpile!
(Up, ground or air)
You know that dust cloud you sometimes see in cartoons (including the MultiVersus loading screen), where characters get into a big fight and you just see arms and legs sticking out?
That's what this Dogpile move does, with Taz starting his own dust cloud that grows gradually bigger.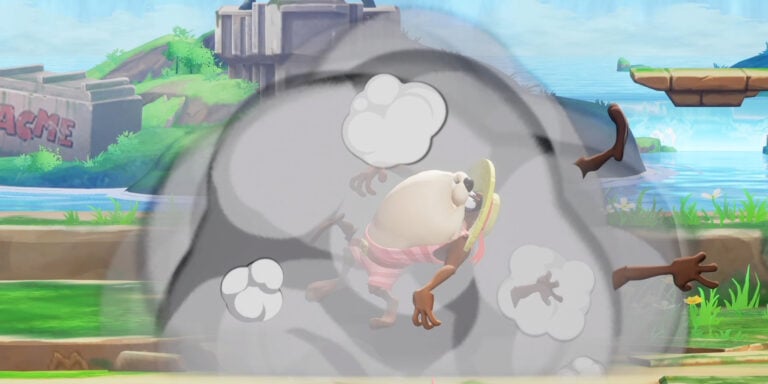 If an enemy enters the dogpile, they'll take multiple hits, finishing with a powerful hit right at the end.
This move has a cooldown period, so while it's recharging Taz will instead performing a jumping swipe move.
---
You Spit What You Eat
(Down, ground or air)
This move makes Taz spit out an apple at his opponent. It's not very civilised but it gets the job done.
If the apple hits, it not only does damage but also deals a small amount of 'tasty' to the opponent.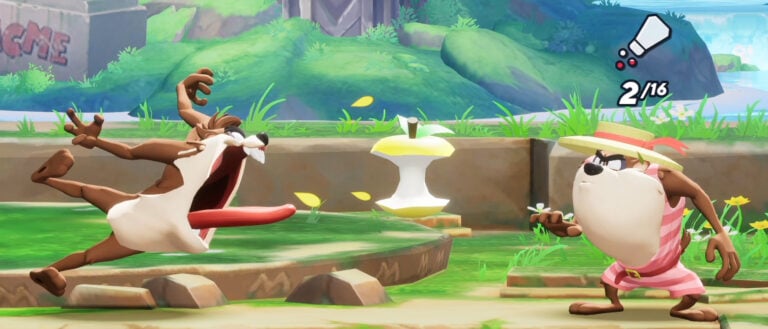 If you've already eaten a projectile (see the Chew Em Up, Spit Em Out move above), then Taz will spit out the projectile instead of an apple.
If this projectile hits the enemy, it will deal out a lot more 'tasty', getting you ever closer to turning them into a roast chicken.
---
MultiVersus Guides
MultiVersus characters | MultiVersus tier list | MultiVersus Guide | MultiVersus unlockables guide | Finn MultiVersus guide | Garnet MultiVersus guide | Iron Giant MultiVersus guide | LeBron James MultiVersus guide | Reindog MultiVersus guide | Superman MultiVersus guide| MultiVersus Gizmo guide
---
Related Products
Other Products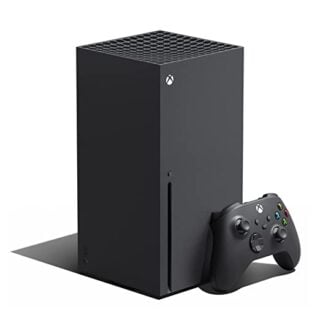 Xbox Series X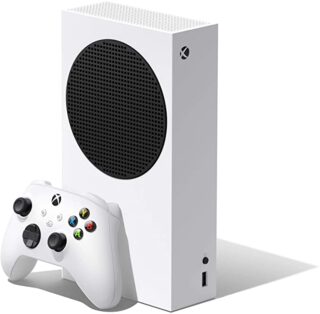 Xbox Series S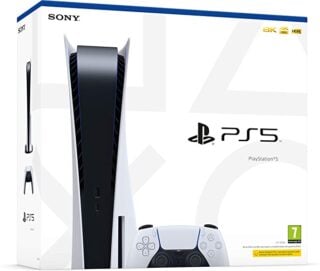 PlayStation 5
Some external links on this page are affiliate links, if you click on our affiliate links and make a purchase we might receive a commission.