MultiVersus Harley Quinn guide: moves and strategies
Learn all the moves and how to master DC's Harley Quinn in Warner Bros' fighting game MultiVersus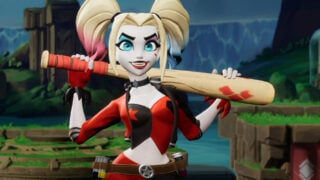 This MultiVersus Harley Quinn guide will give you the moves and strategies you need to master the Batman villain.
If you want to know how to use Harley's special moves, this guide breaks them all down and gives tips on how to use them.
It also gives general strategies on the best way to use Harley when fighting against opponents online.
And if you don't even know who Harley Quinn is, we've got you covered there too.
For more MultiVersus guides and tips, consider reading our full MultiVersus guide for strategies on every character, as well as our MultiVersus unlockables guide which details unlockable variants, taunts, emotes and more.
Update - Harley is free
The latest MultiVersus free character rotation has taken place, and Harley Quinn is one of the four new chosen fighters.
She joins Bugs Bunny, Shaggy and Velma – all four are currently free to select until September 13, even if you haven't purchased them.
Players will be able to level up the free characters and make progress with them, but after September 13 they'll be locked again.
If you then choose to purchase and unlock them later, the game will resume any progress you made while they were free.
MultiVersus Harley Quinn guide – Who is Harley Quinn?
Harley Quinn is one of the more colourful characters in the DC Comics universe.
First making her appearance in Batman: The Animated Series in 1992, she was only supposed to be a one-off character but ended up making regular appearances.
According to her initial origin story, Harley was a psychiatrist called Harleen Quinzel who worked at Arkham Asylum, and eventually fell in love with her patient, The Joker.
In recent years Harley Quinn has become something of a pop culture icon, most notably thanks to Margot Robbie's portrayal of her in Suicide Squad (2016), Birds of Prey and The Suicide Squad (2021).
In MultiVersus, Harley is voiced by Tara Strong, who has previously voiced the character in a range of video games, including the Batman Arkham series and the upcoming Suicide Squad: Kill the Justice League.
---
MultiVersus Harley Quinn guide – Skin variants
Harley's default skin is her more modern outfit with her pink-tinged hair, most notably made famous in the first Suicide Squad movie.
At launch, she has one variant, which is called 'Mad Love'.

This Harley's more traditional outfit, and the one she was most commonly associated with in the pre-Suicide Squad days.
The Waterdancer variant can't be unlocked through gameplay, and has to be bought with 1500 Gleamium (the game's premium currency).
---
MultiVersus Harley Quinn guide – Fighting strategies
Harley is an 'assassin' character, which means she's fast and best suited to close-quarters combat.
Naturally, given that she's often armed with melee weapons in other media, Harley's standard attacks see her swinging her trusty baseball bat and a mallet, among other things.
Harley's unique attribute is the ability to deal a 'confetti debuff' with some moves. This covers the opponent in confetti for a brief period, which in itself is harmless.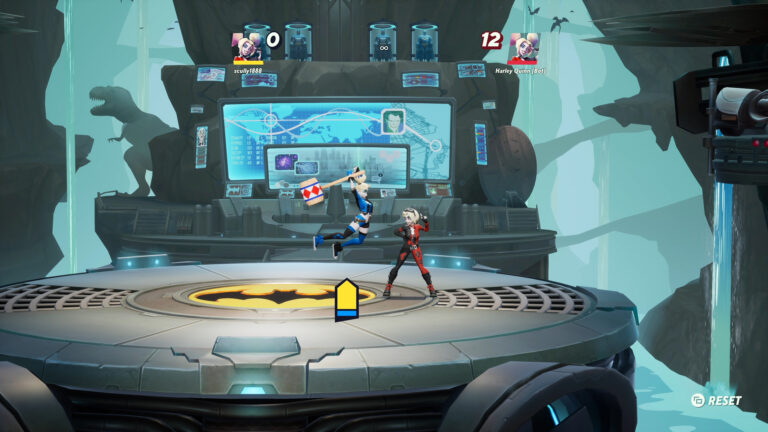 However, once an opponent has been hit with confetti, a little '1/5′ appears next to them. If you can hit the opponent four more times while this is up, the confetti will be ignited.
This will deal a fire debuff to your enemy, slowly doing damage to them.
A good strategy for Harley, then, is to perform confetti debuff moves on your opponent then, when one hits, follow it up with a series of quick melee attacks to ignite them.
---
MultiVersus Harley Quinn guide – Moves
Stuffie Bat
(Neutral, ground or air)
Pressing the Special button without a directional command will make Harley pull out a little stuffed plush Batman toy.
Press the button again with a direction and Harley will throw the toy, sticking it to another fighter.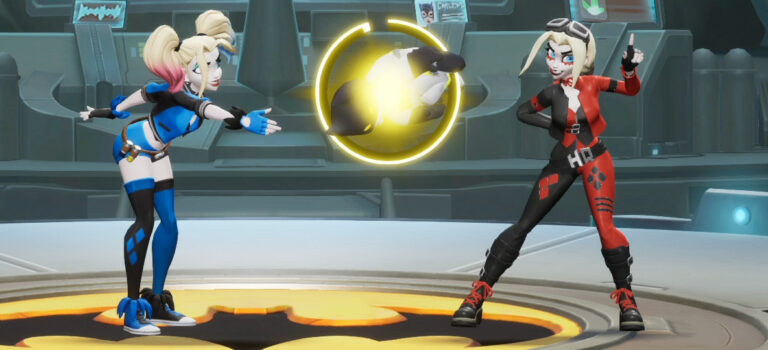 Pressing the button a third time will denote the bomb, doing confetti debuff damage to opponents.
If an ally is hit with the blast, their air moves will be refreshed, meaning if your partner is particularly good in the air you can time a Stuffie Bat explosion to help them stay up there for longer.
---
Prank Shot
(Side, ground or air)
Prank Shot is a projectile attack, but one with a difference that can confuse the opponent (and the player, until they get used to it).
When you perform the command, Harley will dash forwards first before firing a boxing glove projectile.
The twist is that she turns around and fires it behind her, meaning if you perform the move to the right she'll end up firing the projectile to the left.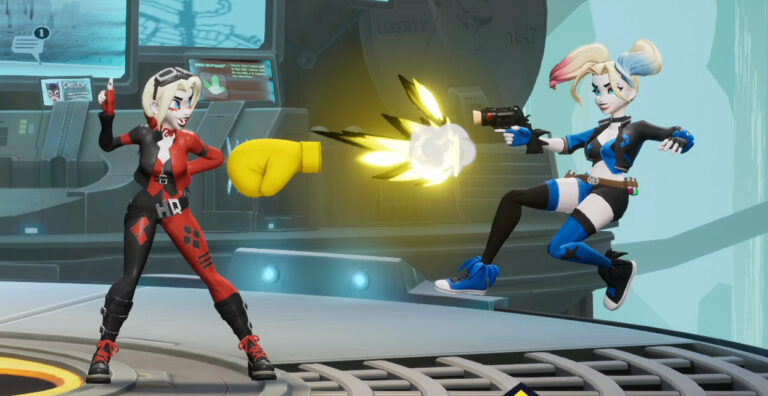 As such, it's a bizarre move (typical of Harley Quinn, to be fair) in that it's a projectile that works best up close instead of from a distance.
The best way to use it is when you're standing near an enemy, because you'll dash past them then fire back at them.
---
Batter Up
(Up, ground or air)
Batter Up is a straightforward vertical attack in which Harley jumps into the air, swinging her baseball bat upwards.
It's similar in nature, then, to Ryu's Dragon Punch from the Street Fighter games.

It's best used for opponents who are either in the air or on a platform above you.
It can also be used in the air to gain extra height, meaning it can be particularly useful when you're near the top of the screen and can potentially launch an enemy off for a KO.
---
Jerk-in-the-Box
(Down, ground or air)
This move is essentially a proximity bomb attack, which sees Harley dropping a large jack-in-the-box on the ground.
If an enemy touches it, the bomb will detonate, knocking them upwards with great force.

Any opponent hit by the explosion will also receive a confetti debuff, meaning you can do fire damage to them by following up with a series of other attacks.
If an opponent isn't coming close enough to trigger the Jerk-in-the-Box, either Harley or an ally can jump next to it – this will trigger it early.
---
MultiVersus Guides
MultiVersus characters | MultiVersus tier list | MultiVersus Guide | MultiVersus unlockables guide | Finn MultiVersus guide | Garnet MultiVersus guide | Iron Giant MultiVersus guide | LeBron James MultiVersus guide | Reindog MultiVersus guide | Superman MultiVersus guide| MultiVersus Gizmo guide
---
Related Products
God of War Ragnarök (PS5)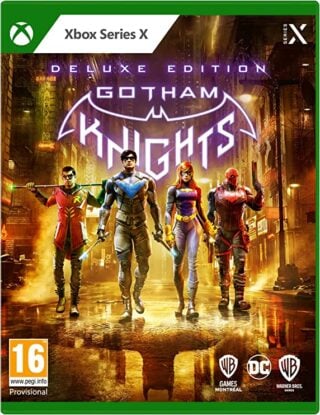 Gotham Knights - Deluxe Edition (Xbox Series X|S)
Other Products
Some external links on this page are affiliate links, if you click on our affiliate links and make a purchase we might receive a commission.