MultiVersus Gizmo guide: Moves and strategies
Learn all the moves and how to master the Gremlins hero in Warner Bros' fighting game MultiVersus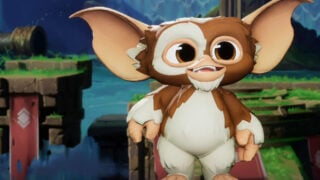 This MultiVersus Gizmo guide will give you the moves and strategies you need to master the Gremlins hero.
If you want to know how to use Gizmo's special moves, this guide breaks them all down and gives tips on how to use them.
It also gives general strategies on the best way to use Gizmo when fighting against opponents online.
And if you don't even know who Gizmo is, we've got you covered there too.
For more MultiVersus guides and tips, consider reading our full MultiVersus guide for strategies on every character, as well as our MultiVersus unlockables guide which details unlockable variants, taunts, emotes and more.
MultiVersus Gizmo guide – Who is Gizmo?
Gizmo is one of the main characters in the 1984 movie Gremlins and its 1990 sequel Gremlins 2: The New Batch.
Gizmo is a Mogwai, a mysterious fluffy creature that is undeniably adorable and sings a lovely lullaby.
However, a Mogwai is far from an ideal pet, because there are strict rules that have to be followed to prevent an enormous catastrophe.
Firstly, they can't get wet, because this will make them multiply into more Mogwai.
More importantly, however, if a Mogwai eats after midnight, it will transform into a deadly Gremlins.
In the first movie, Gizmo gets wet and his clones start eating after midnight, turning them all into Gremlins and causing chaos.
It's up to Gizmo and his human owner Billy to put a stop to the Gremlins' carnage.
---
MultiVersus Gizmo guide – Skin variants
Gizmo's default skin is his standard Gremlins look, which – let's be blunt – is him completely in the buff with no outfit at all.
At launch, he has one variant, which is called Combat Gizmo.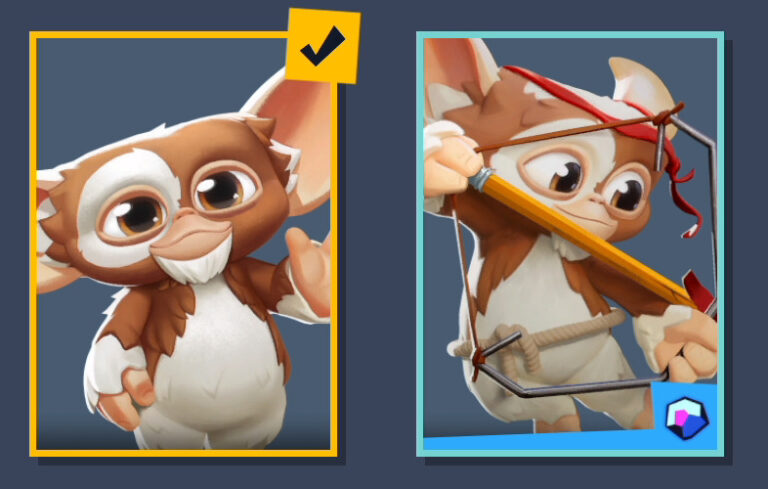 This is based on his appearance in Gremlins 2, when he dons a red Rambo-style headband and ties a rope around his waist.
The Combat Gizmo can't be unlocked through gameplay, and has to be bought with 500 Gleamium (the game's premium currency). This is around $5.
---
MultiVersus Gizmo guide – Fighting strategies
Gizmo is a support character, which means he's at his best when he's working alongside his partner.
This is perhaps more literal with Gizmo than it is with other support characters, given his ability to literally cling onto his partner's back.
If you want to get the most out of him, then, you'll need to make sure you're partnered with a player who's happy to stick close to you, rather than the sort of player who wants you both to split up and take on each opponent separately.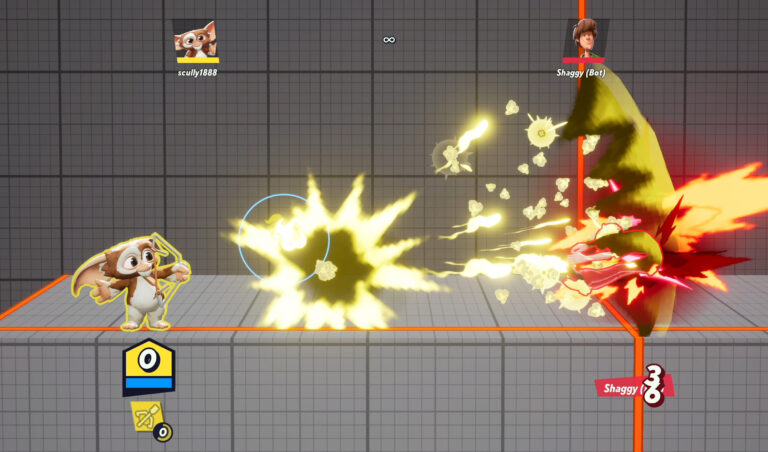 When it comes to his combat, Gizmo is one of the best distance characters thanks to his numerous projectile moves, most notably his Standard Neutral attack which has him firing his bow. This is a very fast projectile.
The ability to ignite his projectiles is a very useful one, but the fact it has to be charged to ignite it means you need to stay away from your opponent for long enough. If you have even more time, you can use his popcorn attack (Standard Up), which throws popcorn into the air, then hit that with an ignited arrow to make it explode.
Some of Gizmo's attacks – like his Standard Down – also apply a 'music' buff to opponents. If this reaches its maximum stack, opponents will be silenced, meaning they can't use cooldown abilities.
If a partner is hit with Gizmo's music buff, it'll let them create their own musical notes when they evade moves, adding to an opponent's music stack.
---
MultiVersus Gizmo guide – Moves
Song of the Mogwai
(Neutral, ground or air)
It wouldn't be Gizmo if he didn't sing so, sure enough, his Neutral Special has him doing just that.
By holding down the Special button, Gizmo will continue to croon away, spawning musical note projectiles.

If these hit enemies they'll do damage, and also apply a Music buff.
If your partner fires a projectile that passes a note, the note will follow it, applying hitstun to the opponent.
---
Beep Beep
(Side, ground)
If you miss the carnage of Wario's motorbike in Super Smash Bros games, Gizmo is your solution.
His Side Special sees him taking out his toy car from Gremlins 2, which he can then jump into and drive around.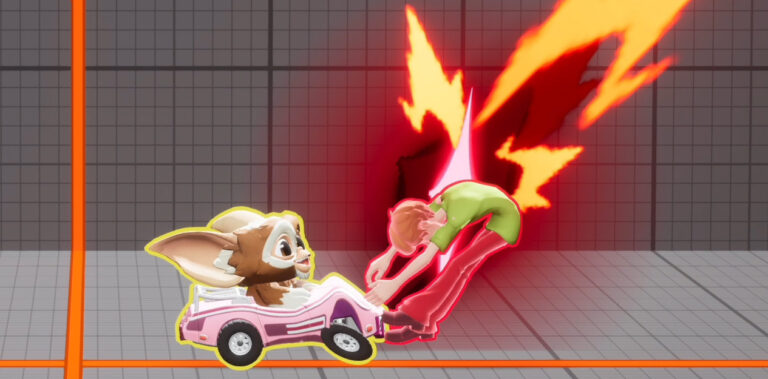 You can jump out of the car whenever you want and momentum will continue to make it move, meaning there's potential for some dramatic moments where you drive it off a ledge to hit an opponent under you.
If you use Gizmo's Up Special to enter the car, it will go extremely fast before exploding.
And if the car's still lying around while Gizmo's not using it, his partner can use it instead.
---
Umbrella Bash
(Side, air)
This is a fairly simple side dash move, but it has a couple of fun extra properties.
As the name suggests, performing the Side Special in the air makes Gizmo pull out an umbrella and dash into an opponent, harming them.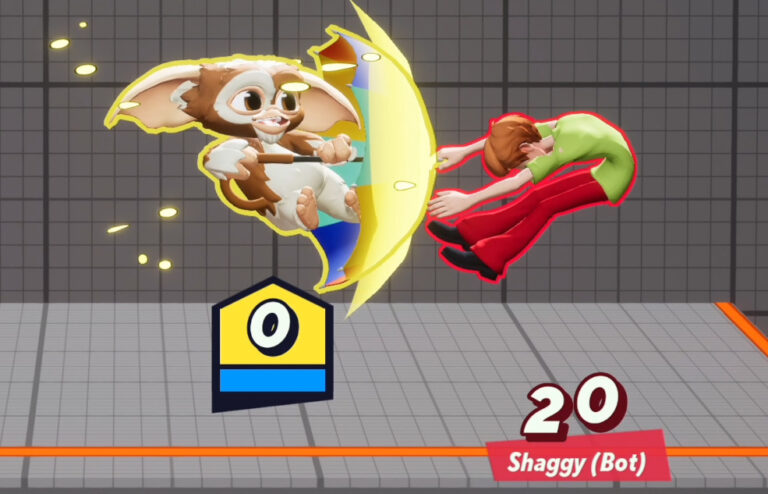 While the umbrella is pointing forwards, it can also block projectiles.
Once the dash ends, you can also keep holding the Special button to make Gizmo hold the umbrella upwards and glide across the screen.
---
Gizmo-a-Go-Go
(Up, ground or air)
This is Gizmo's main support move. Performing it near an opponent (as long as they're standing in front of you, not behind you) will make Gizmo jump onto their back.
Doing this will cleanse them of any buffs or stacks they have applied, and Gizmo can still perform some attacks like his Standard Neutral bow and arrow attack while attached to his partner's back.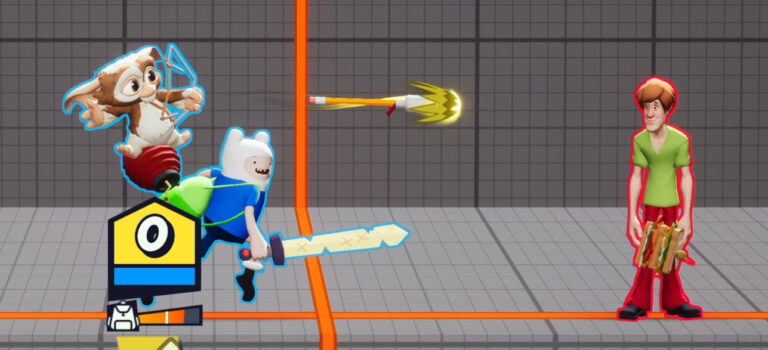 If a partner takes damage while Gizmo is attached to them, he'll take some of the damage, meaning he also acts as a sort of shield.
If your partner isn't nearby, this move can still be used against opponents as a sort of Dragon Punch technique, albeit a fairly weak one.
---
Corrugated Camouflage
(Down, ground)
This is Gizmo's main defensive move, and sees him hopping into the toy chest from the first Gremlins movie.
The chest blocks projectile attacks for as long as you decide to keep Gizmo inside it.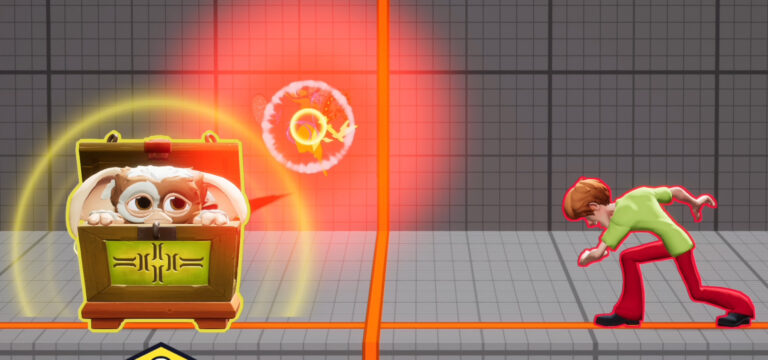 That's all it blocks, though, so if an opponent hits you with a normal melee attack you'll still take damage.
This move still works when you're attached to your partner, though of course you can't both fit into a chest, so instead Gizmo holds an umbrella over their head to protect them.
---
Falling Furball
(Down, air)
You can hardly climb into a toy chest when you're in the middle of the air, so naturally the Corrugated Camouflage move only works on the ground.
Performing the Down Special while in the air, then, performs this butt slam move instead.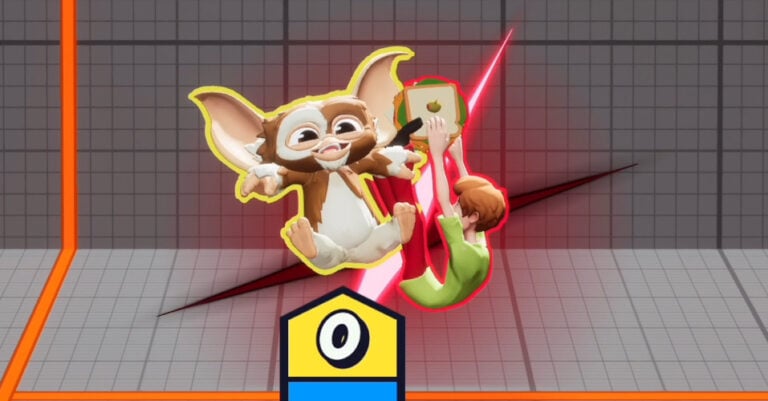 It's a pretty straightforward technique, and looks exactly how you'd expect a downward butt-bounce move would look.
If it makes contact, Gizmo will bounce upwards slightly, more than he would with a Standard Down spike move.
---
---
MultiVersus Guides
MultiVersus characters | MultiVersus tier list | MultiVersus Guide | MultiVersus unlockables guide | Finn MultiVersus guide | Garnet MultiVersus guide | Iron Giant MultiVersus guide | LeBron James MultiVersus guide | Reindog MultiVersus guide | Superman MultiVersus guide| MultiVersus Gizmo guide
---
Related Products
Other Products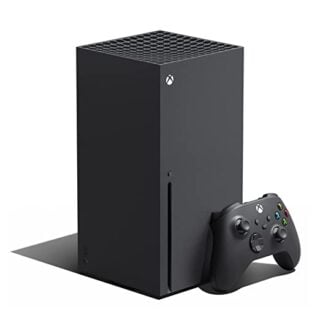 Xbox Series X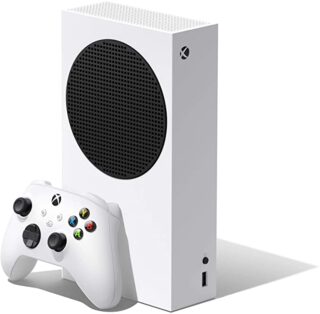 Xbox Series S
Some external links on this page are affiliate links, if you click on our affiliate links and make a purchase we might receive a commission.