MultiVersus Garnet Guide: Moves and strategies
Learn all the moves and how to master Steven Universe's Garnet in Warner Bros' fighting game MultiVersus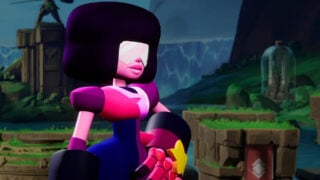 This MultiVersus Garnet guide will give you the moves and strategies you need to master the Steven Universe character.
If you want to know how to use Garnet's special moves, this guide breaks them all down and gives tips on how to use them.
It also gives general strategies on the best way to use Garnet when fighting against opponents online.
And if you don't even know who Garnet is, we've got you covered there too.
Latest Update
The first season of MultiVersus content has been delayed, Warner Bros Games has confirmed.
Season 1 was supposed to begin on August 9, but this has now been held back to a date that has yet to be confirmed.
This doesn't appear to affect the fortnightly rotation of 'free' characters, meaning the Season 1 delay probably won't mean Garnet will be free for longer than planned.
For more MultiVersus guides and tips, consider reading our full MultiVersus guide for strategies on every character, as well as our MultiVersus unlockables guide which details unlockable variants, taunts, emotes and more.
MultiVersus Garnet guide – Who is Garnet?
Garnet is the leader of the Crystal Gems in the Cartoon Network animated series Steven Universe, which ran from 2013 to 2019.
Garnet is actually two characters in one. She consists of two gem characters called Ruby and Sapphire who chose to permanently fuse to each other because of their love.
Blunt and not afraid to speak her mind, Garnet is also fiercely competitive and commands respect from her fellow Crystal Gems.
Garnet is voiced by British singer Estelle, who reprises the role in MultiVersus.
---
MultiVersus Garnet guide – Skin variants
Garnet's default skin is her standard outfit, complete with classy visor and star-branded gauntlets.
At launch, she has one variant, which is called 'First Fusion Garnet'.

This is based on her first ever form, which was seen when Ruby and Sapphire first fused together in the iconic episode The Answer.
The First Fusion Garnet variant can't be unlocked through gameplay, and has to be bought with 800 Gleamium (the game's premium currency).
---
MultiVersus Garnet guide – Fighting strategies
Garnet is a 'bruiser' character, which means she specialises in close quarters physical combat.
As such, most of her melee attacks are quite powerful, and the majority can be charged to do even more damage.
That said, she's also got more than her fair share of projectile attacks, more than you would expect from a typical bruiser class.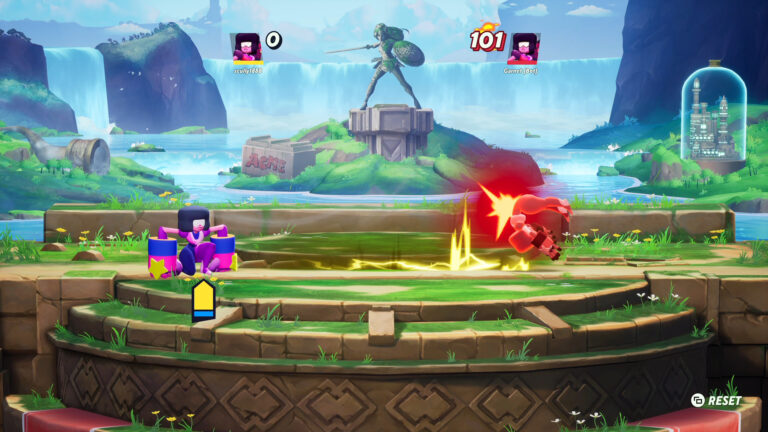 These combine to make Garnet one of the more versatile characters in the game, with enough strength to do well hand-to-end but also enough variety in her arsenal to keep opponents at bay with distance attacks.
Her main downside, though, is that all of her attacking ground specials have cooldown periods, meaning there will be moments where you're limited to standard attacks.
---
MultiVersus Garnet guide – Moves
Stronger Than You
(Neutral, ground or air)
Garnet's Neutral Special requires you to hold the Special button down. Doing this creates a round forcefield which Garnet can dance inside.
This has a number of uses. Firstly, it stops enemy projectiles, which can then be reflected back if you hit them with melee attacks.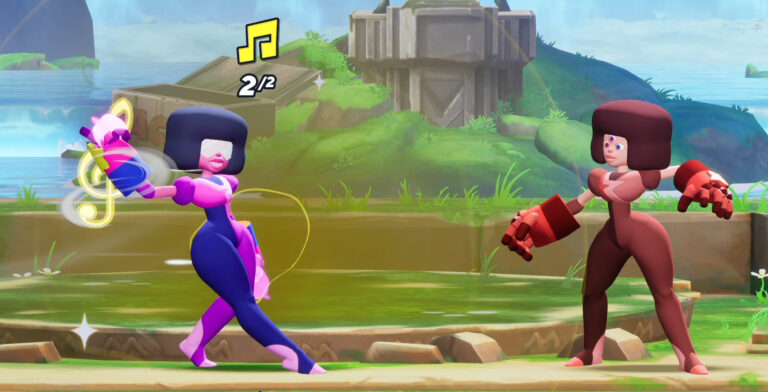 The forcefield also gives Garnet and her ally a 'music' buff, which gives them either one or two musical notes depending on how long they stay in the forcefield.
With one musical note in your possession, you can move a little faster than usual. With two, you have an armour break buff for a limited time, meaning your next melee attack can bypass an opponent's armour.
---
Rocket Fist
(Side, ground or air)
Garnet's main projectile attack is Rocket Fist, in which she fires her gauntlets at her opponent.
Once you've fired your gauntlets, you can control them using the stick, allowing you to reach opponents who aren't directly in front of you.
Like most of Garnet's attacking specials, though, Rocket Fist has a lengthy cooldown. While it's charging she does a shoulder charge move instead.
Garnet can also perform Rocket Fist in mid-air, but they don't travel as far before they detonate.
---
Spark of Love
(Up, ground)
Garnet's second projectile attack lets her fire an electric bolt at her opponents.
This move can be charged briefly, during which time it can be aimed, meaning you don't have to fire it upwards – it can quickly be pointed straight ahead instead.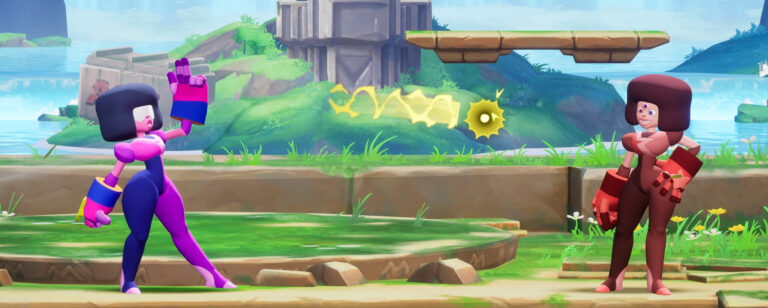 Once the projectile hits, it creates a small electrical forcefield on the stage for a while.
If enemies walk into this it'll do them electrical damage, while allies walking into it will get electric damage added to their melee attacks.
Spark of Love also has a cooldown. While it's charging, Garnet will instead do an overhead clap move.
---
Flying Crossarm
(Up, air)
If you're in the air and perform an Up Special with Garnet, you'll do the Flying Crossarm instead of the Spark of Love.
This is a special upwards-thrusting attack that has the ability to hit at two different parts of the attack.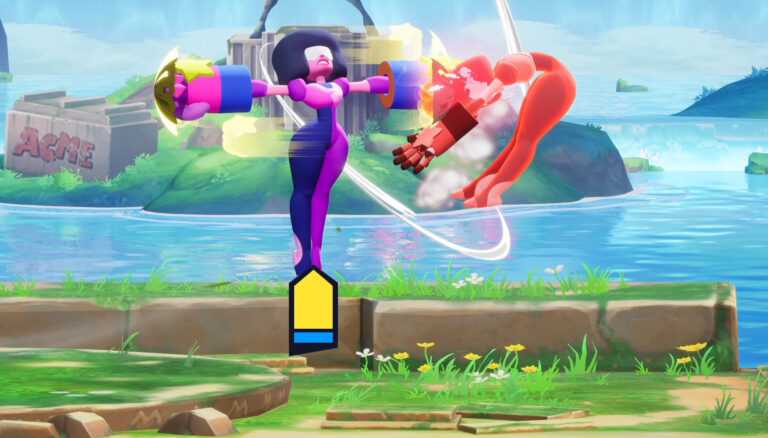 When you initially trigger it, Garnet shoots up into the air, doing damage to any opponents who are next to her.
Then, she punches her fists out to the side, landing a hit on anyone else who's next to her. This second hit knocks enemies upwards.
---
Gem Dash
(Down, ground or air)
Garnet's last Special has her placing a big star marker on the stage, which just sits there.
When you perform the Down Special command again, Garnet will then do a mid-air dash towards the marker, grabbing any opponents that stand between her and it.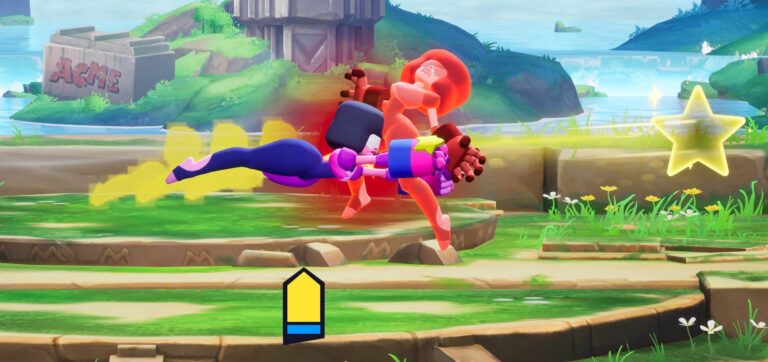 When she reaches the marker, Garnet will then turn around and throw her opponent back in the opposite direction.
Alternatively, if your partner runs over the marker it will attach itself to them. If Garnet does the dash after this, she'll dash to her partner, cancel their stun and knockback and restore their air moves.
Essentially, this means if your partner specialises in aerial combat and runs into trouble while carrying a marker, you can dash over to them and refresh their status.
---
MultiVersus Guides
MultiVersus characters | MultiVersus tier list | MultiVersus Guide | MultiVersus unlockables guide | Finn MultiVersus guide | Garnet MultiVersus guide | Iron Giant MultiVersus guide | LeBron James MultiVersus guide | Reindog MultiVersus guide | Superman MultiVersus guide| MultiVersus Gizmo guide
---
Related Products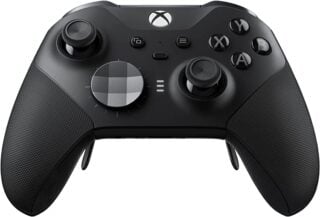 Xbox Elite Series 2 Wireless Controller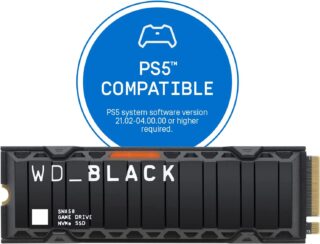 WD_BLACK 500GB M.2 SSD with Heatsink
Other Products
Some external links on this page are affiliate links, if you click on our affiliate links and make a purchase we might receive a commission.